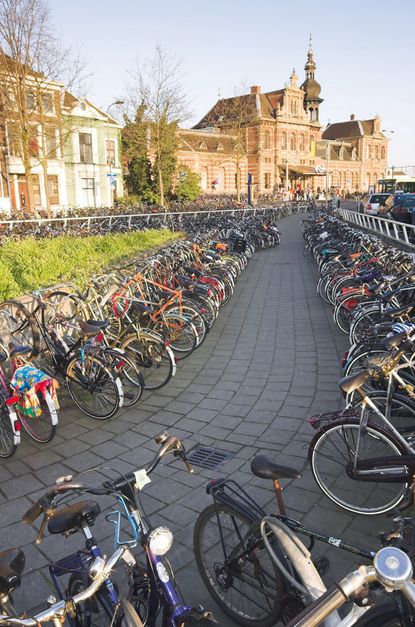 (Image credit: Tomasz Wieja - Fotolia)
1st July 2010 Words: Keith Bingham
Britain needs to think Dutch and increase cycle parking at rail stations to five per cent of passenger use, says CTC, the national cyclists' organisation. What's that in real figures?
Five per cent loosely means the 8,000 spaces currently available at 88 of Britain's busiest stations will need to grow to around 125,000. It means the 1,365 spaces at 14 of London's main stations would grow to 67,612.
Britain's leading transport journalist and author Christian Wolmar says: "Five per cent increase is perfectly reasonable. There is no doubt that providing cycle parking generates usage — you only have to compare Paddington and Waterloo, both with lots of spaces, with say King's Cross where there is a real shortage."

Bicycle parking in front of the railway station in Delft, Holland
But how can the railways be persuaded to comply?

"Well, I think it's a matter of simply writing it into franchise agreements as Lord Adonis has intimated he would. It is, too, a matter of horses for courses. There may well be areas where five per cent is inadequate, or excessive, but it is a good ballpark figure," says Wolmar.
What does Roger Geffen, CTC's campaigns and policy manager, say?
"We should be bold in our planning and prepared to invest in cycle provision as the Dutch would, rather than simply accept that there's no space."
What's with the Dutch?
They provide for 10 per cent of passengers using bikes. So there is a 15,000-capacity cycle park at Utrecht station — and it's being extended to 20,000.
What do we know about the Brits?
According to the National Stations Improvement Programme, only 1.6 per cent of passengers arrived by cycle, but 11.2 per cent say they would like to.
Any drivers in there?
Yes, of those who drive to the station, 47 per cent said they'd like another method of getting there, but nine per cent of those, ie four per cent of drivers, said they would like to cycle and save themselves enormous car-parking charges. At Exeter, for instance, a driver will pay £1,460 per annum to leave his car. That's worth two decent bicycles, one at each end of the line.
How many want to take their bikes with them on the train but can't because of restrictions?
A large proportion. The CTC says that on-train cycle carriage can be managed and will bring benefits to both passengers and operators.
Are any stations doing the right thing?
Yes, popular cycling towns Oxford, Cambridge and York already provide around five per cent cycle parking.
That Lord Adonis, is he on the right lines?
You mean Lord Adonis, the secretary of state for transport? Yes, he's very keen. He was impressed by the Dutch town of Leiden, which has 6,000 supervised cycle parking spots for a population of 118,000 — five per cent of the people living there.
Adonis is leading the way with a £14 million project to create 10,000 cycle spaces at 10 new cycle hubs at leading stations around the country. Leeds will be the first, opening in May. London St Pancras, London Victoria, London Waterloo, Grimsby, Hull, Liverpool Lime Street, Scunthorpe, Sheffield and York are due to open in two years' time.
That's nice, but 10,000 across 10 stations is still way short.
Yes. But it's a start. The London Waterloo hub, for instance, will have 230 cycle racks when they need 13,470 spaces.
OK, but where would they put 13,470 bikes?
They could use the former Eurostar terminal at Waterloo. It's fantastic and crying out to become a giant bike park since Eurostar abandoned it for the new St Pancras terminal.
But haven't you seen all the rusty hulks abandoned at stations?
Good point. A station with a bicycle graveyard is not a well-managed station. Staff need to tag bikes, with a removal notice, and then remove them. Oxford station used to be a bike graveyard, until they started to sort the living from the dead.
Website: CTC (opens in new tab)
Thank you for reading 10 articles this month* Join now for unlimited access
Enjoy your first month for just £1 / $1 / €1
*Read 5 free articles per month without a subscription
Join now for unlimited access
Try first month for just £1 / $1 / €1