Guesdon likely to end career after Down Under crash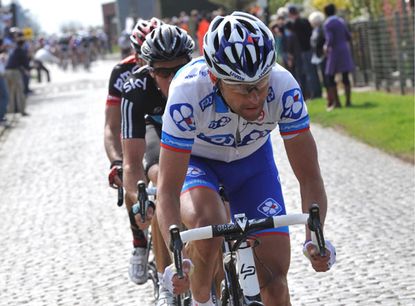 Frédéric Guesdon's professional cycling career likely ended on the road leading to Clare in South Australia yesterday. The 1997 Paris-Roubaix winner was part of crash in the final kilometre of Tour Down Under stage one. It was the first official race of what he planned to be his final season.
"He hasn't spoken about cycling, it would be shame to finish his career like that, but it seems unrealistic that he could return for Paris-Roubaix," said his team FDJ sports director, Yvon Madiot. "We have to wait."
The crash happened as riders prepared for the sprint, won by André Greipel of team Lotto-Belisol. Two riders overlapped wheels, fell and took about 15 cyclists down with them at 800 metres from the finish line. Worse off were Belgian Jürgen Roelandts with a fractured vertebra and 40-year-old Frenchman Guesdon. X-rays revealed last night that Guesdon fractured his hip, which requires that he remain in the Adelaide hospital until being transferred home.
Guesdon said that it was not a heavy fall and that the fracture probably happened when he landed on his own bike. His other seven FDJ team-mates safely finished the stage from Prospect to Clare.
He joined La Française de Jeux, or FDJ, in the team's 1997 debut year. He had already been racing since for two years, but 1997 became a turning point: new team and his biggest win in the cobbled classic, Paris-Roubaix.
Since 1997, Guesdon plugged along, but never came close to winning Roubaix again. He won another French classic, however, Paris-Tours in 2006.
He promised to continue with FDJ as a sports director after his planned retirement at this year's Paris-Roubaix. He studied for the role and had a successful practice run last year in the GP Marseillaise, where FDJ's Jérémy Roy won. The only catch is that FDJ lacks space for him.
"For sure he'd be a good DS for the team, and we already started working on that when he finished his training," said Team Manager Marc Madiot. "I will not fire anyone so that he can take that position. It depends on our budget and our programme."
Guesdon will now focus on recovering from his crash. He will likely return home in northwest France in Medreac next week.
"We always knew that he wouldn't be a bike rider for every. And we always knew that he would stop his career this year at some point," added Madiot. "When you get hit by your destiny, you can't stop it."
Related links
Greipel wins Tour Down Under stage one
Thank you for reading 20 articles this month* Join now for unlimited access
Enjoy your first month for just £1 / $1 / €1
*Read 5 free articles per month without a subscription
Join now for unlimited access
Try first month for just £1 / $1 / €1