Haute Route reaches record numbers for second year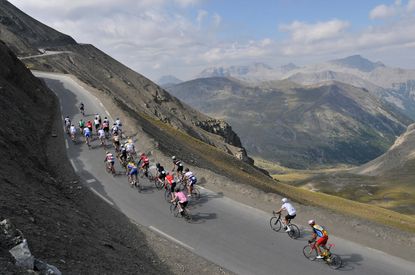 The Haute Route cyclo-sportive has received a record number of entrants for its second edition next August. The organiser of the week-long cycling adventure through the Alps announced on Friday that it already entered 450 riders in the first eight hours of registration.
It is "a phenomenal response from riders across the globe eager to take on the world's toughest and highest cyclo-sportive," read a press release. "After this year's inaugural edition, the Haute Route immediately established a reputation as one of the most gruelling, but equally sought after events for amateur cyclists."
The inaugural event this August travelled from Geneva to Nice, France in 730 kilometres. It climbed 17,000 metres and covered 15 legendary climbs, including Colombière, Télégraphe Galibier, Izoard and Bonette. 300 cyclists, including 58 Brits, signed up for the challenge.
The four Londoners - Dave Bulmer, Simon Kenyon, Peter Van Wezel and Tom Wheeler - of Team Thames won the team competition.
Brits have once again filled out the majority of spots and they are all in for a treat.
"We wanted a redesigned course in order to renew the interest of the riders," said Rémi Duchemin, "but also to integrate new world-famous icons."
Duchemin and Mark Turner of the OC ThirdPole marketing company both worked with Jean-François Alcan to start the event. Alcan oversees the race after spending years organising other sportives. They put together a route, 19 to 25 August, that will take riders over 19 climbs in seven days, including Madeleine, Glandon, Izoard, Bonette and Alpe d'Huez. It will once again start in Geneva and finish in Nice, but this time climb 21,000 metres and travel 780 kilometres.
"There are so many wonderful cycling possibilities in the French Alps," explained Alcan. "I am proud of this course, as 60 per cent of the climbs did not feature in the 2011 programme. This illustrates the extraordinary potential of these mountain roads."
Haute Route 2012
Stage 1: Sunday 19th August: Geneva - Megève (120km, 2700m+)
Stage 2: Monday 20th August: Megève - Courchevel (105km, 2700 m+)
Stage 3: Tuesday 21st August: Courchevel - Alpe d'Huez (136km, 4700 m+)
Stage 4: Wednesday 22nd August: Alpe d'Huez Time Trial (14km, 1000 m+)
Stage 5: Thursday 23rd August: Alpe d'Huez - Risoul (136km, 3700 m+)
Stage 6: Friday 24th August: Risoul - Auron (98km, 3200 m+)
Stage 7: Saturday 25th August: Auron - Nice (171km, 2900 m+)
There are team and individual rankings each day. If you enter a team, you can have three to nine riders. The ninth rider entered may ride for free, instead of paying the €1200 (£1030) entry.
For those cyclists who want to take part next year, more places will become available in a second phase in December. You can visit the Haute Route website for information on entering and exact route details.
Related links
La Haute Route: World's hardest sportive?
Haute Route blog 2011: Hannah Reynolds
Thank you for reading 20 articles this month* Join now for unlimited access
Enjoy your first month for just £1 / $1 / €1
*Read 5 free articles per month without a subscription
Join now for unlimited access
Try first month for just £1 / $1 / €1