Honorary doctorate for Paralympian Cundy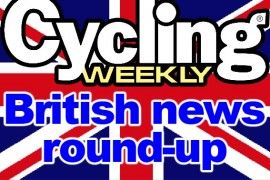 >>>We want to hear what's happening in your area - from
racing results to sportives, recreational cycling to commuting. To
submit your stories for CW's British news round-up, please email Nick Bull or Richard Abraham>>>
Paralympian Jody Cundy MBE was awarded an Honorary Doctorate from Anglia Ruskin University last week with a ceremony at the Corn Exchange in Cambridge.
Cundy received his doctorate, in Health Sciences alongside other students from the university's vice chancellor Professional Michael Thorne.
"Jody is a Paralympic and world swimming and cycling champion, one of a very select group of elite athletes to win gold medals in two different sports. He is an inspiration to anyone seeking to overcome adversity," said Professor Thorne.
Cundy receives his doctorate
________________________________________________________
Tickets are still available for The Dave Rayner Fund Annual Dinner will be taking place at the Hilton Hotel in Bradford on November 10 at 6.30pm.
Guests this year include Sean Kelly, Junior Road World Champion Lucy Garner, BMC's Adam Blythe plus the Sky trio of Ben Swift, Ian Stannard and Luke Rowe . Hosting proceedings for the evening will be Eurosport's David Harmon.
Tickets cost £45 and you can reserve your place either by phoning Gary on 07703199449 or through the event website www.daveraynerfund.com
________________________________________________________
Charity cyclist Austin Reynolds suffered from cruelly ironic bike theft last Friday when his limited edition Specialized Venge was stolen as he stopped for a coffee in Windsor.
The thief rode off on the £9,000 bike, which equipped with Ultegra Di2 and a matt black paint finish. It was number 49 of a limited run of 200 models, and Reynolds is offering a reward for its return.
Earlier this year Reynolds rode the Tour de Force, a ride which followed the exact route of the Tour de France one week in advance of the real thing. He raised over £20,000 for the William Wates Memorial Trust which aims to help young people at risk of falling into criminal activity.
Reynolds is appealing for anyone with information on the bike to email him at austin.reynolds@austinreynolds.co.uk
________________________________________________________
Former Newcastle United defender Robbie Elliot will set off next week on a 3,500 mile quest to raise money for the Sir Bobby Robson Foundation and Breakthrough Breast Cancer.
Accompanied by triathlete and friend Phil Gray, the footballer will cycle between each of the clubs managed by the former Newcastle boss, Sir Bobby Robson, who passed away from cancer in 2009.
Starting in Sporting Lisbon in Portugal, the pair will visit Porto, Barcelona, PSV Eindhoven. Ipswich, Fulham and Wembley (for Robson's stint as England boss), before finishing at St James' Park in Newcastle.
Howay the lads! Ant and Dec get behind Elliott and his bike ride
Geordie duo Ant and Dec have got behind the ride, called 'Bike for Bobby,' and you can show your support on November 10 by taking part in a 33 mile sportive with Elliot on Gray as they make their way to their final destination: Newcastle's home game against West Ham.
For more information and details on how to enter the sportive head to the Robbie Elliot Foundation website
________________________________________________________
Following the success of the inaugural Etape Pennines sportive last weekend, Durham County Council has launched a new website aimed at promoting the cycling and walking opportunities in the region.
Visitors can discover routes to suit all abilities as well as information on nearby attractions, while accommodation can also be booked through the site.
County Durham includes a large section of the C2C cycle route, which bisects the Pennines from Workington in Cumbria to Whitehaven on the North Sea coast, but also boasts majestic roads over the Durham Dales and superb mountain bike facilities at Hamsterley forest.
Head to www.thisisdurham.com/outdoors to see for yourself.
________________________________________________________
30 serving and former soldiers successfully arrived at the Cutty Sark in Greenwich yesterday after completing the six day Soldier Ride UK through East Anglia.
Riding a mix of adapted bikes, handbikes, or off the peg road bikes, the group were waved on their way by The Duke of Edinburgh Prince Phillip last Saturday as they set off from the royal Sandringham Estate.
Who wants a cup of tea!? Servicemen cross the finish line by the Cutty Sark
A collaboration between three soldier's charities - ABF The Soldier's Charity, BLESMA, and Wounded Warrior Project - the Soldier Ride is in its second year in the UK after a number of successful rides in the USA.
"The guys on hand bikes had to work extra hard work on some of the hills, but we all helped each other along and didn't leave anyone behind," said Pat Provis, who lost his left arm and most of his right hand in an explosion while serving in Northern Ireland.
"We had chance to really talk to the other riders, and we really had so much in common, it was a fantastic experience."
>>>We want to hear what's happening in your area - from
racing results to sportives, recreational cycling to commuting. To
submit your stories for CW's British news round-up, please email Nick Bull or Richard Abraham>>>
Thank you for reading 20 articles this month* Join now for unlimited access
Enjoy your first month for just £1 / $1 / €1
*Read 5 free articles per month without a subscription
Join now for unlimited access
Try first month for just £1 / $1 / €1