'I'm in serious danger' - Alpe d'Huez QOM holder reacts to climb's Tour de France Femmes inclusion
Illi Gardner has the best time on over 8,000 Strava climb segments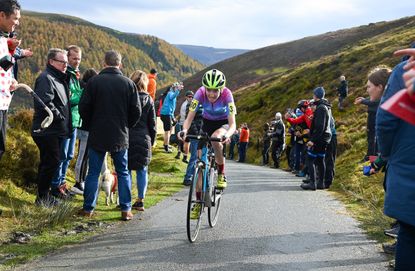 (Image credit: Andy Jones )
British national hill climb champion Illi Gardner is fearful of losing her two-year-old Strava QOM on Alpe d'Huez when the mountain features at the Tour de France Femmes avec Zwift next summer.
As was announced yesterday, the Alpine climb will form the finale of the 2024 edition, when many of today's best pros will race up it for the first time.
Gardner set the QOM for the 12km segment in June 2021, clocking 44 minutes and five seconds, with an average speed of 16.5km/h. Her chances of still holding it next August, she told Cycling Weekly, have now become slimmer.
"[My QOM] is definitely not safe," the 24-year-old laughed. "It depends on how they ride it, really. If they go full gas from the bottom, then I'm obviously in serious danger. If they play some games or pace it easier at the bottom, then it depends how the race goes."
The lower slopes of Alpe d'Huez, with ramps above 10%, are considered the hardest. The gradient then eases slightly to give an average pitch of 8%.
"When I rode it, I was on my threshold the entire way up," said Gardner, who described the effort as "21 bends of pain".
"It was just about how much I could suffer, because it's never an easy gradient. It's tough all the way," she continued.
"I'm not sure what it will be like in terms of team dynamics, it's a steep climb from the bottom. It could turn into a time trial, essentially, for the strongest climbers."
Gardner estimates that, come next August, the best pros could shave a couple of minutes off her best time. "I don't think anybody will go under the 40-minute mark," she said. "But low 40s."
If that does happen, she will receive a Strava notification on her phone to say her QOM crown has been stolen. This is what happened this July when then world champion Annemiek van Vleuten bettered her time on the Col d'Aspin during the Tour de France Femmes.
"I got hundreds of notifications," the Brit laughed. "I had to check that it wasn't a fake account. At first I was like, 'This can't be real.' It's really weird seeing someone I look up to's name stealing my QOM."
Fortunately for Gardner, she has plenty more in her trophy cabinet. The 24-year-old holds the record for the most QOMs on the training app, having clocked the best time on over 8,000 climb segments. Her other spoils include the Col du Tourmalet, Mont Ventoux and Majorca's Sa Calobra.
Now, with the Tour de France Femmes growing, more and more of cycling's iconic climbs will feature in women's racing. This puts Gardner's QOMs on the line, of course, but she does not mind.
"I think it's really exciting," she said. "It'll be sad [if I lose my Alpe d'Huez QOM], but I'll have to go back one day and try again. It will give me some motivation."
Thank you for reading 20 articles this month* Join now for unlimited access
Enjoy your first month for just £1 / $1 / €1
*Read 5 free articles per month without a subscription
Join now for unlimited access
Try first month for just £1 / $1 / €1