Indoor training competition shrinks as Wahoo closes down RGT and gives some users Zwift subscription
The American tech company's free virtual riding software is to be shut down at the end of October, with attention turning to structured workouts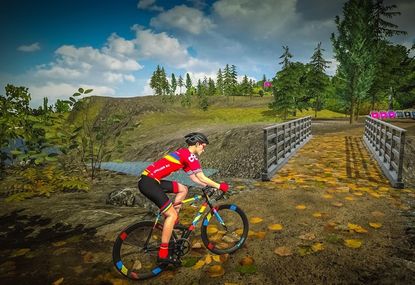 (Image credit: TLBVelo photography)
Wahoo Fitness is set to shut down its virtual cycling platform RGT at the end of October, thinning the field of available indoor training technology.
In an email sent to Wahoo X subscribers on Monday, it wrote that it had "made the strategic decision to focus on our long-established strength in structured training content through SYSTM". Therefore, it will close RGT on October 31, 2023.
The American company acquired RGT in April 2022, at which point it called the software "the next generation of virtual cycling".
Wahoo's paid-for structured workout SYSTM platform, which has its origins in training video brand The Sufferfest, will continue to exist, and will see a number of improvements and expansions through the rest of this year. However, the RGT part of Wahoo X will soon be shut down.
The email from Wahoo reads: "This shift in focus means our talented team's efforts, attention, and innovation will now be dedicated exclusively to our structured training content. Our vision for Wahoo X going forward is clear: to deliver the absolute best training software to help you become stronger, fitter, and faster, both on and off the bike.
"There will be continued improvements to functionality and content to give you even better value, plus more immersive, integrated, structured workouts designed by world-class coaches using cutting-edge sports science to use indoors or outdoors - including cycling, yoga, strength & mobility, running, swimming, and mental training."
Users who paid for Wahoo X are to be given complimentary Zwift memberships in order to soothe the pain of RGT disappearing; monthly subscribers get a three-month access code to the virtual software, while yearly subscribers get 12-month long access. Wahoo wrote: "With Zwift, you can continue to ride, race, and connect with fellow Wahooligans in the virtual world."
Indoor cyclists who simply used the free version of RGT will get a free month on SYSTM.
Last month, Zwift and Wahoo agreed to start collaborating again after settling a patent lawsuit.
The latter took legal action against Zwift in October 2022 for alleged patent infringement relating to its Hub smart trainer, launched in September. Both parties agreed to end the dispute in September, asking the court to dismiss Wahoo's lawsuit and any subsequent counterclaims.
In a joint statement at the time, both Zwift and Wahoo said that they will "embark on a renewed approach to collaboration", selling each other's products on their websites.
A spokesperson for Wahoo said that the decision had been made to "deliver the very best experience for our customers".
"Wahoo's mission is to build the better athlete in all of us through our world-renowned KICKR smart trainers, ELEMNT bike computers, connected fitness products and software," they said. "To deliver the very best experience for our customers – we have made the strategic decision to focus on Wahoo's long-established strengths around structured training content, through SYSTM and will be closing virtual cycling app RGT at the end of October (10/31/2023).
"This change of focus means that all of Wahoo's talented software team's energy, attention and innovation will become solely focused on SYSTM and the company's long-held vision to create the very best hardware and training software to help athletes get stronger, fitter, faster on and off the bike.
"Over the coming month we will be announcing a number of exciting new developments - these will include investment in SYSTM with improved functionality, new content and features, and a significant update to the Wahoo App to simplify the way that users interact with their Wahoo devices."
Thank you for reading 20 articles this month* Join now for unlimited access
Enjoy your first month for just £1 / $1 / €1
*Read 5 free articles per month without a subscription
Join now for unlimited access
Try first month for just £1 / $1 / €1