'It could have been us' - The Israeli pros who narrowly escaped the Hamas attack
Omer Shapira and Guy Sagiv trained on a road overtaken by Hamas the day before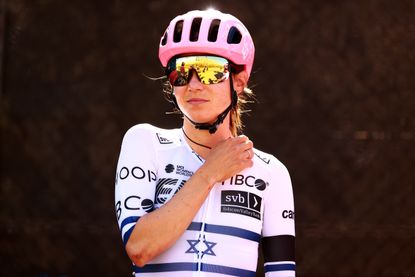 (Image credit: Getty Images)
On Friday October 6, Omer Shapira, the six-time Israeli national champion, and her husband Guy Sagiv, a three-time national champion, were training as they usually do, close to the border between Israel and Gaza.
Shapira's family lives around seven kilometres from the border, in a collection of tight-knit villages, the road is part of the 29-year-old's usual training route when she's back home.
The next day, Hamas invaded Israel from Gaza, attacking a music festival and multiple settlements, killing more than 1,300 Israelis and taking almost 200 hostages. Shapira's training road runs right through the area overrun.
"There aren't many roads in my area," Shapira, who rides for EF Education-TIBCO-SVB, told Cycling Weekly on Monday. "Basically everything happened on the road I used to train on, as a child, and now when we're both in Israel we use it.
"Normally, when we stay in Israel we stay there [with her family] and I don't know what made us make the decision to drive up north, but we went to stay with Guy's mum up north."
That decision might have saved the pair's life; Shapira knows over 15 people killed in the attacks, and more than 10 people who were kidnapped.
"All of what happened happened in my area, it's very small, and we're very close to each other," she said. "The stories first sounded not realistic to me, but when it happened that close and in this volume, it's so bad. We cannot run away from it... My mum phoned me and was screaming at me that she could hear the shooting.
"It's fear that I never knew before. I never thought I could be that scared.
"Then the stories started to arrive. The photos, the videos. We suffered from rockets for the last fifteen years, we have an alarm, and we kind of got used to this reality. I was always a bit cynical about it. I could always see their side, the Palestinian side, I thought it was a small group of people who hate us. [But] they attacked normal civilians."
The pair returned to their home in Spain following the attacks, to look after their young baby. Shapira's close family remained safe during the attacks but they have now been forced to leave the area. Both her and her partner have siblings serving with the Israeli military.
"It's very complicated, it's very painful because it has touched me so personally, as I live there," Shapira said. "It's just the reality, it was very difficult. We decided to come back to Spain, because personally, I couldn't be there anymore. I was scared, and in stress. We're a small country, but we feel very strong together."
"When we saw the pictures of people partying and celebrating [following the attacks], it made us all feel bad," Sagiv, who rides for Israel-Premier Tech, said. "The fact they came in and aimed to kill as many people as possible, not only soldiers, mainly innocent people."
"I think we feel a bit blessed, as we do every day," he continued. "We go out in the morning, and ride our bikes, and we were just lucky not to be there that day. To think about this situation it could have been us, it's just shocking. People who wanted to do their sport, and ride their bikes, like we do every day. People got murdered for doing nothing. We are still here [alive] and we will do everything to keep riding our bikes."
A 15-year-old member of a cycling club in southern Israel, Itai Cohen, was among those ambushed by Hamas fighters while on a training ride, according to his Israel-Premier Tech team. He suffered cuts from shrapnel and had to have surgery on his eye.
On Monday, the Gaza health ministry said that at least 2,750 Palestinians have been killed and 9,700 wounded in Israeli airstrikes on the Gaza Strip since the Hamas attack. Gaza is running out of food, water and medical supplies, in the face of a total Israel blockade and bombing campaign, according to the United Nations.
Thank you for reading 20 articles this month* Join now for unlimited access
Enjoy your first month for just £1 / $1 / €1
*Read 5 free articles per month without a subscription
Join now for unlimited access
Try first month for just £1 / $1 / €1