James Golding: Cycling survivor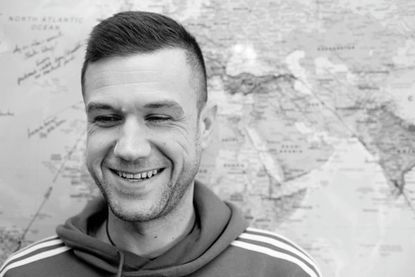 James Golding, 32, is an enviably fit, strong and competent cyclist. He's planning on breaking two world records by bike and is in the form of his life.



It's hard to believe that just four years ago James was in a coma, clinging to life after contracting cancer - and after being given a five per chance of survival. James recovered from the big C but there's more, a lot more, to his long and at times traumatic return to good health and amazing fitness. Cycling has played a central role in his miraculous and inspiring return from not one but two near-death experiences.
Forgiving fate "Some people tell me I'm the unluckiest man alive," says James, "but I think I'm the luckiest. If I hadn't been through what I have, I wouldn't be where I am today.
"I used to ride mountain bikes, cross-country and downhill, but when I was 18 I smashed my shoulder up, and at that point I stopped riding bikes altogether. I couldn't ride the way I was used to, so I had a bit of a strop, got rid of all my kit and went into estate agency."
"I got back on a bike when I was 27," he continues. "I had a go on a road bike a couple of times but I really wanted to get back into mountain biking, so I bought a Specialized Enduro S-Works, rode a few times in Wales and then got diagnosed with cancer."
Niggling pain
James's problems started with a painful back, which he put down to the fact he'd moved from a desk job to working in property maintenance. When he went to see his chiropractor, alarm bells started ringing.
"He said, 'There's nothing wrong with your back. In fact, you're probably in the best ever shape I've seen you. I want you to go to your doctor now'," recounts James.
"The GP basically looked me up and down and said 'There's nothing wrong with you.' He said it was muscle pain and gave me painkillers, sleeping tablets and told me there was nothing to worry about," he continues.
James's chiropractor was shocked that no blood tests or checks had been performed, so he sent the GP a letter. On James's return, the GP told him he hadn't received a letter (despite its having been acknowledged by the surgery) and sent him away again.
Finding a lump
"I found a lump on one of the 'fellas' as I call them. This [was] after another three weeks of being curled up in the foetal position at night in absolute agony," continues James.
"I went to see a different doctor at the same practice about the lump, and he referred me to a specialist. I went to the local hospital and had blood [tests] done. I got a call in the afternoon and my immediate thought was, 'Brilliant, finally something's happening, things are really moving'.
"They told me I wouldn't have an appointment for eight weeks. I told my mum about it and she was hopping mad. She got in touch with the secretary and said I was in agony and asked what was going on, and her response was "Well, if he's that bad, take him to A&E".
And that was precisely what James's mother ended up doing. "The next night I was talking to mum on the phone, and on this occasion the pain was really bad. I said, 'If it gets worse in the next hour, you need to take me to A&E'." Forty minutes later, he was on his way to Coventry hospital. "They registered me and took me in within five minutes. They took one look at me and realised I couldn't be faking the pain I was in."
Following initial tests, James was told that doctors suspected he had testicular cancer and, if so, they would operate straight away.
"The next day, they said, 'It's not testicular but we have found an 11.5cm abnormal mass wedged between your spine, kidney and bowel. We're not sure what that is but we believe it's cancer.'
Chemo onslaught
"My first lot of chemo was pretty savage. I was constantly being sick and my weight started dropping. All of a sudden, I became very bad, just before Christmas 2008. I'd gone neutropenic - where your white blood cell count is so low that you can't combat any infection. I was kept in quarantine over Christmas."
James had been a fit, 14st man when he went into hospital but by new year he was unable to walk or move from his bed. The doctors were increasingly concerned but couldn't work out what was wrong.
What happened?
"I remember not being allowed to have my chemo; I remember going through some scans; I remember having a Burger King; and I don't remember anything after that until I woke up in intensive care two-and-a- half weeks later."
"What I'm told happened is that... my vitals plummeted and the surgeons [agreed], 'It's now or never'. They've admitted that, if it hadn't been for my age, they would have [only] made me comfortable... My surgeon said he had to do everything that he physically could [to remove the tumour].
"There was no way I was meant to survive that surgery. Nobody in the hospital would tell my mum that I'd be OK. Even now, [the surgeon] says I was never [expected] to survive it.
"Six surgeons went to work on me for four hours at midnight on a Friday night. I [cardiac] arrested during anaesthetic. They opened me up and found that the tube they had put in to feed me had actually eroded through the back of my bowel, so all of the food they were pumping in was actually being pumped into me. I'd got septicemia and peritonitis.
"They brought my bowel out on to the surface and put lots of drainage tubes into me. They couldn't repair the bowel at the time so they brought it out on a looped bar so it couldn't go back in and they stitched me back up."
On the brink
"I woke up not remembering the fact I'd been ill. I was starting to go cuckoo. There are no windows in intensive care; there's no time reference, so I stopped sleeping, I could only see as far as my eyes would move, as I couldn't move my head. I weighed about six stone by now.
"When I moved to a high-dependency ward, I had this belief that I was all right. I thought I could walk, that I could go home with my dad. In reality, I couldn't move my head from the pillow but I was highly hallucinating, mainly because of the drugs and lack of sleep. "We still didn't know whether I was going to survive but I needed some daylight; I needed a routine, so they moved me.
"Eventually I was allowed to start eating but only mashed potato and high-calorie shakes. I always pushed the boundary a little more than I should have done. I would eat things I wasn't allowed."
"I refused the feed tube this time, and the nutritionist said, 'We have real concerns that you're not going to gain any weight. We don't think that you can physically eat enough.' So I said, 'Let's see about this, then!'
"I was eating everything. Mum was coming in to see me with two bags of shopping and I'd eat the lot! My friend would come and visit with a Chinese. This is all on a ward that's not meant to have any food brought in or warmed up, but I had the nurses heating it all for me in the staff kitchen. I had pizzas bought in for me, McDonald's, Burger King, you name it. I was putting the weight on and I was winning."
Going home
"They said, 'Providing you can walk to the bathroom, you can go home at Easter.' As far as I was concerned, I was going home before Easter, so as soon as I came out of intensive care, my goal was getting from the bed to the bathroom. The toilet was only five metres away.
"Getting from that bed to where I am now took one step at a time, and it started with wiggling my toes. Next I'd lift my head off the pillow, then using the bed to sit me up, we'd let the bed fall back and see how long I could sit up on my own for. Then one night I moved one of my legs.
"I managed to get home four days before Easter. I set myself daily goals like walking to the town to buy a Cornish pasty. Slowly but surely I started to improve. On the July 23, 2009, I went into see one of my surgeons. He came out into the waiting room, looked around all the patients and when I stood up he said, 'Oh my God, I didn't recognise you - you look so well!' He told me my cancer was getting smaller. As far as they were concerned, this was kind of my all-clear day."
Being Brave - You can do it!
James Golding's advice
If you want to enter an event, enter an event - then you have to do it! Enter a manageable distance at first and work up.
The only time you're failing is when you stop trying. If you can't finish an event, there's no shame. Good sportives are so well organised now that you're not going to be left alone if you start to struggle. There will be marshals and other people to help you.
When I first got back on a road bike, I was aiming to do a lap of my local streets and I was ready for bed. I did it again a couple of weeks later and it got a bit easier. Then I worked up to 10 miles.
I rode to a friend's house who lived 10 miles away, had a coffee and cake and then tried to ride back. You know that if you can't get home, you're at a safe place to be picked up. I think you've got to keep pushing your boundaries, but be realistic.
>>>> Continue reading Jame Golding's story on page two >>>>
This article was first published in the April issue of Cycling Active. You can also read our magazines on Zinio, Google Play, Nook or download from the Apple store and also through Kindle Fire.
Thank you for reading 10 articles this month* Join now for unlimited access
Enjoy your first month for just £1 / $1 / €1
*Read 5 free articles per month without a subscription
Join now for unlimited access
Try first month for just £1 / $1 / €1
Founded in 1891, Cycling Weekly and its team of expert journalists brings cyclists in-depth reviews, extensive coverage of both professional and domestic racing, as well as fitness advice and 'brew a cuppa and put your feet up' features. Cycling Weekly serves its audience across a range of platforms, from good old-fashioned print to online journalism, and video.