JE James' staff fund-raising ride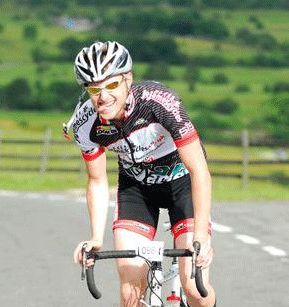 Staff of JE James Cycles will embark on a unique charity fund-raising bike ride in June 2012 to raise funds for Niamh Curry, a five-year-old suffering from a rare form of cancer who needs treatment in the USA.
A group of riders from Rotherham bike retailer JE James will ride to Nottingham, Ilkley, Almondbury, Manchester and finish in Heringthorpe to spell out the name 'Niamh'. The group aim to complete the 250-mile ride over a 48-hour period, collecting money along the route.
Andy Liversidge (pictured) from JE James came up with the idea of the ride after seeing Niamh's plight highlighted by Sir Chris Hoy on social networking website Twitter.
"After reading Niamh's story from her website Niamh's Next Step I felt I had to help this amazing little girl get her wish," said Livo.
"Having been involved in charity work before I knew with a little bit of hard work I could contribute to helping Niamh and her family get what they desperately need."
Updates on the ride will be posted on JE James Cycles Twitter account and @NiamhBikeRide.
Niamh Curry was diagnosed with Neuroblastoma in 2010 when she was three years old. Extensive hospital treatment, including surgery and chemotherapy, failed to eradicate the disease and her family are now raising funds for specialist treatment only available in the USA. Donations go to registered charity Neuroblastoma Children's Cancer Alliance.
External link
Thank you for reading 5 articles this month* Join now for unlimited access
Enjoy your first month for just £1 / $1 / €1
*Read 5 free articles per month without a subscription
Join now for unlimited access
Try first month for just £1 / $1 / €1