Lance Armstrong: 'Anti-Sportsman of the Year'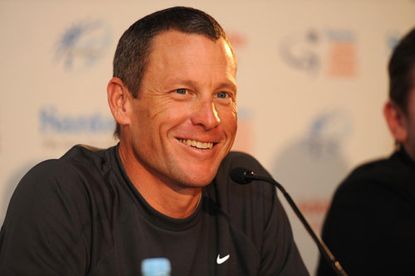 Lance Armstrong continues to take a beating after a doping investigation that revealed a career of cheating. American magazine, Sports Illustrated named him its Anti-Sportsman of the Year and pictured him crossed-out with a red X on its cover.
The nomination comes one month after her was officially stripped of his seven Tour de France wins for doping and 10 years after he was named sportsman of the year in 2002.
"Lance Armstrong tops the list of athletes who should have his or her Sportsman of the Year Award revoked," read the Sports Illustrated article. "Armstrong's legacy crumbled faster than his steroid-fuelled thighs used to take him up France's Pyrenees Mountains; former team-mates admitted that not only had Armstrong constantly used steroids, but also that he practically forced his team-mates to do the same. Not that he'll admit to any of it."
The magazine nominated 14 athletes for the title, including cyclist British track cyclist Philip Hindes. Hindes purposely crashed in the London Olympic team sprint event after getting off to a wobbly start. The team, with Sir Chris Hoy and Jason Kenny, was allowed a re-start and went on to win a gold medal.
The move put Hindes in bad company, in Sports Illustrated's list with Armstrong.
"These days it seems like for every sports hero, there is a cheater," read the article. "For every 'good sport,' a bad one. Whether it was by trying to game the system or by flat-out cheating, spouting profanities at a fan or directing racist epithets at an opponent, athletes have given sports fans a fair share of stupidity to endure this year."
Armstrong's downfall has been as dramatic, if not more, as the seven times he dominated the Tour from 1999 to 2005. His 2009 comeback seemed to spark the fire. Floyd Landis alleged doping with in US Postal Service and Discovery Channel in April 2010. The Food and Drug Administration (FDA) investigated tax payer fraud, but the US Anti-Doping Agency (USADA) that finished off the job. Headed by CEO Travis Tygart, the agency started its investigation this February and by August 24 found Armstrong guilty, a kingpin in a doping conspiracy.
"[The] conspiracy was professionally designed to groom and pressure athletes to use dangerous drugs, to evade detection, to ensure its secrecy and ultimately gain an unfair competitive advantage through superior doping practices," said Tygart in a statement. "A programme organised by individuals who thought they were above the rules and who still play a major and active role in sport today."
Tyler Hamilton, along with other team-mates, testified to his and Armstrong's doping. His book on the subject, The Secret Race, won the William Hill award this week. He said afterwards that he hopes Armstrong will confess.
"I got the opportunity to tell the truth and it changed my life," Hamilton told Sky Sports. "It really did and I think Lance is in a tough situation right now. He's got to be torn up inside. I think eventually we will see some of the truth come out. I hope so for the sake of cycling. We need some closure for that period. The best thing he can do for the sport of cycling, if he truly loves the sport, he needs to tell the truth. Do it for us. Do it for his kids. It's got to be awful."
Despite losing his seven Tour titles and sponsors, and receiving a lifetime ban and now the anti-sportsman award, Armstrong has yet to confess. Two weeks ago, he posted a photo of himself on his couch underneath seven framed yellow jerseys. (http://goo.gl/jHSdU).
"He's clearly trying to show everyone he's relaxed and still believes," Hamilton said. "I'm sure he's real angry inside."
Related links
USADA's Armstrong doping report in brief
Thank you for reading 20 articles this month* Join now for unlimited access
Enjoy your first month for just £1 / $1 / €1
*Read 5 free articles per month without a subscription
Join now for unlimited access
Try first month for just £1 / $1 / €1