11 amazing cyclists saying really weird things
We couldn't resist. Sorry, cyclists. All photos: Graham Watson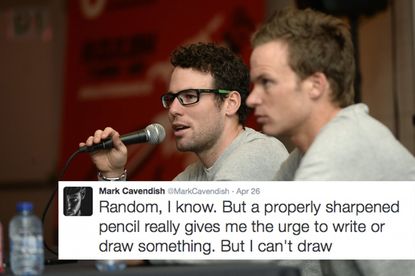 (Image credit: Watson)
Get The Leadout Newsletter
The latest race content, interviews, features, reviews and expert buying guides, direct to your inbox!
Thank you for signing up to The Pick. You will receive a verification email shortly.
There was a problem. Please refresh the page and try again.
Everyone knows that Twitter is an amazing thing. Never before have we been able to get so close to our heroes, to know what makes them tick, to know what they're going through, their struggles, their hopes and their dreams.
We also get to read the stuff they write when, it seems, they've forgotten that anyone is listening.
Laura Trott
She has world titles and Olympic gold medals in abundance. She also has a really keen sense of smell, and here answers the age-old question: is fox poo on a dog worse than dog poo on a fox?
Laura says it is, and we'll take her word for it.
Alex Dowsett
Put down the phone, Alex, and do what has to be done. This is not the right Hour Record.
Peter Kennaugh
He's just putting it out there. It's like Tim Berners-Lee inventing the internet – he's not keeping it to himself, not snatching the glory. He's sharing it for the good of the world, and now it's up to us, the people, to chase down the limitless potential of the Big Idea. Pete's too busy with his outrageous solo wins – we can have this one for free.
Katie Archibald
If you laughed, you're a bad person.
Geraint Thomas
We've been losing sleep over this one. Is it true? IS IT? No amount of Googling is revealing the answer. Can a Welsh person PLEASE leave a comment telling us if this is nonsense? Surely 'll' is not a letter, EVEN IN WELSH? Or is it? Can it be? #mysteriesofwelshness
Chris Froome
If they really loved cheese, they would eat it, not roll it down a hill.
Richie Porte
It's the chemical toilets, Richie, they're just not up to it. That's why everyone except you hates caravans.
Luke Rowe
Luke Rowe really likes the word 'hitter'. He likes it in the way that Jamie Oliver likes 'pukka', and George Osborne likes 'hard-working families'. Geraint Thomas winning E3 Harelbeke? Hitter. Alan Sugar sacking yet another deeply flawed chancer with a prod of his pudgy index finger? Absolute HITTER. And if that qualifies, there's hope for all of us.
Mark Cavendish
Just write then.
Marco Pinotti
Call that a nap?! Come on, you amateur. This writer once had a nap that lasted 16 hours. You're not even trying, Marco – come back when you're ready to step up.
Chris Hoy
The best bit is all the people who replied saying "It's called the Chunnel." No, twitterers… it's called a joke. Chris Hoy? Hitter.
Luke Rowe shows us his scars
Thank you for reading 20 articles this month* Join now for unlimited access
Enjoy your first month for just £1 / $1 / €1
*Read 5 free articles per month without a subscription
Join now for unlimited access
Try first month for just £1 / $1 / €1
Get The Leadout Newsletter
The latest race content, interviews, features, reviews and expert buying guides, direct to your inbox!