15 tips for keeping warm on a winter bike ride
Cycling Weekly readers share their tips on how to keep warm during the colder months, in association with B'Twin, available exclusively from Decathlon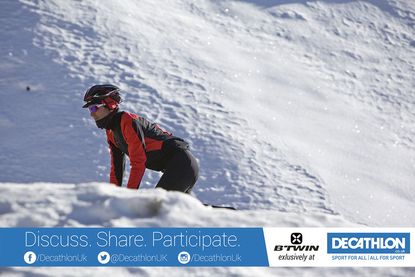 There's no reason to stop cycling just because the weather gets a bit colder - the trick is knowing how to stay warm.
We recently asked Cycling Weekly readers for their tips on keping toasty on a winter bike ride. We present a selection of their answers here, in association with B'Twin, available exclusively from Decathlon.
What's your best tip on how to keep warm during a winter bike ride? Tell us in the comments section below.
Put tin foil over the toes (and socks) before putting them into your shoes. It's wind resistant and reflects heat back into your feet.
Mark Larigo
Don't overdress. You start sweating and then you get cold. I dress so that I am a bit cold when I start, and after 15 minutes I get warm enough. So, keep dry from the inside!
Anna Eriksmo
>>> Winter road bike tyres: a buyer's guide
Warm your gloves, socks and shoes up before setting off. Shove them on a radiator or alternatively a hot water bottle. Toasty.
Tim Meyrick
Spin your legs. Everything should stay warm except feet. Eat often, as the body produces warmth. Warm your feet by stopping and swinging your legs for a few minutes. Then crack on.
James Haynes
Base layer with long sleeves is key. Jersey (I prefer short-sleeve, so I don't overheat with the base layer). Spray jacket and winter bibs. Overshoes are a must. Decent gloves and a snood or cap under the lid. You should be all right with that little lot.
Tony Luckett
Whisky.
Troy Coleman
>>> 15 reasons why cycling in the winter is great
Assos autumn long-sleeve under-layer, Gabba convertible, Alé longs, Endura winter gloves with silk liners, Windstopper socks, Assos overshoes, full tummy (porridge with blueberries and banana), then phone Alex Dowsett for a ride and go for it!
Chris Hazael
Riding up hills does the trick for me. The only trouble is, you've got to come down the other side and cool down again. Seriously, though, a good windproof jacket helps, not a boil-in-the-bag rain jacket though.
Dewi Evans
Don't fall in a river.
Jason Humphries
Adrenaline and self-hatred. I was doing deliveries on my lousy hardtail in the snow in a T-shirt and jeans. The adrenaline and rage at my job had me sweating.
Devon Wheeler
Do it via a computer, with your mates, on an imaginary island. In your garage. With the heater on.
Tim Fairhurst
Don't stop. For nothing or no one. Don't wear too many socks so your shoes are tight, it's counter-productive. The single most important piece of kit is the right gloves for the temperature. And neoprene is rubbish... keeping the wind out is far more important than staying dry.
Paul Oz
>>> The best way to describe cycling to an alien from another planet
Stay in bed! Hundred per cent guaranteed to work.
Andrew Dawson
Safety first. If it's icy then stay home and use the turbo. If it's just cold, then layers and cafe stops. Invest in quality kit — surprisingly, it works.
Simon Willis
Whale fat: a minimum of two jars liberally applied.
Neil Wootton
Thank you for reading 20 articles this month* Join now for unlimited access
Enjoy your first month for just £1 / $1 / €1
*Read 5 free articles per month without a subscription
Join now for unlimited access
Try first month for just £1 / $1 / €1