'15mph is too slow in traffic' – retailer says faster e-bikes will improve safety
The growing e-bike market has people focused on safety, but this expert says the speed restrictions are counter productive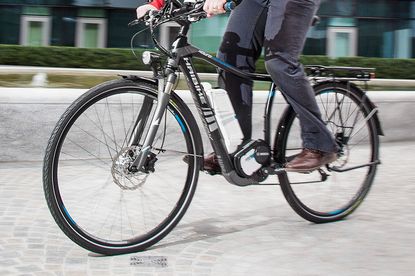 Making e-bikes faster will help improve safety on the roads, according to an electric bicycle retailer.
Electronic bikes are growing hugely in popularity which has prompted inevitable discussion of their safety and speed limits.
But Scott Snaith from e-bike seller 50Cycles.com says the current speed restrictions are a hindrance to rider safety.
>>>Electric bikes and UK law: what you need to know
Mr Snaith said: "If we're being sensible, we actually need to relax the laws around e-bikes, not make them more stringent.
"E-bikes are not 'unlicensed motorbikes' as they've been labelled in some reports.
"A speed of 15.5mph is just a tad too slow when it comes to being safe going through traffic."
Current laws restrict e-bikes to 15.5mph – or 25km/h – which means when you hit that speed, the engine will cut out.
The power put out by an 'electronically assisted pedal cycle' also must not exceed 250 watts.
Currently, the bikes can be ridden on any cycle path and where else that allows bikes.
You must be over 14 to ride an e-bike but you don't need a license, you don't need to register the bike and there's no vehicle tax.
But Mr Snaith says these constraints are too strict, and that the speed and power limits should be upped.
He said: "If you're negotiating busy roundabouts or junctions – and particularly if you're slightly wary – an extra boost of power might just accelerate you out of harm's way."
Mr Snaith says that the speed limit should be increased to 20mph, and the power upped from 250 watts to 350, or even 500 watts.
E-bikes hit the headlines recently when a woman was left in a critical condition after a collision with an electrical bike.
The 56-year-old women, Sakin Cihan, was involved in the collision in Dalston, London last month.
Ms Cihan later died from her injuries after the crash.
Mr Snaith also raised issue with the argument that e-bikes are more dangerous because of their weight.
He said: "To say that an e-bike is heavier, and therefore more dangerous, than a standard cycle is clearly nonsense.
"Would you also look to ban slightly heavier riders from two wheels too?"
Mr Snaith says e-bikes weigh around 2kg more than a conventional pedal bike.
According to stats from HMRC, e-bike sales jumped from 50,000 to 62,000 in the last year alone.
Mr Snaith added: "E-bikes are a great way of getting back on two wheels in adulthood, as they're clearly easier to ride than a normal bike, particularly when faced with a headwind or hills.
"They're also environmentally friendly and an exceptionally green way to commute to work.
"We should be encouraging their use, not stifling it."
Thank you for reading 20 articles this month* Join now for unlimited access
Enjoy your first month for just £1 / $1 / €1
*Read 5 free articles per month without a subscription
Join now for unlimited access
Try first month for just £1 / $1 / €1