2009 Track Worlds: No room for complacency in British Cycling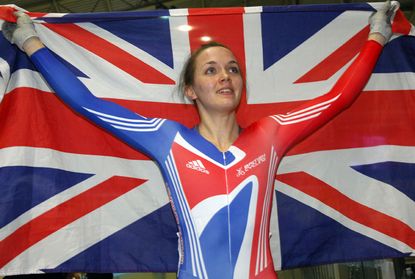 Follow Cycling Weekly on Twitter>>
In the build-up to this week's Track World Championships in Poland, Cycling Weekly sat down with National Sprint Coach Iain Dyer to talk about the team's objectives and aims.
Cycling Weekly: What expectations do you have from this World Championships?
Iain Dyer: Now is the time when any athlete who is working on an Olympic cycle will be experimenting a bit, learning a bit, doing things a little bit differently. Also mentally that little bit of variety is a good stimulus for keeping you interested in what you?re doing. There are positive spin-offs for anyone in having a little look at a different discipline in terms of some of the qualities you can develop, whatever the sphere is.
CW: What were your general conclusions from Copenhagen?
ID: I was pretty happy, always going to be that last opportunity to fine-tune your race senses. That?s why we need a World Cup at that point or a major race at least, because you?re on the up a little bit and it?s a really good early window on where you need to fine-tune your preparation that you?ve got left before the World?s - be it a power-related thing, or a speed thing or the tactical side of things. It?s a good opportunity to see what you need to brush up on before the main event.
CW: Apart from Chris Hoy and his injury, nothing that worried you?
ID: No concern, really - apart from Chris, obviously - and a lot of positives. Although in the sprint events the French seemed strong, they were also a little flat as well, the flatness that you get from heavy training.
So everyone?s going to have a lot more to bring to the World Championships. As an exercise for us, overall I think Copenhagen worked very well.
CW: There?s been a lot of talk about Shanaze Reade doing all three World Championships in one go - the track, the MTB and the 4-Cross. How compatible is it?
ID: I?m not a BMX coach and I?m certainly not a 4-Cross coach, so it?s hard for me to say. Physiologically speaking you can see that they share a similar foundation, but the bikes are vastly different in all senses so technically there?s a big component there that needs to be addressed.
CW: The one thing Dave Brailsford always says is that complacency is never going to enter British Cycling?s vocabulary. But if there ever was a chance for being complacent, it?s surely now.
ID: We?re already right in the middle of our plans [for London 2012], and what we?re doing already is showing that we?re far from complacent. We?re looking into variations in line-ups, we?re looking into bringing riders through and that already shows our lack of complacency.
It would be very easy to stick to established line-ups, roll the same people out and hopefully the medals would continue to roll in. But then a year after the Olympics if you lose one of those guys or somebody starts to fade a little bit then you?re left with gaping holes in your line-up.
We?re working really hard right now, we?re doing our homework and our research and what you?ll see in the last two years is the gradual refinement of that process and a little bit more consolidation and stability.
CW: So it?s fair to say that in this World?s we can expect a few surprises in terms of line-ups and so on?
ID: The final selection will be down to the selection panel as ever and as coaches we don?t make those calls but put those recommendations forwards. But certainly it?s in our minds right now that we?ve got the opportunity to bring some young ones through and to try as many new things as possible.
CW: If I asked you to name one specific moment from the 2008 Olympic Games that stood out for you amidst all that non-stop success, what was it?
ID: I think the qualifying of the team sprint encapsulated that, because going into it we knew we were on the up and showed we had form in the training camps.
The trouble with training in your holding camp you don?t know what everybody else is up to around the world, everyone squirrels themselves away for a significant period and you don?t see a lot of your opponents or your rivals. But when you know you?re gaining, that?s great, because you can only make yourself the best that you can be.
However, you can?t legislate for someone going that bit further and that?s what the French did to us in the team sprint before. Before Beijing everybody in the squad, including Vicky [Pendleton - pictured above] as well as the guys was gaining. But we didn?t have a barometer for what that represented in terms of competition until we got there, opened up the taps and saw what it brought.
When we did that qualifying run in the team sprint we really obliterated the opposition there, and to a certain extent to the French, having been seeded number one and then seeing us do that ride.
We did a time there that they thought it was never possible to do, and when you shift to a new paradigm in such a fashion and they can?t match that then you know straight away where you are on the right track.
We knew that Vicky and Ross [Edgar] would be up there as well and what the team sprint brought to the entire team was where we were in relation to everybody else. It was clear then we?d found a whole new level and everyone else was struggling to reach it. That ricocheted through the whole team and that was perhaps the best moment for me. It was a strong realisation about where we were.
CW: Was there ever any truth in the rumour that Jamie Staff was retiring after the Beijing Olympics?
ID: We?ve got a lot of options and young guys coming through. I?m not sure that I ever heard Jamie say he was going to retire but it was perhaps assumed by a lot of people with his Olympics in Athens not being as successful as he?d have wished that he?d effectively lay that ghost to rest in Beijing and then walk away.
The thing is when you find that much form, it doesn?t matter how old you are, just to walk away not just at the pinnacle of your sport but actually still improving. I don?t think anyone could really walk away from that, whether you?re 25, 30 or 35, gaining that much, and you?ve just had a fantastic Olympics, why would you stop?
He loves riding his bike, he loves training, he?s great for the team, why would you walk away? We?re very happy he?s still hanging around.
CW: For Jason Kenny, the curve is upwards, too...
ID: Very much so. The strength in depth of the opposition in Copenhagen was much greater than at Manchester World Cup and I think if you look at the Copenhagen results from last year, he?s definitely a couple of steps further on than he was there at this point of this time. He was at least a tenth of a second faster in his flying 200 and obviously made the semi-final this time whereas last year he was disputing fifth to eight.
CW: So overall?
ID: We?ve shown that we can get it right on the day, when it matters. I think along along with everybody who?s had the Olympic experience preparation particularly in the latter past of last year was a little bit patchwork, people were in demand, there were plenty of commitments and interviews and appearances to do and we recognised the riders need to have a little window have to make the most of that.
But then it was time to knuckle down and I think that Jason along with all the other guys that did the Olympics are in pretty good shape, and they have used the last six to eight weeks before the Worlds to get even better. Being so good at this point augers well.
But when I say augers well, people shouldn?t think this necessarily means a bagful of medals like other World Championships. Everybody will give it their best shot, but we?re looking at this long term.
2009 UCI TRACK CYCLING WORLD CHAMPIONSHIPS
NEWS AND FEATURES
Cavendish in the frame for Scratch race world title bid
2009 Track Cycling World Championships preview
Crampton set to fill Sir Chris Hoy's team sprint spot
2009 World Track Champs GB squad named
Hoy to miss world track champs
Track World Championships: British medal winners
CW's Dummies' Guide to Track Racing
GB RIDER PROFILES
Men
Jonathan Bellis
Steven Burke
Mark Cavendish
Ed Clancy
Matt Crampton
David Daniell
Ross Edgar
Jason Kenny
Chris Newton
Jamie Staff
Women
Lizzie Armitstead
Wendy Houvenaghel
Victoria Pendleton
Shanaze Reade
Joanna Rowsell
Jessica Varnish
RECENT RESULTS
International track results last season: 2007-2008
International track results this season: 2008-2009
2008 TRACK WORLD CHAMPIONSHIPS LINKS
Full results from the 2008 track worlds
Report: Sunday, day five>>
Report: Saturday, day four>>
Report: Friday, day three>>
Report: Thursday, day two>>
Report: Wednesday, day one>>
EXTERNAL LINKS
Track Cycling World Championships 2009 official website
Thank you for reading 5 articles this month* Join now for unlimited access
Enjoy your first month for just £1 / $1 / €1
*Read 5 free articles per month without a subscription
Join now for unlimited access
Try first month for just £1 / $1 / €1
Founded in 1891, Cycling Weekly and its team of expert journalists brings cyclists in-depth reviews, extensive coverage of both professional and domestic racing, as well as fitness advice and 'brew a cuppa and put your feet up' features. Cycling Weekly serves its audience across a range of platforms, from good old-fashioned print to online journalism, and video.