2009 winners honoured at CTT Champions' Night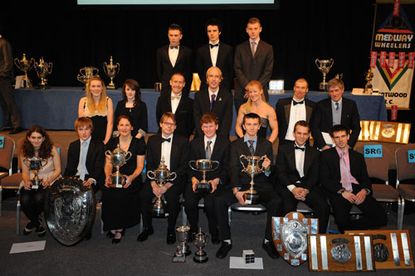 Get The Leadout Newsletter
The latest race content, interviews, features, reviews and expert buying guides, direct to your inbox!
Thank you for signing up to The Pick. You will receive a verification email shortly.
There was a problem. Please refresh the page and try again.
CTT Champions' Night 2010 photo gallery, by Andy Jones>>
The East Midlands Conference Centre in Nottingham played host to the annual Cycling Time Trials 'Champions Night' on Saturday evening.
Despite the snowy conditions of the last couple of weeks and the threat of more on the way, the event still saw a good turn out on a night where the Champions of the 2009 season were honoured.
Alison Edwards the event organiser said, "There are probably about thirty people that have not made it so it's not too bad at all. A few prize winners will be missing which is really sad but we hope that everyone has a good evening seeing as people have made such an effort to get here.
"As an organisation we are stuck between and a rock and a hard place because although the event is insured we cannot insure against the weather. If we had not run the event it would have still cost us 90 percent of the booking fee and for those prize winners that are here, if we had not gone ahead, there is no way we could have postponed the event for it to have happened later in the year, so it just would not have run at all."
The evenings proceedings got underway with the prize presentations themselves, something which in previous years has always been done after the dinner itself. Guest of honour, Dan Lloyd of the Cervelo Test Team was on stage with Sheila Hardy the CTT chairman to present the medals and trophies. The conference centre auditorium really looked the part with all the club pennants adorning the back drop to the stage.
The 2009 seasons Champion of Champions of Michael Hutchinson, Julia Shaw and Joe Perrett (Junior) were the last to be presented up on stage for their awards and were warmly applauded as were all the prize winners.
Champion of champions: Julia Shaw and Michael Hutchinson
Shaw and Hutchinson's aims for 2010
I asked Julia Shaw afterwards what goals she had for the 2010 season. "I will train for the national time trialling championship events," said Shaw. "I'll definitely do the national road race again as I enjoyed that last year. I did ok considering I didn't do loads of prep, so I'll try and prepare a little better for that. I have to say I would really like to get in to the Commonwealth Games.
"I'm not really sure what's needed to be considered, but it would be nice as a target. I really enjoyed the two French races I did last year, particularly the GP de Nations. It was the last TT of the year it was just amazing, closed roads, brilliant organisation and they really looked after you, so it just made for a nice end to the season."
When asked how her training was going at the moment it was a familiar story under the current weather conditions. "It's been a struggle. Up to this week I've been doing a fair amount of mountain biking to get off road where there's no ice. I've been back at work this week so the turbo has come out. It's not my favourite way of training, so the sooner this weather finishes the better. It would be nice to go off to somewhere warm," added Shaw.
Turning to Michael Hutchinson, his season will have a late start with the National 10 being his first major target. "What I've done over the last few years is I've tended to start the season a bit later." said Hutchinson.
"Usually I've come out of hibernation somewhere in April and race three or four weekends before the National 10 and do the National championships and race on through to the middle of the year which seems to have worked the last few years. So I'll do that.
Michael Hutchinson
"I'm not training at the moment which is good because I'm not losing out with snow. I'm doing a bit of running to keep fit but I'll start training properly at the being of March. It's time enough which gives me around twelve weeks to the national 10. I start later every year. I'm finding as I get older it seems to take me less time to get fit. Some of these years I'm not going to have to train at all."
There is the possibility of Hutchinson going to the Commonwealth Games in Delhi later this year. "The Commonwealth Games is a long way off," said Hutchinson. "It's in October and I don't see the selection being an issue until well in to the summer, so I've not really started to think about that too much. We'll see. It would be fun to do it again."
The dinner followed the presentations and was taken in the adjoining hall where the Champions of 2009 were given the honour of being announced individually by David Harmon of Eurosport as they made their entrance down the central aisle to join their tables.
Dan Lloyd
Guest of honour: Dan Lloyd
After the meal, Julian Gee of the CTT National Committee welcomed guests and visitors before bringing guest of honour, Dan Lloyd to the podium. Lloyd was warmly applauded as he made his way up to the front backed by the Arctic Monkeys blasting out of the sound system.
"Forgive me this evening if there are a few pauses. I'm not really used to getting up in front of this many people, standing up and entertaining them with words. In fact, I'm not really used to getting up on a podium at all. I'm a fairly mediocre rider and if I do get up on a podium all I have to do is spray some champagne around and kiss a couple of pretty... ugly women. That's for the benefit of my wife so I have an easier night," was Lloyd's amusing opening gambit.
He likened his after-dinner speaking to a 10 mile TT. "Up until now you have had a fantastic evening and you are floating along. You cannot feel the legs and you have got to the turn in about nine minutes thirty. Well, I've just got up here and you have all just hit the turn now.
"And in a couple of minutes when I've been speaking for a little while you are hitting the return leg and you are going to realise that actually you had a massive stonking tail wind on the way out and you have got a very long hard head wind leg home this evening. Luckily for you I'm pretty good in to head winds, so although it's going to be painful it's not going to be as long as some five mile return legs might be."
Dan Fleeman, national hill-climb champion
Lloyd related more amusing TT related links along the way which included riding MTB's with his bike-mad seven year old son Ralph. "He always comes up along side me and tucks down like a time triallist and says, daddy, am I aero-dan-amic?"
Finally, Lloyd closed his 30-minute speech with a few anecdotes from his first season with the Cervelo Test Team which included rooming with Carlos Sastre, riding the Tour of Qatar where Roger Hammond took the first road stage for the then new pro team, the Tour of Flanders and riding his first Giro d'Italia, his first three-week tour.
Lloyd was off to the Portuguese Algarve on Sunday morning for a structured two week training camp. He'll be joining up with his team mates in preparation for his second season with the Cervelo Test Team. "I'm just looking forward to getting out there and riding on some roads without any ice on them," said Lloyd.
"I started training again at the beginning of November but it's not been continuous. We had another team get together in the Algarve which was five days but we didn't do any riding. Then I went to Tenerife for a week with the team in December and I came back and it's been pretty tough getting out since then.
"I've done a few MTB rides as I got a new MTB which has been a bit of a godsend really over the last couple of weeks. Yeh, so I've got a few MTB rides in but since Monday I have been on the turbo. I've done an hour and a half one day and an hour the next day but I cracked. I was supposed to do an hour and a half. I did an hour and a half on Friday, nothing today and then I'm flying out to Portugal early tomorrow, that's if the airport is open."
Lloyd's first race is likely to be in Oman and looking further ahead he hopes to be able to get in the Tour de France team in the summer.
Junior champion, Joe Perrett
Related links

CTTChampions' Night 2010 photo gallery, by Andy Jones
Daniel Lloyd: Rider Profile
Thank you for reading 20 articles this month* Join now for unlimited access
Enjoy your first month for just £1 / $1 / €1
*Read 5 free articles per month without a subscription
Join now for unlimited access
Try first month for just £1 / $1 / €1
Get The Leadout Newsletter
The latest race content, interviews, features, reviews and expert buying guides, direct to your inbox!
Founded in 1891, Cycling Weekly and its team of expert journalists brings cyclists in-depth reviews, extensive coverage of both professional and domestic racing, as well as fitness advice and 'brew a cuppa and put your feet up' features. Cycling Weekly serves its audience across a range of platforms, from good old-fashioned print to online journalism, and video.