3-53.314 – A NEW WORLD RECORD FOR BRITISH TEAM PURSUITERS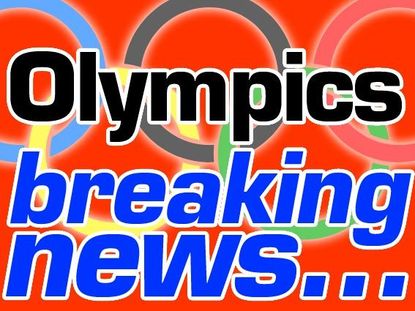 Join us at 9.30am on Tuesday for the final day's action on the track
3-53.314. A jaw-dropping new world record for Great Britain as they defeated Denmark by six seconds to win the gold medal in the team pursuit.
The British team of Ed Clancy, Paul Manning, Geraint Thomas and Bradley Wiggins wrote their name in the history books with a time that is streets ahead of what the rest of the world is currently capable of.
Ed Clancy told the BBC: "I don't think anyone saw that time coming, to be honest."
Paul Manning, riding his last team pursuit, won bronze in Sydney eight years ago and said: "It's been great to be at the core of the team pursuit squad for so long. To bow out at the top like this is amazing."
Bradley Wiggins said: "I was really down yesterday [after team pursuit qualifying]. I wasn't my usual self after the individual pursuit. I was disappointed and didn't want to let these guys down today. I know how much these guys have sacrificed for this one event. They are happy for me to go off and do my individual stuff but I didn't want to let them down.
"G [Geraint Thomas] sacrificed a medal in the individual pursuit to do this. If he had ridden it would have been me against him in the final.
"To put a time like that on the board is sensational really. That is 11 seconds faster than the the team pursuit record we set in Sydney eight years ago.
"I have set out to do this, to win three gold medals, but to actually do it and cross the line is a different matter. Cav is raring to go for the Madison. Hopefully we can finish it off. I was back to my usual self this morning."
The team pursuit was the second gold medal of the Games for Wiggins. He will go for a third in the Madison tomorrow with Mark Cavendish.
Earlier in the day, Victoria Pendleton, Chris Hoy and Jason Kenny all reached the semi-finals of their respective sprint competitions.
Swipe to scroll horizontally
11.23am GOLD MEDAL RACE
This is it. Arguably most prestigious endurance event on the track. Britain have become the greatest in the world at this discipline in the past three years. They are world champions, world record holders... Olympic gold is the only honour missing.
After 1km: GB are fast out of the blocks. Apparently they are on a 3-56 schedule. A scorching start. GB are 0.6sec up on Denmark. It is inside world record pace.
After 2km: It is looking very good for GB at the halfway mark. The Danes are struggling and the lead is up to 1.5sec.
After 3km: The GB team are gaining ground on the Danes. This is one of the finest team pursuit performances ever. The Danes have cracked. The GB four are still together and the gold is in the bag. What about the record? Still inside WR pace.
The Danes have lost a man. GB still all together. Wiggins is riding a bigger gear than in qualification.
Manning drops off.
The final time: 3-53.314
Unbelievable. Absolutely unbelievable. Almost two seconds off their own world record set yesterday.
Great Britain (Clancy, Manning, Thomas, Wiggins)
versus
Denmark (Moerkov, Joergensen, Madsen, Rasmussen)
Bronze in 2000, silver in 2004, gold in 2008 for Great Britain?
GB?S RECENT OLYMPIC TEAM PURSUIT HISTORY
BRONZE Sydney 2000
Paul Manning, Bryan Steel, Chris Newton and Bradley Wiggins beat the French in a time of 4-01.979 to win bronze
The Germans broke the four-minute barrier with a time of 3-59.781 to win gold
SILVER Athens 2004
Steve Cummings, Rob Hayles, Paul Manning and Bradley Wiggins rode 4-01.760 in the final but were beaten by Australia?s 3-58.233
11.17am BRONZE MEDAL RACE
It's the battle of the southern hemisphere - the grudge match - New Zealand against Australia.
New Zealand are represented by Sam Bewley, Hayden Roulston, Marc Ryan and Jesse Sergeant.
Australia have a change. Luke Roberts comes in to replace Bradley McGee and joins Jack Bobridge, Graeme Brown and Mark Jamieson.
Britain are set to call on Clancy, Manning, Thomas and Wiggins in the gold medal race against Denmark after this.
In a real ding-dong battle, the Aussies lost Graeme Brown after less than 3km, handing the emphasis to New Zealand.
The Kiwis dropped Roulston but were still 0.8 of a second ahead with 500m to go.
New Zealand get their first team pursuit Olympic medal in a time of 3-57.776.
Swipe to scroll horizontally
Men's sprint quarter-finals
11.15am
The British riders are kept apart, because of their times in the quarter-final, and so the prospect of a Hoy v Kenny final is a possibility.
Hoy faces Bourgain, Kenny, 20, against Levy, 21, tomorrow. Experience in one match, youth in the other.
SEMI-FINAL DRAW
Mickael Bourgain (France) v Chris Hoy (Great Britain)
Jason Kenny (Great Britain) v Maximilian Levy (Germany)
11.01am
There's a restart in the Hoy v Awang match. The Malaysian was obliged to lead out but clearly wanted Hoy to take the lead, so the pair came to a halt.
A track stand stalemate that exceeded the permitted 30 seconds meant the gun was fired and a restart ordered.
After that false start, Hoy came over the top of the Malaysian rider to take it with room to spare. It was quick too. 69.8kph over the last 200m for Hoy, and he's into the semi-finals.
Cracking stuff from Jason Kenny. There will be two British riders in the semi-final after Kenny came past Sireau to knock the Frenchman out. In an Olympic Games that has seen the British dominate, surely Kenny has to be the revelation... We knew he was going to be good, but this good, this soon?
Another young rider ? the 21-year-old Germany Levy goes through too. So far, so straightforward. But with Bos staring an early exit in the face, can he level it against Bourgain?
No. Bos blows it. He was on the back foot from the off and the found his front wheel on the inside of Bourgain's back wheel. You're not allowed to come up the inside in the sprint so that wrong move meant the end of the road for Bos. Of course there are still the 5th to 8th place finals but you know what we mean.
Again, all four matches decided 2-0.
LATEST SCORES
Chris Hoy (Great Britain) beats Mohd Azizulhasni Awang (Malaysia) 2-0
Jason Kenny (Great Britain) beats Kevin Sireau (France) 2-0
Maximilian Levy (Germany) beats Teun Mulder (Netherlands) 2-0
Mickael Bourgain (France) beats Theo Bos (Netherlands) 2-0
Swipe to scroll horizontally
Women?s sprint quarter-finals
11.00am
Victoria Pendleton cruised through to Tuesday's semi-finals of the women's sprint with a 2-0 win over Simona Krupeckaite of Lithuania.
Pendleton will now face the Dutch rider Willy Kanis and the anticipated final against China's Guo is on the cards.
SEMI-FINAL DRAW
Victoria Pendleton (Great Britain) v Willy Kanis (Netherlands)
Anna Meares (Australia) v Shuang Guo (China)
10.34am
Back to the women's sprint, then, with a chance for the four riders who won the first races to put it to bed without having to go to a decider. That is certainly what Pendleton will want to do.
After the medal ceremony where a tearful Marianne Vos got her gold for the points race, it's back to the women's sprint. Pendleton was dominant against Krupeckaite in the first race. Same again would do nicely.
Pendleton let the Lithuanian open a gap, but she came past with ease. Not just ease, it was as if Krupeckaite was standing still. The Hertfordshire-born girl is absolutely dominant.
Now Pendleton can rest this afternoon, knowing she will be in the semi-finals tomorrow.
A close contest, but China's favourite Shuang Guo goes through. Apologies for the earlier error, in which we listed Tsylinskaya as the winner of the heat. In our defence the all red of China is very difficult to distinguish from the green of Belarus... if you are colour blind. Which I'm not.
Clara Sanchez tried just about everything to get the better of Anna Meares but was pipped on the line by the Australian. Perhaps the French woman should have gone for a flyer with a lap and a bit to go. A bit of debate over whether Meares switched her line, but it appears the result stands.
All four quarter-finals are sorted out without the need for a decider. Kanis of the Netherlands is in the last four after a straightforward win over USA's Jennie Reed.
RESULTS
Victoria Pendleton (Great Britain) beats Simona Krupeckaite (Lithuania) 2-0
Shuang Guo (China) beats Natallia Tsylinskaya (Belarus) 2-0
Anna Meares (Australia) beats Clara Sanchez (France) 2-0
Willy Kanis (Netherlands) beats Jennie Reed (USA) 2-0
Swipe to scroll horizontally
Men's sprint quarter-finals
10.20am
Hoy will be favourite but the 20-year-old Malaysian won't be a pushover. Awang said this morning he considered it an honour to race against the Scot.
Awang had a go round the last bend but Hoy held him off.
Jason Kenny is up against a tough lurker from the repechage round. Kevin Sireau is one of the hardest draws he could have got. The Frenchman was silver medallist behind Hoy at the Worlds.
It's the battle of the Second Men from the respective team sprint line-ups. Kenny got the better of Sireau in the team sprint on Friday...
...And he does it again. Sireau mounted a big challenge but Kenny held him off with a final 200m time even quicker than Hoy's. Breathtaking stuff from the 20-year-old.
Impressive stuff from the German Max Levy. He didn't give Mulder a chance. The Dutch rider Mulder is mixed national tandem sprint champion with a rider named Scully.
That may not be entirely true.
Bos is not in good form. What has happened to him. Bourgain had him for breakfast there.
LATEST SCORES
Chris Hoy (Great Britain) leads Mohd Azizulhasni Awang (Malaysia) 1-0
Jason Kenny (Great Britain) leads Kevin Sireau (France) 1-0
Maximilian Levy (Germany) leads Teun Mulder (Netherlands) 1-0
Mickael Bourgain (France) leads Theo Bos (Netherlands) 1-0
Swipe to scroll horizontally
Women?s sprint quarter-finals
10.08am
So, onto Race 1 in the best-of-three quarter-final races in the women's sprint.
Easy for Pendleton in race one as she comes round Krupeckaite, the woman she beat to the world title in March.
Guo shows she could be a threat to Pendleton by beating Tsylinskaya after a cagey start to the race.
Meares goes one up against Sanchez.
The four matches have gone to form so far, with Kanis beating the American Keirin world champion, Reed.
LATEST SCORES
Victoria Pendleton (Great Britain) leads Simona Krupeckaite (Lithuania) 1-0
Shuang Guo (China) leads Natallia Tsylinskaya (Belarus) 1-0
Anna Meares (Australia) leads Clara Sanchez (France) 1-0
Willy Kanis (Netherlands) leads Jennie Reed (USA) 1-0
Swipe to scroll horizontally
10.02am
Marianne Vos has won the women's points race with a supreme display. She was the only rider to gain a lap, which she did with minimum fuss with around 30 laps to go. The 21-year-old world champion showed why she was the hot favourite for this event. Gonzalez and Olaberria took silver and bronze, with the Spaniard Olaberria doing enough in the final sprint on the finish line to win her medal.
Britain's Romero featured very strongly in the race and was 11th.
RESULTS
1. Marianne Vos (Netherlands) 30pts
2. Yoanka Gonzalez (Cuba) 18pts
3. Leire Olaberria (Spain) 13pts
4. Maria Luise Calle (Colombia) 13pts
5. Lesya Kalitovska (Ukraine) 10pts
6. Katherine Bates (Australia) 10pts
11. Rebecca Romero (Great Britain) 3pts
9.59am
The penultimate sprint, 10 laps to go, and Vos is well in the lead. Calle of Colombia and Gonzalez of Cuba are tied in silver medal position.
9.57am
With 19 laps and two sprints to go, they are effectively racing for silver and bronze. Marianne Vos has gained a lap and is 17 points clear of Gonzalez of Cuba, with Calle of Colombia in third.
Standings after sprint 8
1. Vos 30pts
2. Gonzalez 13
3. Calle 12
4. Olaberria 10
5. Kalitovska 10
9.55am
Our man in Beijing says the stadium announcer said earlier that any fans leaving the velodrome would have to buy another ticket to gain entry. That's one way to generate money for the Olympic movement!
9.53am Vos gains a lap
With just over 30 laps to go, the world champion Marianne Vos powered away to gain a lap on the rest of the field and go well clear thanks to that 20-point bonus.
Standings after sprint seven
1. Vos 30pts
2. Calle 12pts
3. Gonzalez, Kalitovska 8pts
Rebecca Romero won gold for Britain in the individual pursuit yesterday, beating her team-mate Wendy Houvenaghel in the final.
Here's the podium picture:
And here is a pre-Games publicity picture Romero did that inexplicably generated a lot of hits.
9.50am
It's all back together. Vos and Calle both have 10 points and are tied in the lead. Now Vos, the world champion, attacks hard and she goes clear with ease.
9.49am
This is great stuff from the Olympic pursuit champion Romero. She's been joined by the Colombian Maria Luisa Calle as they reach sprint six. Calle gets it, Romero is second but is off the back of the Colombian's wheel.
9.47am
Romero waited for the fifth sprint to finish and has gone on the attack again. It's clear her strategy is to try to get a lap. This is the only thing she can do. If she gains a lap she'd get 20 points and go into the lead.
Standings after sprint 5
1. Vos (Netherlands) 10
2. Kalitovska 8
3. Olaberria 7
9.46am
It's a very aggressive race so far. The New Zealand rider Cheatley and Dane Trine Schmidt attacked. This was joined by Romero and then Vos before it all came back together.
9.43am
Standings after four sprints (60 laps to go)
1. Vos (Netherlands) 8
2. Olaberria (Spain) 7
3. Gonzalez (Cuba) 6
9.42am
Romero is caught as the Russian Olympic champion, Olga Slyusareva chases her down. After three sprints, Vos is the leader on eight points.
9.41am
Romero is on the attack. Big attack from the British rider. The Danish rider, who was one of the fallers, tried a cheeky move. She rejoined the race and got on Romero's wheel at the head of the race when she should have gone back into the bunch.
9.40am
We'll probably get some flak for this but a very experienced soigneur, who has worked at international track meetings all over the world, told CW recently: "You always have your medical kit at the ready for the women's points race."
9.38am HUGE CRASH
Near the front of the bunch there's a fall. USA's Sarah Hammer is down. Riders who crash are allowed a maximum of five laps out and are permitted to rejoin. Romero did not fall.
9.37am
Gonzalez wins the second sprint with 80 laps to go. Vos got three points, Olaberria was third and Bates fourth. Romero just got to the front of the bunch and tried to lift the pace to chase it down.
9.36am
Vos has persisted with that attack and is joined by three other riders in trying to get away. Olaberria, Katherine Bates (Australia) and Yoanka Gonzalez (Cuba) are also sharing the work but the gap is staying constant.
9.33am
Already there is an attack, by Svetlana Pauliukaite (Lithuania). Marianne Vos of Holland has reacted, as has Olaberria of Spain.
Vos wins the first sprint and gets the five points.
9.30am
The riders are being announced to the crowd now. Predictably the biggest cheer is for the Chinese rider Yan Li.
To answer the earlier question from Steve: Has Rebecca Romero ever ridden an international points race before, the answer is: Yes. She was 12th in the Beijing World Cup in December.
But that was her only previous experience. So this is her second event.
They are off and running and Romero is sitting near the front. She may be very inexperienced but she certainly has the leg speed and endurance to do something in this 100-lap race.
9.26am
We're only a few minutes away from the start of the women's points race now. Marianne Vos is the big favourite. The Dutch rider won the world title in commanding style earlier this year. Look also for former world champions Katherine Bates of Australia (2007) and Vera Carrara of Italy (2005 and 2006).
Our first email of the morning comes from Steve in Bedford who asks if Rebecca Romero, Britain's representative in this event, has ever done a points race before.
Give us a couple of minutes to rifle through the huge database of results here at CW Towers and we'll let you know. Off the top of my head, I think she did one of the World Cups during the winter...
START LIST
Marianne Vos (Netherlands)
Trine Schmidt (Denmark)
Vera Carrara (Italy)
Leire Olaberria (Spain)
Yoanka Gonzalez (Cuba)
Svetlana Pauliukaite (Lithuania)
Olga Slyusareva (Russia)
Pascale Jeuland (France)
Yan Li (China)
Katherine Bates (Australia)
Minhye Lee (Korea)
Sarah Hammer (USA)
Gina Grain (Canada)
Satomi Wadami (Japan)
Catherine Cheatley (New Zealand)
Lada Kozlikova (Czech Republic)
Lesya Kalitovska (Ukraine)
Maria Luisa Calle (Colombia)
Evelyn Garcia (El Salvador)
Rebbeca Romero (Great Britain)
Verena Jooss (Germany)
Wan Yiu Wong (Hong Kong)
9.17am
If all this success has converted you to the thrills of track racing, you may like to know that there will be a chance to see most, if not all, the Great Britain medalists in action on home soil later this year.
The first World Cup track meeting of the winter season is at Manchester velodrome from October 31 to November 2.
For details check out the official website: World Cup track cycling 2008
9.15am IN OTHER NEWS: KENNAUGH BAGS BIG WIN
The British cycling success story continues. Partly inspired by the medal rush in Beijing, 19-year-old Isle of Man star-in-the-making Peter Kennaugh won one of the biggest one-day races in Italy on Saturday. The GP Capodarco is actually a memorial race for the late Fabio Casartelli, who was Olympic Games road race champion in Barcelona in 1992 before being killed in a crash on a Pyrenean descent in the 1995 Tour de France.
We caught up with British Cycling?s Academy coach on Sunday morning and have the full story here. Olympic success inspires Kennaugh to huge win in Italy.
There?s even a YouTube video clip of Kennaugh crossing the line ? not quite BBC iPlayer picture quality, but then we don?t have the luxury of 437 members of staff soaking up licence payers? cash at our disposal.
Our man in Italy, also caught up with Kennaugh, so look out for his reaction in this Thursday?s edition of Cycling Weekly.
9.12am
Just to recap, and for anyone who has been trapped under a rock for the past three days, Great Britain?s cyclists Rule OK. It?s official.
So far we have five gold medals:
? Nicole Cooke (women?s road race)
? Chris Hoy, Jason Kenny, Jamie Staff (men?s team sprint)
? Bradley Wiggins (men?s individual pursuit)
? Chris Hoy again (men?s Keirin)
? Rebecca Romero (women?s individual pursuit)
Britain have won three silvers:
? Emma Pooley (women?s time trial)
? Ross Edgar (men?s Keirin)
? Wendy Houvenaghel (women?s individual pursuit)
And there are two bronze medals:
? Chris Newton (men?s points race)
? Steven Burke (men?s individual pursuit)
To put the success on the track into perspective, Great Britain have won four of the five gold medals on offer in the velodrome, plus two out of five silvers and two out of five bronze.
The only other nation to win track gold is Spain (Joan Llanares in the men?s points race).
The other silver medal-winners are France (men?s team sprint), Germany (Roger Kluge, men?s points race) and New Zealand (Hayden Roulston, men?s individual pursuit).
The other bronze medal-winners are Ukraine (Lesya Kalitovska, women?s individual pursuit), Japan (Kiyofumi Nagai, men?s Keirin) and Germany (men?s team sprint).
9.07am
Just to make those watching from home all the more envious, our man in Beijing went to watch the men?s 100 metres final in the Bird?s Nest stadium on Saturday.
9.06am
Our man at the track in Beijing reports that this morning he saw the Queen of Spain walk through the press room, with an entourage of 20 people around her.
?Terrible hair,? he says, rather disrespectfully. ?And you wouldn?t see our Liz in a Team GB t-shirt,? he adds, running the risk of breaking the treason law.
He has added the Queen of Spain to a star-spotters list of Colin Jackson, Sharron Davies, James Cracknell and the one he?s most proud of, Daley Thompson. As kids we used to spend hours storing up arthritis for later life playing Daley Thompson?s Decathlon on the Spectrum 48 home computer. Ah, nostalgia.
9.03am
The women?s points race starts at 9.30am. In the meantime, if you have any questions for us, email the Cycling Weekly team and we?ll do our best. Insulting comments about the magazine may well be ignored!
LIVE COVERAGE STARTS AT 9.30am
Welcome to Cycling Weekly?s live coverage of the fourth day?s action from the Laoshan velodrome ? or the 'Manchester of the Orient' as the British track riders must now think of it.
If you are joining us today, it's probably because you are stuck in the office, or are unable to see a television. Perhaps you have access to the internet but can't quite get away with watching the BBC's iPlayer when you are supposed to be working.
Never fear. Using the exciting medium of WORDS, we will keep you up to date. And using your mouse our collapsible-when-the-boss-walks-past browser window can be shrunk at the touch of a button, meaning you can follow the action without arousing suspicion.
Just try not to shout out too loud if Britain break the team pursuit world record again.
Anyway, today there are two medals up for grabs. Rebecca Romero is in the women?s points race, up against the favourite Marianne Vos of Holland at 9.30am. Later on the session will close with the finals of the team pursuit, with Great Britain after another world record in the final against Denmark.
In between all that are the quarter-final races in the men?s and women?s sprints, with Chris Hoy, Jason Kenny and Victoria Pendleton aiming to reach the last four.
We have full details of today?s programme and start lists here.
Thank you for reading 20 articles this month* Join now for unlimited access
Enjoy your first month for just £1 / $1 / €1
*Read 5 free articles per month without a subscription
Join now for unlimited access
Try first month for just £1 / $1 / €1