32 things still to do this year
The year is drawing to a close, but there's plenty of cycling left to do, watch, read about and follow. We came up with 32 things to think about before 2015 ends...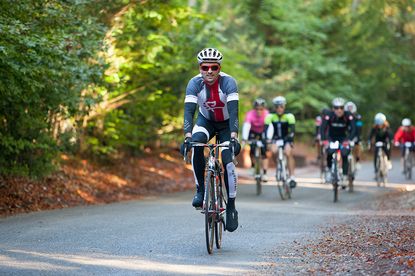 (Image credit: Daniel Gould)
1 Watch these big races
There are still a handful of great races to watch on television before the season finishes.
September 26 - World Championships women's road race
September 27 - World Championships men's road race
October 4 - Il Lombardia
October 8-11 - Abu Dhabi Tour
Races details on www.uci.ch and check out television schedules for races via the Eurosport TV guide.
2 Buy a new bike
Many bike brands bring in next year's models at this time of year, so you could go for the latest most up to date item, or the non-fashion conscious could grab a 2015 bargain. You might get an even better deal on a 2014 model. Don't forget to check out your local bike shop for their latest deals as well as online.
Top web search results for '2015 bicycle sales'
3 Ride on the Moon
Why not round off 2015 with a big adventure? The Lasik Tour of the Moon is a ride through the Colorado National Monument, which looks like nowhere else on the planet. Well, not this one anyway. Desert winds have scoured deep canyons and made towers from the old sandstone rock that look like the surface of the moon.
It's also a place for cycling pilgrims, because the Coors Classic race passed through here and some of the cult film, American Flyers was shot in the Colorado Monument. Even more footage came from the 1984 Coors Classic, which was an American stage race that evolved into a world event. It ran from 1975 until 1988 and Bernard Hinault won the 1986 edition. The last Coors Classic was won by Davis Phinney, the BMC pro Taylor Phinney's dad.
There are two distances for the Tour of the Moon: 41 and 62 miles, or a metric century as they call 100 kilometres in the States. The event will be held on October 3 this year, and as well as the big ride there are a number of other attractions in town, including cycling films and an expo. Details are on www.tourofthemoon.com, which has pictures guaranteed to make you want to ride.
4 Invent a personal cycling challenge
Everything is out there to do, from your first 100-mile ride in a day, through accumulating the height gain of Mount Everest, to riding across the country; either this one or another. The only limit to a personal cycling challenge is your imagination really.
Take Rob Ainsley for example. A couple of years ago he undertook a series of rhyming coast to coast rides. He did Stranraer to Dunbar, Barrow to Jarrow, Lynmouth to Teignmouth, Barmouth to Yarmouth, Poole to Goole and Hull to Mull. Read about it on his blog: http://b2yp2g.blogspot.co.uk. It's fascinating, and he's inspirational
Personal challenges are a good way to raise money for charity, and the wackier the challenge the more attention it attracts and more good it can do. Have a look at this link to see how to join the Balls Out Challenge (don't worry, it won't land you in trouble with the indecency laws) www.malecancer.org/boc.
5 Introduce a friend to cycling
Riding in the autumn can be a great season to go out with friends - why not entice a non-cycling mate out for a ride? The weather tends to be relatively kind - not too hot and not too cold. Plan a moderate route with a café stop built in. Preferably one with a great view so you can reflect on the day's achievement so far... see number 6.
6 Visit a new bike-friendly café
With the current resurgence of cycling in Britain, the number of cyclists cafés have increased dramatically. These might be cafés literally aimed at cyclists, or they could be ones that don't mind a bunch of people in tight clothes and bikes taking up a bit of space and eating their cake. No matter what the weather, a stop-off at a cycling café is always welcome. Take a look at our interactive map of Britain's cycling cafés, and perhaps find a new one to visit. Did we mention cake? Cake.
7 Buy a book
With the Tour de France come and gone, the tidal wave of cycling books continues. These are just some of the cycling titles out this autumn.
■ My Hour, Bradley Wiggins's account of his Hour record
■ The World of Cycling According to G, Geraint Thomas's autobiography
■ Cycling Climbs of South-East England: A Road Cyclist's Guide, by Simon Warren
■ The Racer: Life on the Road as a Pro Cyclist, by David Millar
8 Book early for next year's Tour de France
We're not kidding. It might be just under a year before the 2016 Tour de France starts in Normandy, but if you want to be there to soak up the atmosphere and you haven't already got a place to stay, start looking for one and grab it now. Normandy is easy accessible for British fans, and you can find out more detail for the opening stages of the 2016 Tour in our article.
9 Learn The Rules
Take time out to get to know The Rules inside out. And don't end up like this guy.
10 Ride these sportives
This is just a small selection of what's on offer this autumn, so don't even think about stopping for the season! Click on the links for more details.
October 3 - Cycling Weekly Welsh Raider
October 4 - Tour Ride Worcestershire
October 4 - Wiggle Ay Up Yorkshire
October 4 - Cotswold Autumn Classic
October 11 - National Forest Autumn Challenge
October 11 - Cycling Weekly Box Hill Original
October 18 - Wiggle South Downs 100
October 18 - Zappi's Gran Fondo
October 24 - The Rut
October 25 - Wiggle Circuit Breaker
11 Ride in a great autumn cycling destination
1. The Dukeries of Nottinghamshire
2. The Northumberland coast
3. The Surrey Hills
4. The Trossachs
5. Mid Wales
12 Watch these track events
October 3-10 - the UCI World Masters Track Championships in Manchester. Worth a look just to see that age is no barrier. The Masters Worlds often attract some stars of yesteryear too. www.worldmasters.com
October 24 - Revolution in Manchester. Stars of the future compete on the same bill as the world's best in exciting and imaginative races. www.cyclingrevolution.com
October 30 - November 1 - UCI track World Cup in Cali, Colombia, kicks off the 2015/16 series as riders start to prepare and qualify for the 2016 Rio Olympic Games. UCI Track World Cup website
November 14 - Revolution in London. Lee Valley Velopark hosts the second round of the ever-popular British track series. www.cyclingrevolution.com
November 17-22 - The Ghent Six in the Sportspaleis, Citadelpark, Ghent, Belgium. www.z6sdaagse.be
13 Get muddy
The cyclo-cross season is upon us. It runs through winter and into February and it's one of the most accessible branches of our sport. You don't even have to have a cyclo-cross bike for most races, a mountain bike will do fine. Almost all ages are catered for at every venue, and you can enter most races on the day too.
There's a full list of cyclo-cross races on www.britishcycling.org - just click on cyclo-cross at the top of the page and off you go. If you like the experience there are a growing number of summer cyclo-cross races too. It's a fantastic way for youngsters to start in bike racing, because the reflexes learned in cyclo-cross last forever.
Cyclo-cross is also a great winter workout for more experienced riders. One hour at or near your threshold will do wonders to boost it, plus you are constantly slowing then accelerating, which puts power into your legs. Cyclo-cross also provides a very good core training session, because you rarely stay in one position for long so you vary where you apply power to your bike from.
You need some skills, but the simplest way to practice is to mark out a small off-road course that has a steep uphill, a steep down, some 90° corners and at least one full 180 and a variety of surfaces. Warm up then blast round your course for 10 minutes, repeated three times with five minutes' easy pedalling between each.
14 Join the rush to retro
We predict this will be the next big (ish) thing in cycling. There's growing interest in retro bikes, either buying one in good condition or getting hold of a wreck and tracking down the parts to restore it. Messing with old bikes probably appeals more to men of a certain age, men for whom the glint of sun on a chrome toe-clip transports them back to their youth.
There are also a growing number of retro bike events to take part in, and just to prove their popularity the biggest, l'Eroica usually sells out fast. We still mention it in things to do for 2015 so you can get a bike that matches the event specification and enter early for 2016. Check out the Eroica website for full details: www.eroicafan.it for the original Italian event or eroicabritannia.co.uk for the British event. "It's not a race, it's the Woodstock of cycling," they say.
Another interesting event for you to consider is the Retro Ronde in Belgium, a weekend of events that include a retro bike and a singlespeed criterium around Oudenaarde, where the Tour of Flanders museum is, on the Saturday evening then a big loop of Tour of Flanders roads on the Sunday. Details on www.retroronde.be.
Helpful retro websites
■ www.classicrendezvous.com for information about retro bikes.
■ www.classiclightweights.co.uk ditto.
■ www.prendas.co.uk - the best source of retro clothing.
■ www.ebay.co.uk - you can pick up somebody's unwanted gem and make it live again.
15 Winterise your bike
Winter is just around the corner, so if you plan to ride through it and haven't got a dedicated winter bike then it's time to think about getting some winter protection. Even if you do have a winter bike, did you service it before putting it away for the summer? If not it's time to do that now.
You don't need much extra kit on your bikes for winter, just a couple of things and some tweaks and a bit of extra care. Mudguards not only make your winter riding more comfortable, they protect anyone riding with you too. Buy some lights, powerful ones if you plan to ride in the dark, or small LEDs if you don't, because they help make you more visible on gloomy days. If you already have lights, check they work.
Finally, pay extra attention to your bike's drivetrain; the pedals, chain and sprockets. Clean them regularly by scrubbing with degreaser then apply thicker lubricant than you use in the summer.
>>> Winter bikes: do you really need one?
16 Check this out
17 Sort out your cycling kit
We've mentioned winterising your bike in point 15 above, but have you also got your cycling kit ready for the winter? Not only that, but is your cycling kit drawer a mess of odd socks, scuffed up kit and saggy shorts?
Take five minutes out of your busy life to organise your clothing into some sort of logical order, and be ruthless with chucking out kit that's past its sell-by-date. Shop around to find some end-of-season clothing bargains - or make a Christmas list to pass on to wealthy relatives.
18 Donate a bike
Bicycle Aid for Africa is a charity that uses pedal power to change people's lives. It says: "Transport and development go hand-in-hand. Virtually everything traded must be transported, and almost everyone needs wheels to get to work or school. Simple, affordable transport generates income opportunities in developing countries, as well as saving lots of time and back-breaking work."
But millions of bikes are either thrown away in Britain, or lie unused in garages and sheds. Maybe not in your garages and sheds, but we bet some of your friends or family have a bike to spare. Why not help them with a clear-out and help the charity at the same time? Read about Bike Aid's work on www.re-cycle.org.
19 Go for a night ride
Have you ever been out for a night ride? Make the most of the dark evenings. Off-road or on-road, a night ride even along a very familiar route feels like a new cycling experience. Super-bright front LED lights are now very reasonably priced, and are within the reach of most budgets - just don't dazzle on-coming road users. Riding in a group during a night ride be really good fun too. And it's got to be better than sitting on a turbo trainer in your dusty garage.
20 Go on a training camp or foreign biking holiday
A British winter can be a grim thing. Many ardent cyclists take time out to spend a long weekend or week somewhere relatively warm and sunny. Off-season package holiday destinations that boast hilly terrain outside the tourist traps have become popular - places such as Majorca, the Canary Islands and southern Spain.
There are numerous online booking sites to choose from, as well as your local tour operator. Just make sure that the airline will accept bikes, and if they do whether that attracts a huge fee. Also make sure that there's somewhere to put your bike when you get there.
>>> How Do I… Do a training camp?
21 Visit the Cycle Show 2015
Where? NEC Birmingham
When? September 24-27 (24 press only)
What's there? Everything. Trade stands, talks, a road track, roller racing, trials, BMX, and mtb demo track and lots, lots more.
22 Get a new Strava KOM or QOM
For those that it has passed by, online ride logging website Strava has a function where you can compare your time along selected roads or trails - what they call segments - against other riders. These are mostly hills, but there are now numerous flat sections too. Consider them mini time trials.
Why not target a Strava segment, either aiming to get in the top 10 or set the fastest time to earn the coveted title of King of the Mountain or Queen of the Mountain. Having a target to aim for in your autumn/winter riding can give you the encouragement you need to keep pedalling into the spring.
23 Help keep your local roads in good shape
Sadly, the autumn and winter mean that the road surfaces start to deteriorate. You didn't think that was possible - but it is. British cyclists can not only help themselves but other cyclists and road users but reporting the location of gaping chasms in their local stretches of tarmac by using the CTC's Fill That Hole service.
Log the location of potholes on the site, and the information is sent to the relevant council to get them sorted. "Local councils have a duty to maintain the roads, but they can only fill a pothole if they know about it. If you want it repaired, you have to report it," says the CTC.
24 Spice up your end of season form with this training session
If you've been training hard and taken part in a number of events this year you might be feeling a bit jaded by now. This session will rejuvenate you and put some extra top-end speed into the fitness you already have.
You can do this on a turbo-trainer or on fairly flat, traffic-free roads.
Step 1. Warm up for 15 minutes by riding progressively harder.
Step 2. Stay seated and start riding as hard as you can for 15 seconds then back off for 15 seconds then go again for another 15 seconds. Keep alternating like that for 15 minutes. The 15 seconds hard should be done with complete control. Accelerate smoothly with your legs and hip muscles, don't use your upper body to help. Spread the intensity throughout the 15 minutes, so don't attack the first few hard intervals with everything you've got then peter out.
Step 3. Ride easy for five minutes.
Step 4. Repeat the hard/easy 15-second intervals for another 15 minutes if you can. However, if the speed isn't there, ie you are riding slower than in the first set, end the session.
Step 5. Ride easy for 10 minutes to cool down.
25 Head for the hills
For most of the population the British autumn is a season of mists and mellow fruitfulness, but for cyclists it's a season of ear-bleeding ascents. Yes, it's hill-climb season. There's nothing subtle about British hill-climbs. Race organisers pick the most feared ramp they can find, and racers set off at minute intervals and try to turn their lungs inside out. Fastest time to the top wins.
Hill-climb highlights include:
October 4 - Sheffrec CC on Monsal Dale in the Derbyshire Peak District
October 11 - Catford CC on Yorks Hill in Kent
October 18 - Matlock CC on Riber in the Peak District
October 25 - the 2015 National Championships promoted by the Yorkshire Cycling Federation at Jackson Bridge
All hill-climbs are listed on www.ctt.org.uk, click on 'Events/Search Events' then select 'Hill Climb' in the 'Distance' menu option on the left hand side to find one near you.
26 Review your year
If you have a coach this should be an automatic process, and it's a very worthwhile one. But coach or not, look back at your training and try to ascertain what worked and what didn't. The best way to analyse your year is to look at what training you did during the six weeks leading up to when you were riding at your best. Use that information to plan your training for 2016. Doing so should help you to maximise your fitness for targets you have in the future.
This is a difficult process if you haven't kept a training diary or some kind of training log. If nothing else, be determined to keep one in 2016. Just record how much and what sort of training you do each day - it's easy if you use a ride logging website such as Strava, Garmin Connect or RiTMO.
Record days of no training too because they can help you work out how much recovery you need. Record your weight from time to time, so you get an idea what is optimum for you. Also note when you haven't slept well or been particularly busy away from cycling. And, most importantly, write down how you felt when you were riding. Just a word, like strong, poor, fast or tired, will do.
27 Enter the world's biggest bike race
The Cape Town Cycle Tour sees 35,000 contestants race round a 109km route near Cape Town in South Africa. Entries for 2016 are now live at the Cape Town Cycle Tour website.
Cape Town Cycle Tour facts and figures
Men's course record: Robbie Hunter, 2008, 2 hours 27 minutes 29 seconds
Women's course record: Anke Erlank-Moore, 2007, 2 hours 48 minutes 29 seconds
Most wins: Age-group competitor Penny Krohn with 25 consecutive
Oldest finisher: Japie Malan in 2012 at 92. He rode a tandem that year but did the race in 2010 on a solo bike and was well inside the time limit of seven hours.
First event: 1977
British winner: Russell Downing in 2005.
28 Invade Normandy
The Duo Normand is an annual two-man or woman or mixed team time trial held in Normandy. It's an incredibly inclusive event with WorldTour riders and beginners taking part, each in their own category. So everyone experiences the razzmatazz of a taking part in a pro time trial, with a start house, big crowds and great presentation, but everybody still has something to go for.
A lot of British club riders do the event, which starts and finishes in Marigny so it's relatively close to the channel port of Cherbourg. The event is on September 27.
29 Improve your bike mechanic skills
Cytech is the recognised training and accreditation scheme for bicycle mechanics and outdoor pursuit outlet retail staff. It offers a variety of courses, including professional qualifications and an online course that will help you maintain your and your family's bikes. There's a really good video on its site that shows you how to true a wheel.
Website: www.cytech.uk.com
30 Fantasy cycling
Fancy yourself as a directeur sportif? Do you know which break will succeed and which won't before it happens when watching cycling on TV? Then one of these games is the very thing for you.
■ Cycling Simulator www.cyclingsimulator.com
■ Pro Cycling Manager www.cycling-manager.com
■ Peloton www.peloton-game.net
■ Velo Manager www.velo-manager.com
31 Save Money
Simple things to your bike and your bike shop will hate you, you'll save a load of cash, and your steed will never let you down.
1. Remove, clean and grease your seatpost every six months. Put tape where it joins the frame to you get the right saddle height when you put it back.
2. Check your tyres after every ride. Replace them if you see bulges, cuts, flat spots, excessive wear or any kind of distortion.
3. Keep your chain nice and clean.
4. Clean and lubricate gear cables where they go under the bottom bracket.
5. Check brake pads for wear and remove any grit or other stuff embedded in them
6. Clean your cassette. The best way is to dampen the edge of a rag with solvent and run it between each sprocket. Clean chainrings with the same solvent-dampened rag.
32 Sun, Sea and Cycling
The Isle of Wight Cycling Festival runs from September 5 until September 27. www.sunseaandcycling.com
Thank you for reading 20 articles this month* Join now for unlimited access
Enjoy your first month for just £1 / $1 / €1
*Read 5 free articles per month without a subscription
Join now for unlimited access
Try first month for just £1 / $1 / €1