£50 MILLION FOR CYCLING - BUT ONLY IF YOU VOTE!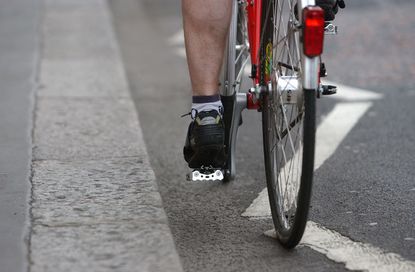 Remember, Sustrans is depending upon your vote to win the £50 million lottery funding offered the best of four projects being featured on ITV1?s The Peoples? Millions this week. You get your telephone voting instructions on Friday?s final programme, although you can also vote now online.
Last night it was the turn of Sustrans Connect2 to be featured in a 20-minute film presented in fine style by television presenter and cycling fan Lorraine Kelly.
Connect2 means what it says, reconnecting communities severed by major roads, railways and rivers by building bridges, tunnels, or simply extending paths.
There are 79 locations across the British Isles set to benefit. Yesterday?s programme highlighted a few of them, including Cardiff in South Wales, Hastings in Sussex, in London, and at Perth in Scotland.
The most common problem was how difficult it has become to cross major roads without risking being run down, or making huge detours.
The people featured presented their cases with such stoical good humour only those hiding under a rock could be excused for not seeing the urgent need to put right these wrongs created in the first place, it must be said, by planners with brains the size of a pea.
Nor is the government willing to pay to fund this work, which will have huge benefits for health, transport and local people reconnected in this way. Instead, Sustrans must compete against four other projects for the £50m lottery funding.
Connect2 knocks the other three schemes into a cocked hat.
Telephone vote takes place on December 7. Vote now online for Sustrans' Connect2 at www.thepeoples50million.org.uk. Phone voting from landlines and mobiles begins on December 7 - please text 'Connect2' to 80010 or complete the form at www.sustransconnect2.org.uk if you would like to be sent the number to vote. To find out more visit www.sustrans.org.uk
RELATED LINKS
Vote to get £50 million grant for cycling
Thank you for reading 5 articles this month* Join now for unlimited access
Enjoy your first month for just £1 / $1 / €1
*Read 5 free articles per month without a subscription
Join now for unlimited access
Try first month for just £1 / $1 / €1
Keith Bingham joined the Cycling Weekly team in the summer of 1971, and retired in 2011. During his time, he covered numerous Tours de France, Milk Races and everything in-between. He was well known for his long-running 'Bikewatch' column, and played a pivotal role in fighting for the future of once at-threat cycling venues such as Hog Hill and Herne Hill Velodrome.