American Denise Mueller-Korenek smashes cycling land speed record
Denise already held the women's speed record, but has now smashed the men's record too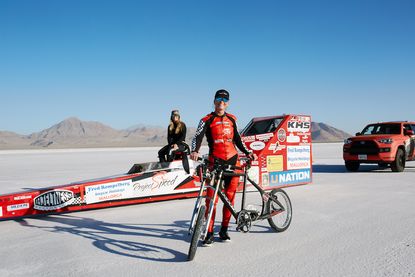 (Image credit: Action Plus via Getty Images)
The all-time cycling land speed record has been smashed by American Denise Mueller-Korenek, who already held the women's record.
Denise set the first ever women's record back in 2016, but was determined to go further.
On Sunday, the former racer travelled at 200mph on a custom KHS bike, travelling behind a 1000-horsepower dragster.
>>>Vittoria Bussi breaks Hour Record in second attempt within 48-hours
Denise hit 183.4mph, obliterating the previous men's record of 167mph and her own women's record of 147mph.
Businesswoman, CEO and motorsport enthusiast Denise, who is in her 40s, set the record at the Bonneville Salt Flats in Utah.
After being towed behind the dragster up to 50mph, Denise and her bike were released and able to pedal the massive gear.
Using double reduction gearing, the custom drivechain was designed to allow Denise to pedal her way to the world record speed in the slipstream of the converted dragster.
She now joins a rich catalogue of bicycle land speed record holders, including most recently Fred Rompleberg from the Netherlands in 1995.
As a teenager, Denise was a successful bike racer, picking up 13 national championships and two world championship podiums before retiring.
After quitting racing, Denise went into the family security business and raised a family.
Her team were live broadcasting the runs as they took place over the weekend, including terrifying footage from the back of the dragster.
The video shows Denise beginning to pedal while being towed, before she is released and pedals under her own power.
https://www.facebook.com/FireCycle/videos/670357570017769/?hc_ref=ARTqurc4rjePC4FcaoMNd5eAddRkjUzEOmnEJplgXaq4X9kxVOrHvTYYQJ94vh_ooJo&fref=nf&__xts__[0]=68.ARCfXeQEcm87pMgIy9YumXgHqkEgXKl4dMvUl09onJR0Holj3SVje3GlPcD-JECBPEeHNnmkqrPcU04lgta9Fa_813PPFZsSW3_Vvok1HRdHlAEL7byQhJYKO2ij0EucH7CjWyM7Jtam2CN2rXOwqfU3yfj3hS4XbC5jL3CPDGVP8w5f3UfFIno&__tn__=kCH-R
Denise has to stay within the slipstream while travelling at almost 200mph across the salt flats.
A bar across the back of the dragster allows her to get as close as possible to the vehicle without catching her front wheel.
After hitting the target speed, Denise then sits up allows the wind resistance to slow her back down.
Thank you for reading 20 articles this month* Join now for unlimited access
Enjoy your first month for just £1 / $1 / €1
*Read 5 free articles per month without a subscription
Join now for unlimited access
Try first month for just £1 / $1 / €1