Thieves use sledgehammers to steal £20,000 worth of bikes from Oxfordshire shop
Mountain Mania Cycles in Carterton raided on Wednesday night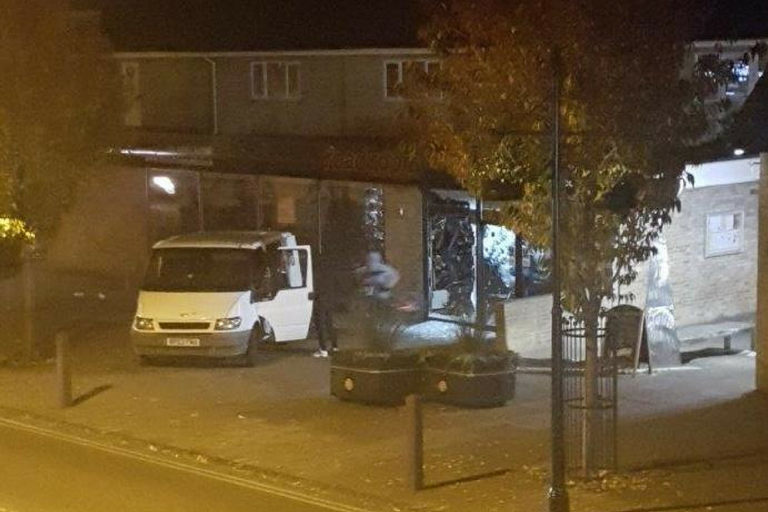 (Image credit: Thames Valley Police)
Thames Valley police are appealing for witnesses and information after thieves used sledgehammers to break into an Oxfordfordshire bike shop, stealing £20,000 worth of bikes.
Mountain Mania Cycles, located in the small town of Carterton near Oxford, was targetted by a group of five or six men at around 8.30pm Wednesday who smashed the shop's windows before loading seven mountain bikes into the back of a white Ford Transit van and driving off.
>>> Thief who stole £8,000 Giant Defy foiled by lack of pedals
Dave Llewellyn, the shop manager, was left stunned at the crime.
"You wouldn't have thought Carterton would be a magnet for crime of that level - certainly at that time of day," Llewellyn told the Oxford Mail.
"It's an absolute nightmare. You assume at first that it's a false alarm - not that somebody would break into a shop in the town centre like that."
>>> Bicycles were Britain's most stolen item in 2015
The police have released CCTV images of the raid (see above), and are appealing for witnesses.
"I am appealing to anyone with any information about this offence to contact police as soon as possible," said Investigating officer PC Adam Clark of Thames Valley Police.
"Perhaps you saw or heard something unusual in Alverscot Road, saw anyone acting suspiciously in the area or have been offered these bikes for sale either face to face or online since Wednesday 2 November, then please get in touch."
If you have any information you can contact the police at your nearest police station or call the 101 non-emergency number.