Bicycles were Britain's most stolen item in 2015
Is yours safe?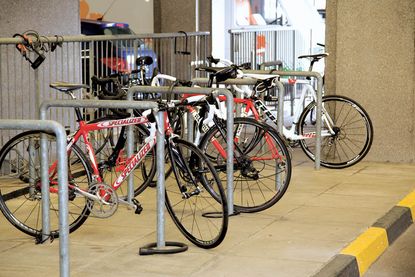 Unfortunately bicycles have been named the most stolen item in Britain in 2015.
The survey, carried out by CCTV.co.uk, has revealed that bikes were the most popular target for thieves closely followed by mobile phones and power tools. The list heavily features other items that are normally kept in a shed such as gardening tools and golfing equipment.
>>> Cambridge soars to the top of bike theft charts
Britain's most stolen items
Bicycles
Mobile phones
Power tools
Laptop computers
Tablet computers
Cameras
Golfing equipment
Gardening tools
Audio equipment
Televisions
Jonathan Ratcliffe, a spokesperson for CCTV.co.uk, said: "Crime can hit anywhere, no matter how 'crime-free' your community may be. There's a reason why so many bicycles go missing, and it's all down to lack of security.
>>> Bike shop manager chases down thief who robbed customer
"You might secure your home with multi-point locks, but the average shed is still only protected by a cheap padlock which is easily broken. And it's the same with garage doors which don't survive for long in the face of a determined crook with a crowbar."
>>> Watch the world's most hapless bike thief
With cycling numbers increasing year-on-year, it's no surprise that bike thefts are on the rise and we'd advise you keep yours as secure as possible. Look at your bike with a "thief's eye" and keep it out of sight and away from blindspots where a thief can work undisturbed. If you need to find the best lock for your bike then check out our buyer's guide here.
If you are worried about bike thefts you can ask a police crime prevention officer to visit you to offer advice or speak to your insurance company about the minimum security standards you should have for a successful claim in a worst case scenario.
Thank you for reading 5 articles this month* Join now for unlimited access
Enjoy your first month for just £1 / $1 / €1
*Read 5 free articles per month without a subscription
Join now for unlimited access
Try first month for just £1 / $1 / €1