Auckland mayor's apology for parking in bike lane doesn't go down well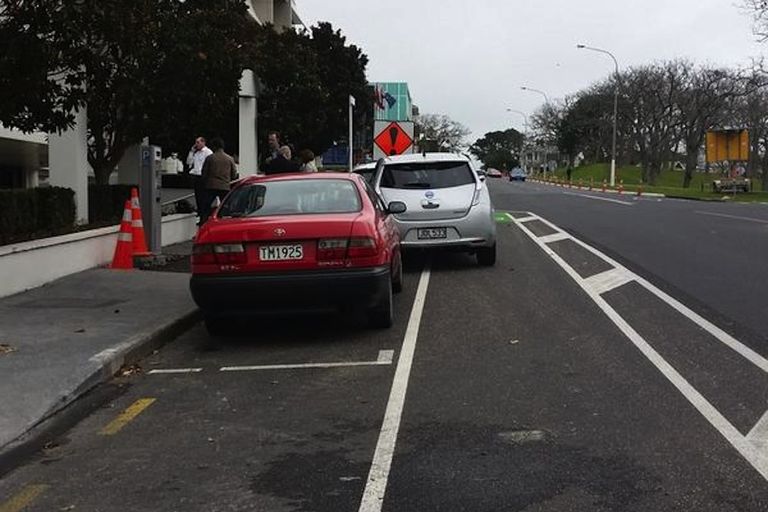 Auckland mayor Len Brown is feeling the wrath, and wit, of cyclists in his city after he was photographed parking across a bike lane and then issuing a flippant apology on Facebook.
Mr Brown was snapped giving an interview near an electric car docking station, where he had plugged in his city-issued Nissan but had clearly blocked most of the cycle lane on Carlton Gore Road.
>>> Activists paint 'unsafe cycle lane' on Sydney streets to highlight safety issues
If his traffic infringement wasn't bad enough, his half-hearted apology wasn't met well by the general public.
In true Facebook fashion, some fantastically sarcastic and witty replies flew in.
"Just stopped at Manukau city for a burger. Can't be bothered looking for a park, briefly impinging on the disabled parking," wrote Barry Morgan.
"It's alright Len. Lots of seniors have trouble with the fine motor skills involved in parallel parking. Chin up buddy," Aaron Cooper added.
>>> Even North Korea has segregated cycle lanes now
Meanwhile there were several angry replies from cyclists as well.
"Hey Lenny jump on a bike and see how dangerous that is for a cyclist we have to move out a lot wider in this situation to avoid the opening car doors which puts us in the same Lane as traffic, guess who loses in this situation Lenny?" Terry Goodfellow said.
JP Mower added: "Which muppet in the council town planning (sic) department decided to site a recharging station on a cycle lane?"
Auckland Police confirmed to the NZ Herald that they will not be taking action against Mr Brown, despite the fact he committed an offence, because the council is in charge of parking enforcement.