Barbed wire strung across popular cycling byway in Kent
The wire was strung at throat level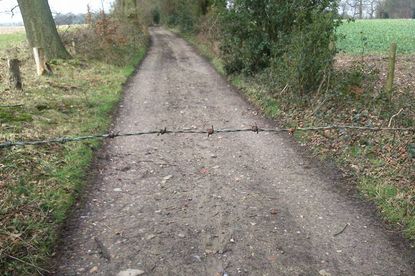 A mountain biker has found barbed wire strung across a public byway in Kent that is used as a descent by local riders.
Daniel Webster posted on Facebook on Thursday: "I usually do this local trail as a down hill part, lucky I didn't. Thought I would do it in reverse today. Was neck high and would usually be doing around 20mph I wouldn't have stood a chance." The post has now received nearly 6,000 shares and scores of angry comments.
The byway is located to the north east of Hollingbourne and while it has no official name it connects Ringlestone Road and High Wood, on Strava it is known as Ringlestone Rd descent. As a byway, it is open to all traffic including walkers, horses and even vehicles.
>>> Watch the moment the British Columbia trail saboteur was arrested
At the moment we're not sure if there was malicious intent (after all a similar incident in Guisborough Forest was a misguided farmer attempting to repair a fence), but it certainly looks fishy.
Either way the police are currently investigating. A spokesperson said: "Local officers are aware of this and making enquiries. Any further incidents of this nature should be reported by calling 101."
We would advise you to be cautious if you're riding around the Hollingbourne area and if you see anything similar make sure you remove it and report it to the local police.
Thank you for reading 20 articles this month* Join now for unlimited access
Enjoy your first month for just £1 / $1 / €1
*Read 5 free articles per month without a subscription
Join now for unlimited access
Try first month for just £1 / $1 / €1