BASSO UNDER FIRE IN PRESS CONFERENCE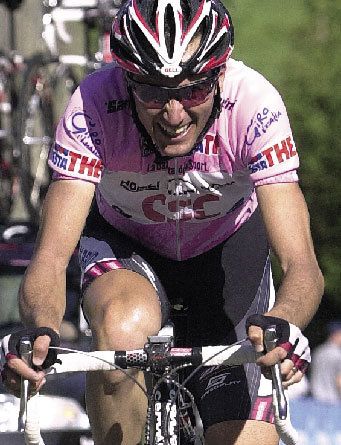 In his first press conference as a Discovery Channel rider, Ivan Basso confirmed he will ride both the Giro d?Italia and Tour de France in 2007 but struggled to explain his implication in Operacion Puerto.
?I feel really good and ready to race again because I?ve had a quiet November with my family after four difficult months. I?m relaxed and calm because I know I?ve got a new team and that I can start thinking about next season with the same ambition I?ve always had in the past: The Giro d?Italia and Tour de France,? Basso said.
?We?ll talk about my race programme during the Discovery Channel camp in Austin next week but I?ll definitely be riding the Giro and the Tour.?
?I?m not worried about the future. I?ve raced bikes since I was six. I won in every age category and developed gradually as a professional as everybody has seen. At the Tour de France I finished eleventh, then seventh and then third. I think the majority of the public still support me. I can assure you that during the fourth months I spent at home, there were lots of people who wanted to ride with me. That was the case in Italy and in other places. Most of the press know me and I think the best answer to all the questions and all the polemics is to wait for me at the Giro and the Tour and see what I?m capable of doing. I?m convinced I can continue to develop as a rider and improve even more, so that I can win the Tour and win the Giro again.?
Basso refuted that he could still face a ban for Operacion Puerto and denied there was any convincing evidence against him.
?Operacion Puerto is still open but only for the people under investigation,? Basso said.
?My case was closed when the Italian Cycling Federation closed my case. Regarding the documents, I don?t appear in any documents except for the fax. As far as the telephone calls are concerned, they talk about me but as the winner of the Giro d?Italia I?d like to know how many other people have talked about me. I don?t agree my name is on lots of documents. I can?t explain why I?ve been linked to everything because my name isn?t involved.?
Basso said he had been close to joining Discovery Channel in the past but the deal happened this time because team manager Johan Bruyneel believed he was innocent.
?Lance Armstrong and Johan Bruyneel have admired me even when I decided to join CSC. I was close to riding them several times in the past but when I ended my contract with CSC we quickly reached an agreement. I think they can give me the technical support I need to win the big races I want to win,? he said.
?I told Johan that I was totally innocent and he took the decision to sign me after listen to me and studying the case with several lawyers. My word and the lawyers convinced him to sign me.?
Basso will be in Austin in the first week of December for an early training camp with other new Discovery Channel riders. He will attend another training camp in California in January and is expected to make his season debut at the Tour of California (February 18-25).
Thank you for reading 20 articles this month* Join now for unlimited access
Enjoy your first month for just £1 / $1 / €1
*Read 5 free articles per month without a subscription
Join now for unlimited access
Try first month for just £1 / $1 / €1