Bauge crowned world champion in men's individual sprint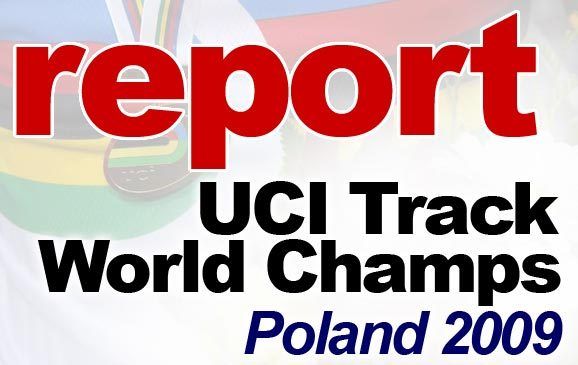 Frenchman Gregory Bauge clinched an entertaining men's individual sprint final on Sunday to close the 2009 track world championships in style.
Although Bauge came away with gold, it was silver medallist Azizulhasni Awang of Malaysia that proved to be the revelation of the weekend.
The two riders had fought hard against each other throughout the competition. Awang had earlier caused an upset in the French camp when he got the better of Bauge, forcing him to come through the repechage round.
Then, when the two riders met again in the final, they both won one round apiece before the final decider. In the end, Bauge's strength and experience came through and he pipped the Malaysian.
Awang is very slight for a track sprinter, weighing in at only 65 kilos. Next to the bulky Bauge, Awang looked half his size.
Bauge's compatriot Kevin Sireau got the better of Shane Perkins (Australia) in the third/fourth place decider to take bronze.
Earlier Awang had dismissed Britain's Ross Edgar in the quarter-finals with a trade-mark wheelie across the finishing line, effectively ending Britain's hopes for a medal in the discipline. Bauge was responsible for removing Kenny from the finals.
Britain's Kenny, Matt Crampton and Edgar finished fifth, sixth and eighth respectively. Although Britain came away with no medals in the discipline, to have three riders in the final eight is some achievement - particularly given the absence of reining world champion Chris Hoy.
Final
1. Gregory Bauge (Fra)
2. Azizulhasni Awang (Mas)
3. Kevin Sireau (Fra)
4. Shane Perkins (Aus)
Race for 5-8 place
5. Jason Kenny (GB)
6. Matt Crampton (GB)
7. Mickael Bourgain (Fra)
8. Ross Edgar (GB)
Quarter-finals
Azizulhasni Awang (Mas) beat Ross Edgar (GB) 2-1
Gregory Bauge (Fra) beat Jason Kenny (GB) 2-0
Kevin Sireau (Fra) beat Matt Crampton (GB) 2-0
Shane Perkins (Aus) beat Mickael Bourgain (Fra) 2-0
Round 1/8 repechage
Gregory Bauge (Fra) beat Michael D'Almeida and Lei Zhang
Ross Edgar (GB) beat Stefan Nimke and Maximilian Levy
Round 1/8
Azizulhasni Awang (Mas) beat Gregory Bauge (Fra)
Jason Kenny (GB) beat Ross Edgar (GB)
Kevin Sireau (Fra) beat Stefan Nimke (Ger)
Mickael Bourgain (Fra) beat Mickael D'Almeida (Fra)
Shane Perkins (Aus) beat Maximilian Levi (Ger)
Matt Crampton (GB) beat Lei Zhang (Chn)
Round 1/16
Gregory Bauge (Fra) beat Miao Zhang (Chn)
Jason Kenny (GB) beat Daniel Ellis (Aus)
Kevin Sireau (Fra) beat Kazunari Watanabe (Jpn)
Mickael Bourgain (Fra) beat Christos Volikakis (Gre)
Shane Perkins (Aus) beat Valentin Savitskiy (Rus)
Matt Crampton (GB) beat Josiah Ng (Mas)
Lei Zhang (Chn) beat Andrii Vynokurov (Ukr)
Maximilian Levy (Ger) beat Scott Sunderland (Aus)
Michael D'Almeida (Fra) beat Teun Mulder (Ned)
Stefan Nimke (Ger) beat Robert Forstemann (Ger)
Ross Edgar (GB) beat Lukasz Kwiatkowski (Pol)
Azizulhasni Awang (Mas) beat Mohd Rizal Tisin (Mas)
Qualifying round
1. Gregory Bauge (Fra) 9.930
2. Jason Kenny (GB) 10.002
3. Kevin Sireau (Fra) 10.010
4. Mickael Bourgain (Fra) 10.040
5. Shane Perkins (Aus) 10.074
6. Matt Crampton (GB) 10.105
7. Lei Zhang (Chn) 10.116
8. Maximilian Levy (Ger) 10.175
9. Michael D'Almeida (Fra) 10.184
10. Stefan Nimke (Ger) 10.198
11. Ross Edgar (GB) 10.202
12. Azizulhasni Awang (Mas) 10.210
13. Mohd Rizal Tisin (Mas) 10.232
14= Robert Forstemann (Ger) 10.270
14= Lukasz Kwiatowski (Pol) 10.270
16. Teun Mulder (Ned) 10.294
17. Scott Sunderland (Aus) 10.314
18. Andrii Vynokurov (Ukr) 10.407
19. Josiah Ng (Mas) 10.439
20. Valentin Savitskiy (Rus) 10.453
21. Christos Volikakis (Gre) 10.464
22. Kazunari Watanabe (Jpn) 10.488
23. Daniel Ellis (Aus) 10.489
24. Miao Zhang (Chn) 10.496
Did not qualify
25. Denis Dmitriev (Rus) 10.513
26. Jason Niblett (Aus) 10.534
27. Adam Ptacnik (Cze) 10.565
28. Sergey Ruban (Rus) 10.584
29. Christopher Sellier (Tri) 10.601
30. Travis Smith (Can) 10.603
31. Leonardo Alfredo Narvaez Romero (Col) 10.608
32. Wen Hao Li (Chn) 10.644
33. Edward Dawkins (NZ) 10.654
34. Tomas Babek (Cze) 10.658
35. Simon Van Velthooven (NZ) 10.666
36. Filip Ditzel (Cze) 10.709
37. Alfredo Moreno Cano (Spa) 10.728
38. Clemens Selzer (Aut) 10.747
39. Hernan Sanchez Castillo (Col) 10.805
40. Jonathan Marin Cermeno (Col) 10.826
41. Kazuya Narita (Jpn) 10.829
42. Juan Peralta Gascon (Spa) 10.837
43. Yondi Schmidt (Ned) 10.869
44. Itmar Esteban Herraiz (Spa) 11.141
2009 UCI TRACK CYCLING WORLD CHAMPIONSHIPS
Follow Cycling Weekly on Twitter>>
RACE REPORTS
The CW Hub: Track World Championships index
Women's points race: Armitstead proves she's a future champion
Women's keirin
Men's omnium
Men's Madison: Danes win as Kennaugh hits the deck
Women's sprint: Pendleton wins fourth title
Women's omnium
Women's scratch race: Silver for Armitstead
Men's kilo TT: Nimke beats Sir Chris's kilo record to take gold
Men's team pursuit: Britain get fourth
Women's team pursuit: Britain clinch gold
women's team sprint: Reade and Pendleton score silver
Men's scratch race: Cavendish marked out of contention
Men's individual pursuit: Phinney wins gold
Men's team sprint: France beat Britain
Men's Points Race: Newton gets bronze
Women's individual pursuit: Houvenaghel beaten to silver
500m TT: World record for Krupeckaite, bronze for Pendleton
NEWS AND FEATURES
Track worlds day four summary: Sensational Pendleton digs deep
Track worlds day three summary: Armitstead again
Track worlds day two summary: Golden girls deliver
Track worlds day one summary: steady start for team GB
Why there's no Brit in the individual pursuit
No individual pursuit for Britain at track worlds
No room for complacency in British Cycling: Iain Dyer interviewCavendish in the frame for Scratch race world title bid
2009 Track Cycling World Championships preview
Crampton set to fill Sir Chris Hoy's team sprint spot
2009 World Track Champs GB squad named
Hoy to miss world track champs
Track World Championships: British medal winners
CW's Dummies' Guide to Track Racing
PHOTOS
GB RIDER PROFILES
Men
Jonathan Bellis
Steven Burke
Mark Cavendish
Ed Clancy
Matt Crampton
David Daniell
Ross Edgar
Jason Kenny
Chris Newton
Jamie Staff
Women
Lizzie Armitstead
Wendy Houvenaghel
Victoria Pendleton
Shanaze Reade
Joanna Rowsell
Jessica Varnish
RECENT RESULTS
International track results last season: 2007-2008
International track results this season: 2008-2009
2008 TRACK WORLD CHAMPIONSHIPS LINKS
Full results from the 2008 track worlds
Report: Sunday, day five>>
Report: Saturday, day four>>
Report: Friday, day three>>
Report: Thursday, day two>>
Report: Wednesday, day one>>
EXTERNAL LINKS
Track Cycling World Championships 2009 official website