BEIJING NIGHT 3: WIGGINS AND CAVENDISH COME GOOD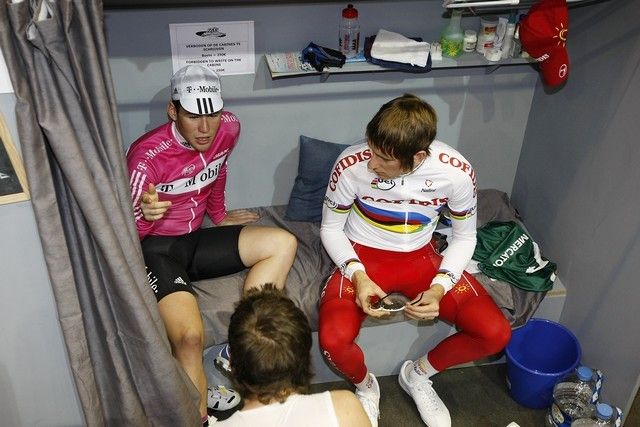 (Image credit: LUC CLAESSEN)
Mark Cavendish and Bradley Wiggins took silver in the Madison to round off a superb weekend?s work in the Olympic velodrome in Beijing.
Three golds, four silvers and a bronze is a superb return ? particularly when considering that all the medals were earned in events that will feature at the Olympic Games in eight months? time.
Riding for T-Mobile, Wiggins and Cavendish finally saw the reward of all their labours. The trip to compete in the Ghent Six-Day and last week?s difficult Madison competition were all leading to a fine performance in Beijing. The pair rode with a clear head and capitalised by taking a lap late on with the French and the Ukrainians.
The French pair of Jerome Neuville and Christophe Riblon had scored a single point in the first sprint of the race and, with no further sprints remaining, they couldn?t be pipped at the finish. However, the T-Mobile riders made sure to beat the Ukrainians on the line to seal silver.
In the final night's other events, Victoria Pendleton was denied another Keirin gold after a crash brought her down in the final, and the three British sprinters bowed out at the quarter-final stage of the men's sprint competition.
See Thursday?s Cycling Weekly for full reaction from Beijing
PICTURE: Cavendish and Wiggins showed their Madison partnership has great potential
FINAL BRITISH MEDAL COUNT: 3 Gold 4 Silver 1 Bronze
Gold Theo Bos (Netherlands)
Silver Mickael Bourgain (Cofidis)
Bronze Stefan Nimke (Rad-Net)
The Brits
All four Brits reached the knockout stages. Chris Hoy (Great Britain) qualified in fifth, with Ross Edgar (SIS) was eight, Craig MacLean (Great Britain) was tenth and Matt Crampton (SIS) was 15th. In the first knock-out round, Matt Crampton lost to Cofidis? Kevin Sireau, but the other three reached the quarter-finals. Hoy beat Tim Veldt of the Netherlands, MacLean beat Gregory Bauge of France and Edgar beat Ryan Bailey of Team Toshiba.
However, they all bowed out at the last eight stage. Edgar was disqualified from his first race against Stefan Nimke for moving into his opponent?s line. Although Edgar drew level in race two, the German won the decider. MacLean was beaten 2-0 by Sireau and Hoy lost in straight races to Mickael Bourgain (Cofidis).
Brailsford said: ?All four guys qualified well and three of them got through the first knock-out. Although they went out at the quarter-final stage they clinched fifth, sixth and seventh places [Hoy, Edgar, MacLean] and that is really important points for Olympic qualification. Chris is pretty tired now. He?s had two very intensive weekends and he rides the Keirin, team sprint and the sprint. That?s a heck of lot of racing.?
Gold Ukraine (Svetlana Galuk, Lesya Kalitovska, Lyubov Shulika)
Silver Russia (Anastasiay Chulkova, Eugeniya Romanyuta, Olga Slyusareva)
Bronze Cuba (Yudelmis Dominguez, Yoanka Gonzalez Perez, Yumari Gonzalez Valdivieso)
Gold Willy Kanis (Netherlands)
Silver Christin Muche (Germany)
Bronze Natallia Tsylinskaya (Belarus)
The Brits
Victoria Pendleton (SIS) and Anna Blyth (Great Britain), won their respective first round races. Pendleton got through her second round race in third place but in the other, Blyth was fourth and missed out on the fina. However she won the race for seventh place.
The final was a rocky affair. Two crashes blighted the result and left Pendleton on the deck. Gankovskiya caused the first crash. The second, a result of a slight move by the German Muche, caused even more chaos. It meant Kanis, the only rider not affected, crossed the line to take gold. Muche took second. Tsylinskaya got up and ran across the line with her bike to clinch bronze. Pendleton and Krupeckaite of Lithaunia did not finish but were awarded fifth and sixth, and the UCI points that go with them, keeping Pendleton in the overall World Cup lead.
Brailsford said: ?Vicky would have won it, even after the first crash. She was in a great position and was strong. It was a nasty crash but nothing broken, I don?t think. Just bruises and a few splinters.?
Gold France (Jerome Neuville, Christophe Riblon)
Silver T-Mobile (Mark Cavendish, Bradley Wiggins)
Bronze Ukraine (Lyubomyr Polatayko, Volodymyry Rybin)
The Brits
Bradley Wiggins and Mark Cavendish (T-Mobile) clicked on the track, taking fourth in the first heat to comfortably reach the final. They took second on the finish line to make certain. In the second heat, Team 100% Me?s duo of Jonny Bellis and Ben Swift finished third and the Great Britain pair of Rob Hayles and Geraint Thomas were fourth, meaning all three British teams would contest the final.
In that final, Wiggins and Cavendish won a silver medal without scoring a point as they were one of only three teams to gain a lap. In fact, France pipped them by virtue of a single point scored in the first sprint.
Team 100% Me were 15th and Great Britain failed to finish.
HOW THE BRITS STAND
MEN
Sprint
1. Mickael Bourgain (Cofidis) 22pts
2. Kevin Sireau (Cofidis) 17pts
3. Chris Hoy (Great Britain) 14pts
9. Ross Edgar (SIS) 6pts
11. Craig MacLean (Great Britain) 4pts
Individual pursuit
1. Volodymyr Dyudya (Ukraine) 22pts
2. Alexander Serov (Russia) 16pts
3. Marc Ryan (New Zealand) 13pts
4. Bradley Wiggins (T-Mobile) 12pts
8. Steve Cummings (Great Britain) 6pts
Team pursuit
1. Great Britain 24pts
2. New Zealand 20pts
3. Netherlands 15pts
Team sprint
1. Team Toshiba 19pts
2. Netherlands 18pts
3. Rad-Net 15pts
4. Great Britain 15pts
11. SIS 1pt
Keirin
1. Chris Hoy (Great Britain) 24pts
2. Arnaud Tournant (France) 10pts
3. Ross Edgar (SIS) 10pts
Points race
1. Cameron Meyer (Team Toshiba) 16pts
2. Chris Newton (Great Britain) 15pts
3. Greg Henderson (New Zealand) 13pts
Madison
1. Spain 16pts
2. Team Focus 14pts
3. France 12pts
WOMEN
Sprint
1. Natallia Tsylinskaya (Belarus) 20pts
2. Willy Kanis (Netherlands) 17pts
3. Anna Meares (Australia) 17pts
5. Victoria Pendleton (SIS) 13pts
500m TT
1. Lisandra Guerra Rodriguez (Cuba) 22pts
2. Simona Krupeckaite (Lithuania) 17pts
3. Natallia Tsylinskaya (Belarus) 14pts
9. Anna Blyth (Great Britain) 6pts
10. Victoria Pendleton (SIS) 5pts
Individual pursuit
1. Katie Mactier (Australia) 24pts
2. Vilija Sereikaite (Safi) 16pts
3. Karin Thürig (Switzerland) 15pts
5. Rebecca Romero (Great Britain) 13pts
6. Wendy Houvenaghel (SIS) 11pts
Keirin
1. Victoria Pendleton (SIS) 17pts
2. Willy Kanis (Netherlands) 16pts
3. Natallia Tsylinskaya (Belarus) 16pts
10. Anna Blyth (Great Britain) 5pts
NEXT WORLD CUP: Los Angeles, January 18-20, 2008
RELATED LINKS
Night 2: Beijing World Cup
Night 1: Beijing World Cup
Full Beijing World Cup schedule and preview
CW's Dummies' Guide to track cycling