BIKELINE: RAPHA SHUFFLE THE PACK TO REPLACE NEWTON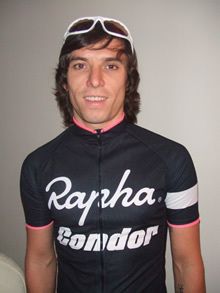 Get The Leadout Newsletter
The latest race content, interviews, features, reviews and expert buying guides, direct to your inbox!
Thank you for signing up to The Pick. You will receive a verification email shortly.
There was a problem. Please refresh the page and try again.
John Herety has moved quickly to call up Simon Holt and Adam Bonser to replace Chris Newton, who crashed on Thursday, for the weekend?s Bikeline Two-Day.
Rapha-Condor-Recycling.co.uk?s Newton was set to defend the race he won last year and told Cycling Weekly yesterday he was feeling fit, strong and confident ahead of Saturday morning?s opening time trial.
But a collision with a car door while out training has ruled him out and forced Herety to shuffle the pack.
The absence of Newton ? a hot favourite for the time trial ? will change the complexion of the race considerably.
Simon Holt and Adam Bonser come in for Newton and Ben Greenwood, initially entered for the Bikeline Two-Day but still suffering from a knee injury.
Holt and Bonser were originally to have ridden the Jock Wadley Memorial Road Race but after a couple of phone calls Herety changed their plans.
?Full credit to Malcolm Hargreaves [the organiser of the Jock Wadley] because he allowed us to remove two riders from his event at short notice and we?re very grateful for that,? Herety said.
?The rules allow us to call up a couple of riders to replace Chris and Ben but I will be checking that with the organiser of the Bikeline, but the plan is to start with Simon and Adam now.
?We won?t win the prologue, I wouldn?t think, but we?ve got good strength in depth. The game plan will change for us and we?ll make it hard on the two road stages. We?ll even try to split it on the second stage on Saturday afternoon because it?s hard enough to make a bit of a difference.?
Rapha have Dean Downing (pictured) ? who won both road stages of last year?s race ? in their ranks, and Herety is looking to him to play a key role. But he?s also looking to the likes of Rob Partridge and Dale Appelby to step up.
?It?ll be a really interesting race now. Simon Richardson of Plowman Craven has won the time trial there before so he?ll be a threat. Ian Wilkinson of SIS always does a good ride,? added Herety. ?We?ll try to get numbers up there in the time trial and give ourselves a good chance in the road stages.?
Read on for our full Bikeline Two-Day preview, including the competition everyone wants to win ? but only the Downings can ? and the full start list
The break on the Denbigh circuit in last year?s race
Swipe to scroll horizontally
Saturday, March 8
Stage 1: Hope time trial, 1.6 kilometres (starts 11am)
Stage 2: Hope circuit, 56 kilometres (starts 2pm)
Sunday, March 9
Stage 3: Denbigh circuit, 138 kilometres (starts 10am)
First prize overall: £500 and a pair of Rudy Project sunglasses
Maps courtesy of the race organiser
Swipe to scroll horizontally
By organiser Jon Williams of the Mersey Roads Club
?It started in 1958 as the one-day Circuit of Ashurst, and John Geddes won it. It carried on as a one-day race until 1991 and the last winner was Chris Boardman. It moved to the Aintree circuit and then Delamere over the next few years and then in 1995 we made it a two-day.
?When we designed it, me and my brother David, tried to design something we could ride at the start of the year that?d prepare us for the Girvan.
?You?d get to the Girvan and get absolutely smashed, so a little stage race helped.
?It?s not super hard. We could send it up some really tough, steep climbs but it?s early in the season and we want to encourage a close race.
?We don?t have time bonuses so the time trial sorts it out enough to award a jersey and ensures it?s not all tied on time. It?s a straight line, three-minute uphill time trial.
?Although it gives a clear leader it doesn?t kill the race so it?s still compact for the next two stages.
?The circuit stage at Hope on Saturday is one for the sprinters and then it?s decided on Sunday on the road stage. It starts and finishes in Hope but there?s a few laps of a nine-mile circuit in Denbigh in the middle.
?Then there?s the Bulk climb, a power climb of about three-and-a-half miles It?s not much of a descent from it, then there?s a little rise called The Rainbow which can sort it out if there?s still a decent group together.
?Bikeline came in as sponsor in 2002. It?s a group of accident claim solicitors for cyclists. Their corporate colour is orange, so that?s why our leader?s jersey is orange.
"It's always had a good field and last year we got Premier Calendar status."
Dean Downing, pictured here in the uphill time trial, won two stages in last year?s Bikeline
Swipe to scroll horizontally
Stage 1: Hope time trial
1. Chris Newton (Recycling.co.uk) in 2min 54sec
2. Ian Wilkinson (SIS) at 3sec
3. Fred Johannssen (Plowman Craven) at 6sec
Leader: Chris Newton
Stage 2: Hope circuit
1. Dean Downing (Rapha) in 1hr 17min 21sec
2. Ian Wilkinson (SIS) at 1sec
3. Alex Dowsett (Team 100% ME) at 11sec
Leader: Ian Wilkinson
Stage 3: Denbigh circuit
1. Dean Downing (Rapha) in 3hr 04min 21sec
2. Robin Sharman (KFS) same time
3. Giancarlo Checchi (Rapha) same time
Final overall
1. Chris Newton (Recycling.co.uk) in 4hr 24min 47sec
2. Robin Sharman (KFS) at 15sec
3. Ian Wilkinson (SIS) at 18sec
Swipe to scroll horizontally
By 2007 champion Chris Newton
?The time trial probably won it for me, I think. I got quite a good buffer on a lot of the other riders and although I lost the jersey in the afternoon stage on the first day I was in a great position. It?s very hard to get time back on the other two stages so any gap you get can be crucial.
?I lost the jersey on the Saturday afternoon stage just by being a bit inattentive. I switched off in the last couple of miles and they sneaked away.
?But it actually helped me to lose the jersey because I think riders tend to watch the jersey rather than the rider so it freed me up on the final climb.
?The Bulk is a tough climb but it comes quite a way out from the finish, probably ten miles or so. It?s too far to go solo so I was fortunate that when the group came with me, the leader [Ian Wilkinson of SIS] didn?t.
?There?s a few little rises on the run-in which makes it difficult to go alone so you have to see who?s with you and work out what you need to do. There are opportunities to attack in the final few miles but it?s hard to stay away.?
Swipe to scroll horizontally
It?s the biggest sporting sibling rival in Britain. The Pinarello Prince versus the Rapha Raider. Russell ?Russ? Downing versus Dean ?Deano? Downing.
It?s Bobby and Jackie Charlton with more hair. Andy and Jamie Murray without the miserable Scottish attitude. Gary and Phil Neville, but better looking.
After a winter arguing over who?s got the best haircut or sunglasses it?s time to sort it out on the bike.
We?ll be keeping track of how the Rotherham brothers fare against one another all season. So, without further ado, seconds out? Round one: The Bikeline Two-Day
First up, a look at their respective websites.
According to Russell?s site he?s a ?fast finisher who climbs well and has a good mind for judging races?. Can?t argue with that. He also says his strengths off the bike are ?making fires and smashing things?. Hmm.
Meanwhile, over at Dean?s site he says his interests are his wife, Katy, and he likes a Leffe Bruin. Who doesn?t?
Swipe to scroll horizontally
CW?S SUPER TEAM CHALLENGE
The Big Three ? Rapha-Condor-Recycling.co.uk, Plowman Craven-Evans and Pinarello ? go head-to-head at the first Premier Calendar of the season.
At last, after the training camps in warmer climes, and a couple of tentative early season meetings, it?s time for them to come face to face with each other in a three-way collision where only one can be the winner.
Who will come out on top in the CW Superteam Challenge this season? We?ll be awarding ten points for first place, five for second and one for third in each Premier Calendar event. Slightly more points will be on offer for the two international road races and the National Championships. A stage win in a Premier Calendar stage race will be worth three points.
It?s not a closed competition either ? so if any of the other teams start scoring well enough to get into our classification, they will.
CW SUPER TEAM LEAGUE TABLE
1. Pinarello 0pts
2. Plowman Craven 0pts
3. Rapha-Condor-Recycling.co.uk 0pts
Pinarello top the table on alphabetical order
Swipe to scroll horizontally
2007 Chris Newton (Recycling.co.uk)
2006 Simon Richardson (Subaru-Gary Fisher)
2005 Julian Winn (Pinarello)
2004 Steve Cummings (Sport and Publicity)
2003 Kevin Dawson (Life Repair Cycle RT)
2002 Kevin Dawson (Compensation Group)
2001 Race cancelled because of foot and mouth crisis
2000 Mike Jones (Robert Grinsell Travel)
1999 Gareth Sheppard (Cardiff JIF)
1998 David Williams (BCF private member)
OTHER NOTABLE WINNERS
1963, 1967 and 1973 Doug Dailey; 1965 Les West; 1966 Hugh Porter; 1977 Graham Jones; 1979 John Herety; 1984 Joey McLoughlin; 1988 and 1990 Steve Farrell; 1989 Ben Luckwell; 1994 Mark Lovatt; 1996 Rod Ellingworth
Swipe to scroll horizontally
RAPHA-CONDOR-RECYCLING.CO.UK
1 Chris Newton
2 Dean Downing
3 Kristian House
4 Rob Partridge
5 Ben Greenwood
6 Dale Appleby
7 Ryan Bonser
8 Tom Diggle
? Simon Holt and Adam Bonser have been called up to replace injured Chris Newton and Ben Greenwood
PLOWMAN CRAVEN
9 Simon Gaywood
10 James Millard
11 James McCallum Injured
12 Simon Richardson
13 Alex Higham
14 Tom Barras
15 Evan Oliphant
16 Neil Coleman
PINARELLO
17 Malcolm Elliott
18 Russell Downing
19 Freddy Johansson
20 Lee Davis
21 Tom Murray
22 Matthew Kipling
23 Peter Williams
24 Ben Price
SIGMASPORT-SPECIALIZED
25 Matt Stephens
26 Robin Sharman
27 Alex Wise
28 Mike Harrison
29 James Williamson
30 Neil Swithenbank
31 Daniel Duguid
AW CYCLES.CO.UK
32 Tom Smith
33 Rob Easlin
34 Alex Peterson
35 Tim Bedingfield
PEDALPOWER.ORG.UK ? ENDURA RT
36 Gary Hand
37 Gordon Murdoch
38 Paul Coats
39 Kevin Barclay
40 Scott McRae
SCIENCEINSPORT ? TREK
41 Ian Wilkinson
42 Dave Collins
43 Richard Kent
44 Richard Wilkinson
SPORTSCOVER-SPUIK-JE JAMES
45 Wayne Randle
46 Ashley Brown
47 Dieter Droger
48 Nigel Haigh
GS STRADA
49 Kevin Dawson
TEAM ISLE OF MAN
50 Graeme Hatcher
51 Robert Dooley
52 Warren Flynn
KINESIS UK
53 James Sampson
54 Kit Kilham
55 Matt Cronshaw
56 Jack Pullar
57 Josh James
58 Tom Last
TEAM LACUNA
59 Robert Orr
60 Rico Rogers
61 David Clarke
62 Daniel Smith
TEAM CORLEY CYCLES
63 Martin Freeman
64 Mark Wordsworth
65 Matthew Higgins
66 Richard Cartland
67 Tom Martin
ARCTIC-PREMIER RT
68 Simon Wilson
69 James Dobbin
70 Jon-Kris Mason
KFS SPECIAL VEHICLES
71 Matt Clinton
72 Gareth Hewitt
YORK CYCLEWORKS
73 Alastair Kay
MJS RACING
74 Ben Stockdale
RUTLAND CC
75 Philip Holwell
GLASGOW WHEELERS
76 Stuart McManus
PLANET X
77 Mark Lovatt
SPORTS BEANS ? WILIER
78 Dave Coulson
79 Mark Thwaites
80 Grant Bayton
81 Ben Luckwell
82 Marcin Bialoblocki
83 Marc Perry
WILLS WHEELS CC
84 Jimmy Froggatt
ALL TERRAIN CYCLES
85 Matthew Robinson
TOTAL FITNESS-BATH
86 Paul Standen
MID-DEVON CC
87 Jonathan Tiernan-Locke
ASHFIELD RC
88 Owain Lovell
WAKEFIELD CC
89 Richard Hepworth
AJCHVA LIMOUX
90 Dean Robson
VC MONTPELLIER
91 Wayne Coombs
FP MAILING CT
92 Rob Pugh
93 Stephen Rudkin
KUOTA BIEMME SPINERGY
94 Leigh Cowell
DEESIDE OLYMPIC ? VEEBOARD
95 Stephen Lloyd
PEAK RC
96 Steve Gibson
DOOLEYS CYCLING RT
97 Paul Rennie
MTS INKLAND
98 Simon Baxter
SP SYSTEMS ? WIGHTLINK
99 Mike Rudling
BC PRIVATE MEMBER
100 Philip Graves
Thank you for reading 20 articles this month* Join now for unlimited access
Enjoy your first month for just £1 / $1 / €1
*Read 5 free articles per month without a subscription
Join now for unlimited access
Try first month for just £1 / $1 / €1
Get The Leadout Newsletter
The latest race content, interviews, features, reviews and expert buying guides, direct to your inbox!
Sports journalist Lionel Birnie has written professionally for Sunday Times, Procycling and of course Cycling Weekly. He is also an author, publisher, and co-founder of The Cycling Podcast. His first experience covering the Tour de France came in 1999, and he has presented The Cycling Podcast with Richard Moore and Daniel Friebe since 2013. He founded Peloton Publishing in 2010 and has ghostwritten and published the autobiography of Sean Kelly, as well as a number of other sports icons.