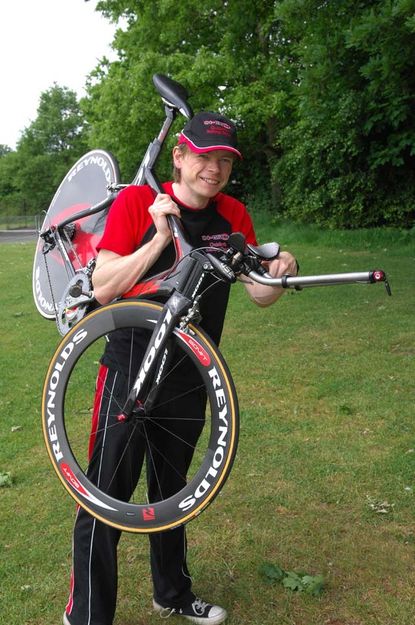 It?s been a fortnight since the National '10', so it must be time for the '25'. May and June have a rhythm of their own. It reminds me slightly of exam season. Except exams are more fun.
Sorry, that?s a little harsh. Time trialling is way more fun that exams. Honest.
The '25' isn?t going to be the PB-fest we saw at the '10' ? it?s a B-road running alongside the A1(M) near Peterborough. I think it used to be the south-bound carriageway. Back in those days it was part of a very fast course, of the kind that old grey testers remember driving up to from Barnstaple in 1971, probably in a Mini, with six team-mates, bikes, wheels, and a spaniel called Jacques who ate their entire supply of malt-loaf.
The course is quieter now, and slower. Though, in my experience, normally what looks like the quietest, most blameless road in the country turns out to have a county show or something similar beside it when you turn up for a bike race.
For instance, the National 100 a few years ago coincided with a vintage bus rally. I was flogging along as best I could, when an ancient Routemaster wheezed past, gushing clouds of black smoke, and a bloke standing on the platform in antique bus-conducting regalia called,
?Is this a bike race??
?Why, yes!? I shouted. ?It?s the National Championships!?
?Nice day for it!?
?Are you going to the bus rally?? I asked.
?No, we?ve just leaked through a worm-hole from 1934. Of course we?re going to the bus rally, you bin-lid.?
That was me told. I ought to point out that I was not getting any shelter at all from the bus, before you start writing to your MPs about drafting.
What the National 25 course does have is roundabouts ? seventeen to be negotiated in the race. I don?t think that will be quite the nightmare it sounds. Most of them can be taken flat out. The one exception is an offset one, where the line is awkward. Even so, it?s only scary if you come into it with a tailwind and try to carry too much speed. If you do that, you?ll end up going north on the south-bound A1(M).
You wouldn?t win the 25, but you might get onto World?s Wildest Police Videos.
Michael
PREVIOUS BLOGS
May 29: Hutch reflects on his National '10' win
Thank you for reading 10 articles this month* Join now for unlimited access
Enjoy your first month for just £1 / $1 / €1
*Read 5 free articles per month without a subscription
Join now for unlimited access
Try first month for just £1 / $1 / €1
Michael Hutchinson is a writer, journalist and former professional cyclist. As a rider he won multiple national titles in both Britain and Ireland and competed at the World Championships and the Commonwealth Games. He was a three-time Brompton folding-bike World Champion, and once hit 73 mph riding down a hill in Wales. His Dr Hutch columns appears in every issue of Cycling Weekly magazine