Get The Leadout Newsletter
The latest race content, interviews, features, reviews and expert buying guides, direct to your inbox!
Thank you for signing up to The Pick. You will receive a verification email shortly.
There was a problem. Please refresh the page and try again.
Cycling Weekly recently caught up with Team High Road boss Bob Stapleton at the team?s pre-season training camp in Majorca.
Despite losing his title sponsor, the Californian has put together one of the most talented young teams in the peloton, and has moved them away from the pressures they came under in Germany.
Before we spoke to him about the team, sponsorship and anti-doping, we had to clear up the issue that everyone was talking about?..
Q: So Bob, what?s going on with the kit?
A: I think the main thing is that people just aren?t used to having the dominant title sponsor, and all the things like the kits that you just take for granted. Its really hard for people to get their heads around, inside and outside the team.
There?s so much uncertainty in the sport right now, and there has been for the last two seasons, I just don?t think they can quite believe it that they have a good and stable situation for a couple of years, and, I think beyond that.
The team has since changed their kit to a more pleasing retro, white design.
Q: But you are looking for a title sponsor, right?
A: There?s a lot of interest in the team both big and small. We?ve got a lot of new partners that have come along, there?s more coming and we?ve added a couple already. I?ll add a couple more at the Tour of California and so there?s very good interest, particularly within the sport.
Our real goal though is to bring in someone who can be a significant player in the sport, long term. And that takes time. One; the sport is not in a great spot right now, two; our team has to show quality, so I?m not in a big hurry. I have to build some relationships and I want to do things when there?s a good sense of optimism. I want to act when the time is right and I don?t think it?s right, right now.
Plus, the right partners should be a little sceptical, they should be diligent, they should have a longer term plan themselves, and that just isn?t going to happen over night.
Q: Are there any key markets where you?re looking for potential sponsors?
A:The most interesting stuff for me is coming from the Far East. These are people that are really new to it and that want to sell products in the US, and a lot of them don?t have a connection in sport. They don?t have these more emotional connections to their products, and these are places I?ve done business for a long time. But those are classic situations where relationships mean everything and they happen at their own pace.
I had a lot of interest from people who immediately wanted to do something that were smaller players that were watching the sport. But I thought they were financially driven and wanted to try and get a really good deal, and that?s just a lot of work. I?m really looking for a long term stable partner. That?s what brought me in to the sport and that?s just a lot more interesting for me.
I?m not trying to make a lot of money off this, so to just run around and try and collect money every year is not what I see myself doing. I think the sport needs bigger stronger players and that?s better for me too.
There is interest from some US companies as well, and I think that also has good potential. The sport is still very much connected with health and well-being and a healthy lifestyle, and I like those companies too. I think that?s good for the sport.
Q: Have you given yourself a deadline?
A:If we don?t have extremely good prospects by the 2009 Tour I would definitely encourage people and help them find other positions. I think that?s a realistic timeframe to do something significant. It gives these guys every chance. I don?t want to pressure anybody or press them to do anything too fast.
Q: Do you think the T-Mobile?s sponsorship deal could have been saved?
A:I took this thing over? call it August first, and what was explained to me was that the problem was Puerto, and that Jan [Ullrich], and maybe others, were involved in Puerto. So the response to that was the blood volume test that we thought was really the best tool focus on blood manipulation. I didn?t realise the full scope of doping that goes on.
Q: So there was more going on that just Puerto?
A:The headache was that I didn?t really understand the depth of the issues in this team, or around this team, maybe a lot of people didn?t. What I thought I was buying in to was a lot different to what it turned out to be.
Freiburg was brought to me as the finest University in Germany, that they were the experts, they were trusted, caretakers of the team. They?d been with the team for 15 years, so I trusted them implicitly.
I thought ?wow, what a great resource.? And I really made them a key element, and that turned out to be the big mistake. I don?t know how far back their history goes or what exactly went on there, but that was corrupt from top to bottom.
There are multiple investigations going on in Germany right now, and back to as early as ?93 when they were doing research on EPO.
I worked with them for five to seven months, and even when it was clear that the relationship would be ended I was shocked. I?m still shocked. From my background I trust doctors, they?re supposed to protect human life. To see that degree of deceit is staggering.
Q: It still must have been disappointing when your riders tested positive?
A:At the time the approach was that people getting caught was part of the solution, people getting caught was okay. We tested them a lot. We put all our riders in to the NADA database, and they were all tested by NADA. That was our control program.
But as turned out there was so much going on in the sport, that people getting caught was not tolerable.
Q: Do you think you did you do enough to wipe out doping in the team?
A:Part of the problem was that because Freiburg was still in the team it undermined the seriousness of [the anti doping measures].
[Patrik] Sinkewitz was pretty clear that it wasn?t a joke here, and that we were serious about it, but we were really focused on a single issue. Now we?ve got a much broader program that?s based on all the testing we can actually do and all the substances we can really test for.
That?s why I really embraced these blood profiles, they do two things; one is that instead of looking at a positive test it?s looking for five standard deviations above the norm. They?re now looking at changes, and any changes will need to be explained, and potentially investigated.
What we?ve come forward with now is our own blood and urine testing, that includes testing for stimulants and appetite suppressants, as happened with [Lorenzo] Bernucci.
Q: How often will High Road riders be tested?
A:Each rider is going to give a minimal of 26 samples a year, of both blood and urine, drawn at the same time. They?re designed to integrate in to the blood passport. We were hopeful that was coming, we?ve been pushing hard for that to happen and our program kind of anticipates that, so the UCI and WADA get our test results and we?ll get theirs.
Ours started in October, and I don?t know exactly who?s been tested and how much, but they?re actively being tested, so we have a profile.
Q: A lot of riders have voiced concerns over the way the information in the blood passports is interpreted, are these deviations in values really enough to sanction a rider?
A: That?s the new challenge and that?s where the new elements of this program need to be created. And I think it?s fair to have concerns about that. Athletes have not really been treated properly on disclosure of information, and this is going to be a learning process. They should not point fingers early on this, because I think we?ll see results that look unusual that may turn out to be nothing.
I?ve had the benefit of looking at our guy?s blood profiles for a year now from the blood volume tests, and you have to stay with the science, and you have to stay focused to make a good interpretation.
The risk now is that people will judge situations, or procedures wont be followed, and that just can?t happen. The testing itself I don?t think is a big issue, it just has to happen. I?m anxious from the start, but I think that regular testing starts to change behaviour.
You?re going to make doping much more difficult if people know they?re going to get tested a lot, its more and more work, more and more risk. Just getting regular testing going is a big step forward. The risk is that the results management isn?t done right, and the interpretations aren?t done right.
But it works at a scientific level. People have always said there are all these things you can?t test for, but I think you can get a clue if you?re doing this type of testing on a frequent basis.
The question is where does it become something you need to do further tests for or something where you need to make a sanction. That?s the challenge and the risk. But it?s no reason not to start!
Q: Last year you told me that other team managers didn?t like you and what you?d done, have things improved now?
A:I don?t feel that those relationships have gotten any better. I think everybody is now concerned about the future of their own programs. I think that we were so upfront and aggressive about it that it really alienated some people. But for me, I want to get the issues out there. It was never about being popular or about making friends.
We tried to create some change and I really thought people would be more open to it. We?re probably more sympathetic to more teams now, but it was never about trying to say we were better than everybody, or that we were smarter, it was really trying to be provocative and push things forward, and a lot of people took offence to that.
I think that people finally recognise that it?s do or die for the sport, I think every sponsor is asking questions and now that many of them are looking they know that any quality partner is going to want to see clear signs of action. The economic reality is finally setting in. I just thought it was more obvious and would happen sooner.
I was definitely in too early on this and underestimated the resistance and the scope of the problem.
Q: Why did T-Mobile, a supposedly clean team, have more positive tests than other teams that are regarded with more suspicion?
A:There?s still a lot [of riders] that aren?t tested. I can say with confidence that the guys on this team have probably been tested more times than any rider on any other team already. Some countries have no anti doping at all. Some of these athletes are only tested when they win, so yeah, they?re not going to have any positives.
I don?t want to set us up as being better or smarter or holier than though. More testing will produce more positives and that is part of the solution.
Q: You took a lot of stick from the German press last year, do you think this will ease now you?re not sponsored by a big German company?
A: I think there?s a lot of people they want to blame. I think there?s lot of people who are still upset that the big German star has fallen. I think we?re going to get treated really poorly.
Q: The team has a very different look to it now from when you took over.
A: we?ve got 14 guys, 25 and under, all the top young talent. You know Mark and Gerald and Linus, but Edvald [Boasson] Hagen is a real potential phenom. Guys like De Vine, Greg Lewis and Tony Martin, these are all the stars out of the Tour de l?Aviner
I went to see ASO a few days ago and they had not realised that we had all the keys guys from their event on our roster. I think we can grow some future stars, and I think that?s what sponsors are going to want to buy in to.
I wanted to cast the widest net I could and find some fresh faces, and maybe go where people hadn?t gone before in terms of talent. What I have learnt is that it?s a lot more fun with all these people from different backgrounds.
Q: If you?re focusing on youth, how did the signing of George Hincapie come about?
A:George is the most respected rider in the US there?s no question, but he really initiated that. He contacted me very shortly after we started the team, really within weeks, right about the time we announced the roster.
He asked if there was any chance we could do something, but we were really talking about this year. We?d been talking to him all along. He had a big desire to be here, he took less money than he was offered by other teams, he?s got a big commitment here.
At the time, a guy coming from Discovery to T-Mobile, that was a scandal in the US. He?s the most disciplined guy on this team. After our camp in Cologne, the first thing he wanted to do was get his time trial bike on the track in Dortmund, he?s already been in the wind tunnel, he?s a focused, disciplined guy.
He?s definitely a huge plus for the US market, he?s a key rider there.
Thank you for reading 20 articles this month* Join now for unlimited access
Enjoy your first month for just £1 / $1 / €1
*Read 5 free articles per month without a subscription
Join now for unlimited access
Try first month for just £1 / $1 / €1
Get The Leadout Newsletter
The latest race content, interviews, features, reviews and expert buying guides, direct to your inbox!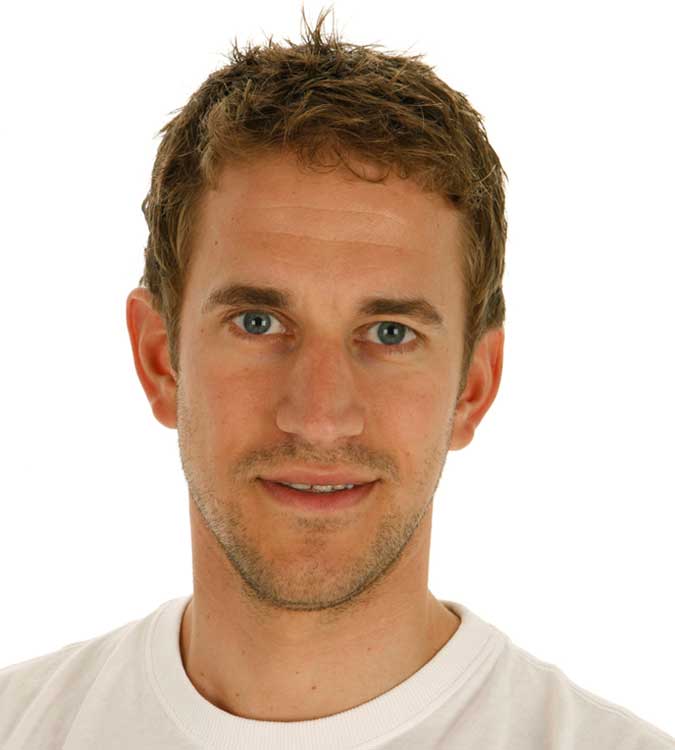 Editor of Cycling Weekly magazine, Simon has been working at the title since 2001. He fell in love with cycling 1989 when watching the Tour de France on Channel 4, started racing in 1995 and in 2000 he spent one season racing in Belgium. During his time at CW (and Cycle Sport magazine) he has written product reviews, fitness features, pro interviews, race coverage and news. He has covered the Tour de France more times than he can remember along with two Olympic Games and many other international and UK domestic races. He became the 130-year-old magazine's 13th editor in 2015.