Bottrill is hardest of the Hard Riders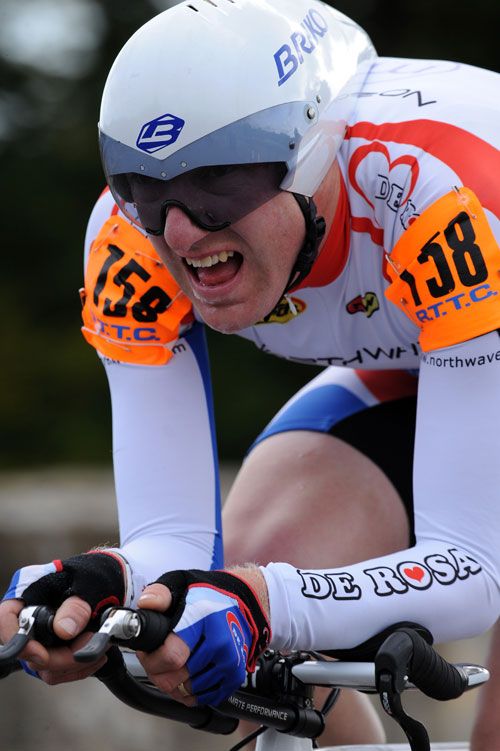 After a convincing victory in the Coalville Wheelers' 25 the previous week, Leicester rider Matt Bottrill underlined his early-season form with a convincing victory in the North Road CC Hardriders 25 in Hertfordshire on Sunday.
The I-Ride RT man clocked 59-30 to win by more than two minutes from his nearest rival. And his victory proved a popular one by many in the field, having ridden the event every year since 1997 without setting foot on the top step of the podium.
"I was beginning to think I would never win this damn event," he joked afterwards. "And this year I was just bothered about getting round.
"The conditions were just unbelievable, with standing water all over the course and debris having been washed across the roads. I got soaked as I think most people did, but typically it stopped raining just afterwards."
Just 57 riders finished the event, with 22 choosing not to start, while 12 failed to finish in the conditions.
"I really felt for them," said organiser Bruce Metheringham. "If it had been much worse I might've thought about calling it off, but it's the Hardriders and that's what it's all about!"
RESULTS

North Road Hardriders 2010

1. Matt Bottrill (I Ride RT) in 59-30

2. Jason White (Cycle Premier-Metaltek) 1-01-34
3. James Perkins (Zenith CC) 1-01-46
4. Richard Prebble (Motorpoint-Marshalls Pasta) 1-01-49
5. Brett Harwood (I Ride RT) 1-02-47
6. Jonathan Shubert (Team Milton Keynes) 1-03-56
7. James Millard (Cycle Premier-Metaltek) 1-03-57
8. Darren Barclay (Arctic Premier RT) 1-04-43
9. Tom Lackenby (I Ride RT) 1-05-12
10. Phil Lisher (Team Welwyn) 1-05-54
Team

1. I Ride RT (Matt Bottrill, Brett Harwood, Tom Lackenby) 3-07-29
Women

1. Sue Fenwick (Cult Racing) 1-21-03
Juniors

1. Tom Lackenby
Veterans on std

1. Richard Prebble +5-11
Related links
Craven wins Clayton Velo Spring Classic
Subscribe to Cycling Weekly magazine>>