Brakepack: the bag that signals for you (video)
The prototype backpack could bring a new signalling solution to the cycling market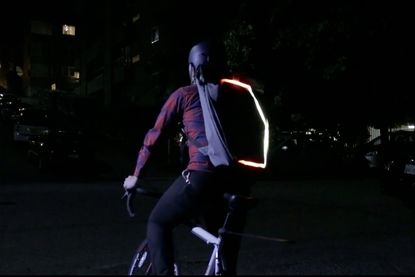 A stylish and possibly the most effective bike indicator yet is seeking a partner to bring it to the shop floor.
Lights that are attached to the bike that signal left and right are an invention that many have tried to design over the years but it is a conundrum that has, thus far, been almost impossible to bring to the public domain despite repeated attempts.
But a technology business from Seattle, USA, might just have come up with a winner.
https://vimeo.com/103943778
Brakepack involves the cyclist wearing the backpack that syncs to a pre-defined route on the rider's smartphone.
>>> GPS pedal exceeds crowdfunding target in just one day
The cyclist taps out their destination and by following the route as the phone indicates, the backpack lights up through its LED lights when the rider has to turn left or right.
And if the rider takes a different course, a simple tap on the shoulder strap in the direction they wish to indicate informs the backpack of their new intention.
>>> New bicycle brake light seeks funding on Kickstarter
Artefact, the designers, say that the backpack is currently a working prototype and is seeking a partner to introduce it to sellers.
Thank you for reading 20 articles this month* Join now for unlimited access
Enjoy your first month for just £1 / $1 / €1
*Read 5 free articles per month without a subscription
Join now for unlimited access
Try first month for just £1 / $1 / €1