Brazilian man rides a bike with a fridge/freezer on his back...over cobbles (video)
Don't try this at home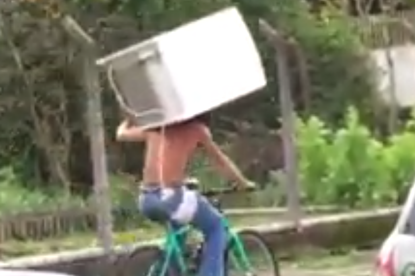 Have you ever had to move a tricky bit of furniture on your own? We've all been there, trying to fit a sofabed in the back of a Nissan Micra or pivoting a bookcase up the stairs to an eighth floor flat.
But what happens when you need to transport a fridge/freezer without the luxury of a car or anyone to help you?
Well, this chap in Brazil took it all in his stride and used his bike to move the hefty appliance with apparent ease in a move that puts most of our shambolic removal efforts to shame.
Emerging from the building with the fridge perched on one shoulder - a move that will definitely be frowned upon by health and safety - he ambles across the road to his bike.
>>> Cyclist reported to police after Rubik's Cube video goes viral
Not only does he then hop on the two wheels, he then manages to hold the fridge with one hand as he uses the other one to hold the handlebars.
If riding like that wasn't hard enough, the street he's going along is entirely cobbled, just to add an extra fear factor.
>>> Turbo training and playing a cello: some skills on show here (video)
If the ASO are looking for any way to make Paris-Roubaix even harder, this chap could provide the inspiration. Forcing each rider to pick up a kitchen appliance before riding along the Carrefour de l'Arbre would make a great spectacle.
Just a thought...
Thank you for reading 20 articles this month* Join now for unlimited access
Enjoy your first month for just £1 / $1 / €1
*Read 5 free articles per month without a subscription
Join now for unlimited access
Try first month for just £1 / $1 / €1