Breaking Away: Cast of iconic cycling film reunite in Las Vegas
Dennis Quaid, Dennis Christopher and Jackie Earle Haley from 1970s cycling film Breaking Away get back together at Interbike in Las Vegas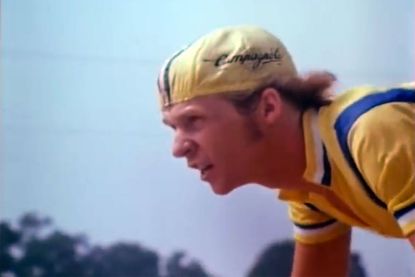 The cast of iconic 1970s cycling film Breaking Away will reunite at the Interbike show in Las Vegas today.
Dennis Quaid, Dennis Christopher and Jackie Earle Haley will get together at the American trade show to celebrate the 1979 Oscar-winning coming-of-age movie, which has since enjoyed a cult following among cyclists.
The plot revolves around Christopher's character Dave, a daydreaming 19-year-old exasperates his parents by delving headlong into the world of cycling - and taking on the persona of an Italian professional rider. He lives for cycling, and ends up riding in a race when an Italian team comes to town.
>>> Latest trailer for Lance Armstrong film 'The Program' looks stunning (video)
"Jay Wolff of Helen's Cycles in Santa Monica, CA, was the master mind behind the reunion concept," said Pat Hus, Interbike vice president.
"Jay was instrumental in helping to put these guys together at Interbike to celebrate a film that brought our sport to the big screen in the late 70's. Interbike attendees and exhibitors are going to want to be part of this special night."
Wolff has supplied bikes to many Los Angeles stars, including Quaid and Harrison Ford.
"It just seemed to hit the world at just the right time," Christopher told the Hollywood Reporter. "It was a terrific script, and bicycles were just about to happen in this country — there was just no stopping it. This movie was in the vanguard."
Christopher apparently keeps the bike he rode in the film on his wall in his Los Angeles home. Quaid has continued cycling ever since making the film, and still clocks up 100 miles each week in the saddle.
Thank you for reading 20 articles this month* Join now for unlimited access
Enjoy your first month for just £1 / $1 / €1
*Read 5 free articles per month without a subscription
Join now for unlimited access
Try first month for just £1 / $1 / €1