Brian Cookson: Cycling isn't in denial about doping like other sports
The UCI president says that cycling is among the sports that are actively fighting doping and not living in denial like some sports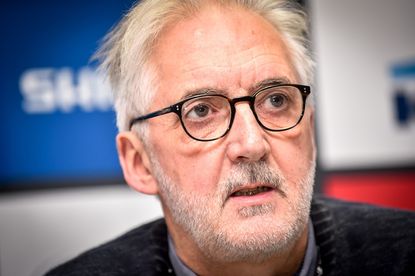 (Image credit: Graham Watson)
Cycling boss Brian Cookson, who is visiting Rio de Janeiro for this month's Olympic Games, says that some other sports are in denial about doping and are not doing enough about the problem.
Over the recent years, cycling dealt with numerous doping scandals from the Festina Affair to Lance Armstrong and implemented new tests and policies. Others, like athletics recently, are just now dealing with these problems or, as Cookson said, are turning a blind eye.
"I've often said that, for me, there are two groups of sports: sports that have a doping problem and are doing something about it – and I believe we're in amongst the leaders in those – and sports that have a doping problem and are in denial and are not doing anywhere near enough about it," UCI President Cookson told Australia's Fairfax Media.
"And I think sooner or later those sports that are in denial and haven't done enough are going to have – and perhaps are already having – the sorts of problems that we had."
In the build up to Rio, the World Anti-Doping Agency's (WADA) McLaren Report exposed a state-sponsored doping system in Russia. The International Association of Athletics Federations banned Russians from taking part in the Rio Games as a result.
In swimming, several athletes have complained that the federation could be doing more to stop cheats from competing.
Cycling's colourful history over the last 25 years saw a series of busts and several positives. The sport responded with EPO tests, biological passports and bans. The Lance Armstrong Reasoned Decision, as recently as 2012, exposed corruption within the sport's own governing body and the backlash largely help Cookson take over the presidency in 2013 from Pat McQuaid.
"I don't want to be complacent or to criticise other sports. I think what we have done was necessary for our sport," Cookson added.
"And I'm not at all complacent, but I think we're in a good position as a sport. I think our credibility is much higher than it was a few years ago, but we need to keep working at that. As do all other sports."
Cookson added that cycling should not be as concerned over the Russians. They "are already in our system, in the biological passport, in the registered testing pool – whether ours, or their own, or the UKAD one – and so they're tested multiple times outside of Russia."
Thank you for reading 20 articles this month* Join now for unlimited access
Enjoy your first month for just £1 / $1 / €1
*Read 5 free articles per month without a subscription
Join now for unlimited access
Try first month for just £1 / $1 / €1