Brian Cookson refuses "public conflict" with former UCI president Verbruggen
Current UCI president Brian Cookson says he will not react publicly after Hein Verbruggen slams him in a letter to the UCI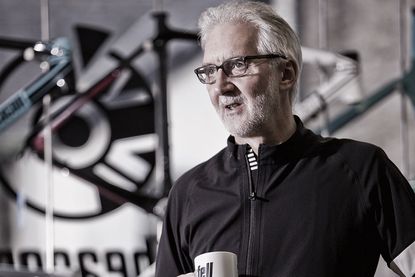 (Image credit: Chris Auld)
UCI President Brian Cookson has responded to scathing criticism from honorary leader Hein Verbruggen who has refused to surrender his title.
Verbruggen in a 3350-word letter to the UCI Management Committee slammed the incumbent, questioning the balance of the highly-publicised Cycling Independent Reform Commission (CIRC) report that partly investigated allegations of corruption and complicity in his 1991-2005 administration and that of successor Pat McQuaid.
The 73-year-old in the letter that Belgian newspaper De Morgen published on Monday also adamantly rejected a suggestion he step down as honorary president of the international governing body, dubbing the motion as a "personal revenge campaign against me by Mr Cookson".
>>> Former UCI president writes open letter criticising Brian Cookson
Cookson in a statement today stood by his position and the €3 million independent report that did not sustain any such allegations but did illustrate the former presidents in an unfavourable light.
"I think Mr Verbruggen's letter speaks for itself," he said. "Those who have read the CIRC report will understand where the UCI went wrong in the past, including the conflicts it needlessly got into and which seriously damaged its credibility.
"I was elected to change the way the UCI conducts itself and I won't be drawn into this kind of public conflict."
Cookson - in the wake of the 227-page report and anti-doping and governance recommendations made within it last month - signalled for Verbruggen to resign from his honorary post.
"Given the contents of the CIRC report, I do indeed think that it would be appropriate for Mr Verbruggen to consider his honorary position with the UCI," he had said after it was published on the federation's website.
Verbruggen was unequivocal in a response addressed to management committee members this month.
"…I declare here and now that I will consider the withdrawal of my title to be a 'sanction' and I will NOT accept being sanctioned, especially not by such a person has Mr Cookson! Be aware that the UCI should be prepared to face legal action against any sanction imposed on me based on either Mr Cookson declaring me a "dictator", or on the clearly biased CIRC report," he wrote.
>>> Five things you missed from the CIRC report
Verbruggen was appointed honorary president when he left office in 2005 though the CIRC report suggests he remained influential.
"Several interviewees confirmed that Hein Verbruggen continued, for some years after the election of his successor, to exercise a decisive influence on major resolutions passed by the UCI," an exert read.
The Dutchman is also an honorary member of the International Olympic Committee (IOC).
It's understood the UCI Congress, which meets in September, has the power to reverse honorary UCI appointments based on a vote.
Twitter: @SophieSmith86
Thank you for reading 20 articles this month* Join now for unlimited access
Enjoy your first month for just £1 / $1 / €1
*Read 5 free articles per month without a subscription
Join now for unlimited access
Try first month for just £1 / $1 / €1