Wiggo on tour: check out Bradley Wiggins' customised motorhome
World Time Trial Champ has got a new motor… and the key themes are Union Jacks, Union Jacks and, er, Union Jacks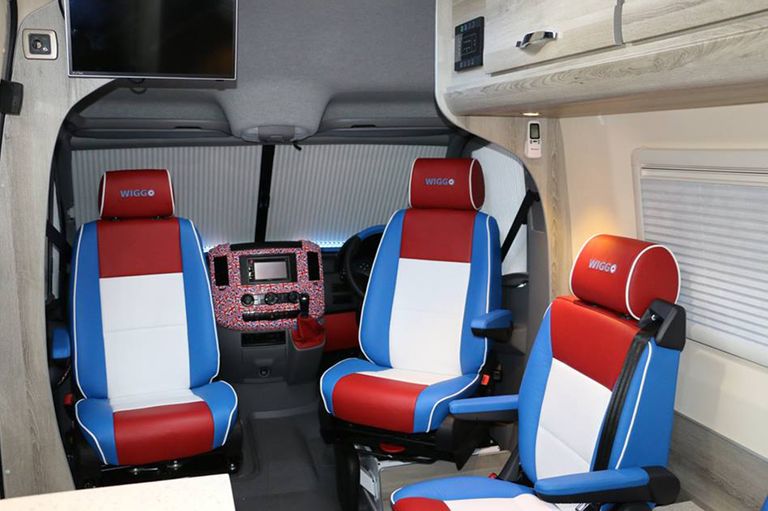 Knights of the Realm probably used to get a chariot chucked in for free along with a sword and a squire, but times have changed — so Sir Bradley Wiggins has chosen to fork out on a one-of-a-kind steed in his own inimitable style.
The result, this customised motorhome from Mclaren Sports Homes, is unlike anything you've seen before, and it's definitely patriotic.
Could this be the race bus for the rumoured 'Team Wiggins' that's set to start next year? We've no idea, but if so they'll be travelling in style. And with plenty of The Jam on the stereo, presumably.
Check out the interior of the 2012 Tour de France winner's new motorhome in the gallery below.
There are also reminders on the other side of the headrest in case you forget whose swanky motorhome this is.
Even Cycling Weekly gets a look in. (We're definitely taking that as an endorsement and not a sign that the photographer chose the magazine that had the word 'cycling' written biggest on it.)
The toilet/shower isn't the biggest, but you could multitask...
Plenty of space for bikes in the back:
Swivel seats... perfect for team briefings at a race. Or playing Snap.
If you hadn't noticed, the theme of the bus is 'Essence of Union Jack'.
"Sorry I was speeding, officer, I was blinded by my hideous dashboard."
And here's the man himself collecting his new ride.
More on Bradley Wiggins
Take a look back at some of the best bits of Sir Bradley Wiggins' career on the road
As revealed in last week's CW, European individual and team pursuit champion will link up with Bradley Wiggins in 2015.