British Cycling calls on government to change reforms that could prevent injured cyclists from getting compensation
The national governing body says the governments revised Civil Liability Bill will punish cyclists rather than protect them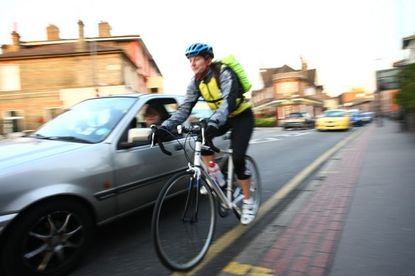 (Image credit: Grant Robinson)
British Cycling is appealing to the UK government to rethink its reforms to the Civil Liability Bill, saying that it will penalises vulnerable road users (VRUs) rather than protect them.
The government recently announced it was seeking to make changes to the law that is aimed at reducing the number of exaggerated and fraudulent whiplash claims from motorists.
This will involve increasing the small claims limit for road traffic accident personal injury claims from £1k to £5k, which the government hopes will reduce incentive for whiplash fraudsters to try and make a claim.
With the proposals now in the early stages of parliament, national governing body BC is concerned that the raising of the claim limit "would mean that many injured cyclists would be unable to recover their legal costs and therefore be denied access to justice."
It says that the reforms are unfair to VRUs who are much less likely to sustain whiplash, including cyclists, pedestrians, motorcyclists and horse riders, and that it has been working with the Vulnerable Road Users Group to try and convince the government to remove VRUs from the bill.
"This move will have huge unintended consequences for anyone involved in a collision that is not driving," said British Cycling policy adviser Chris Boardman.
"It will now become almost impossible for cyclists to get legal representation without sacrificing a significant proportion of the compensation that they would be entitled to and I appeal to the government to rethink this approach."
Catherine West, Labour MP for Hornsey and Wood Green, has already tabled an Early Day Motion requesting the government to exclude vulnerable road users from the reforms to the bill.
BC is encouraging the general public to write to their MP on the issue and support the motion through an online tool which you can find here (opens in new tab).
The Early Day Motion, which was tabled on March 28, currently has 15 signatures of support and urges the government to reconsider its reforms effect on VRUs, saying: "VRUs suffering injuries below £5,000 in value will be unable to access a lawyer should they wish to pursue their rights of redress in the Courts; and [the motion] urges the Government to take a pragmatic approach and remove VRUs from the scope of the reforms to ensure they remain protected on the UK's roads."
Cycling charity Cycling UK has also been campaigning about the issue, running the 'Road Victims are Real Victims' campaign (opens in new tab). Over 6000 people signed up to support the campaign in its first iteration in December 2016, according to Cycling UK's head of campaigns Duncan Dollimore, with a further 1000 people voicing support since the campaign began in March.
"The Government insists changes are needed to tackle fraudulent or exaggerated whiplash claims, but unfortunately, their proposals have lumped cyclists, pedestrians, motorcyclists and horse riders into the mix," Dollimore said. "That's a problem, as whiplash claims for these people are like hens' teeth and hardly ever happen.
"Broken bones and other injuries are the norm, and with 70 percent of cyclists' claims being under £5000, victims will be out of pocket once the legal wrangles with insurance companies are over, as they will have to foot the bill for their own legal costs."
Thank you for reading 5 articles this month* Join now for unlimited access
Enjoy your first month for just £1 / $1 / €1
*Read 5 free articles per month without a subscription
Join now for unlimited access
Try first month for just £1 / $1 / €1