British track sprinter Matt Crampton announces retirement
Matt Crampton draws his 13-year career as a Great Britain track sprinter to a close, saying its the 'right time' to retire as he sets up a coaching business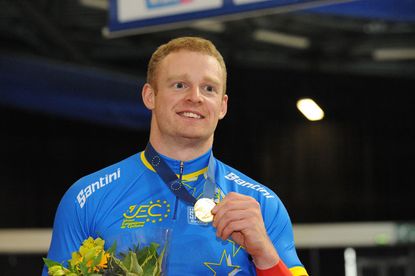 Track sprinter Matt Crampton has announced his retirement from competition, bringing to a close a 13-year career with the British team. Former team-mate Sir Chris Hoy paid tribute to Crampton, saying he was one of the 'hardest working' and 'well liked' members of the Great Britain squad.
The 30-year-old from Manchester says that the 'time is right' to retire, as he aims to build his coaching business.
Although Crampton missed out on Olympic selection throughout his career, he represented Great Britain at international level on many occasions since joining the Olympic development programme in 2003.
>>> Great Britain take five gold medals in opening round of Track World Cup (videos)
Highlights of Crampton's career include the 2011 European title in the keirin, and podium positions in UCI Track World Cups and Commonwealth Games. He was forced to miss the 2016 Rio Olympic Games due to injury.
In a statement from Crampton issued by British Cycling, he said: "Since starting on the squad in 2003 on the junior programme I have been training hard and dedicating my life to the British Cycling Olympic Programme.
"Although I was not selected to represent GB at the Olympics, I am extremely proud of all I have achieved throughout my career and of the effort that was given relentlessly to be a fundamental part of the squad.
"With this in mind, I have taken the decision that now is the right time for me to retire from professional cycling in order to enable me to pursue new challenges and develop myself in other ways including setting up my own coaching brand 'Podium Fitness' along with other projects.
"I am appreciative and grateful of all the support given to me by the staff and fellow riders both past and present who dedicate themselves to British Cycling and its endeavours. I have forged great friendships during my time on the squad and wish everyone the best for the future."
Watch: Ghent Six Day - Wiggins and Cavendish win
Hoy rode both with and against Crampton in many competitions, and has nothing but praise for him.
"Matt was one of the hardest working, consistent and well liked members of the team over the last decade. The way he approached his career in such an unassuming and professional manner always impressed me.
"We had some great battles in individual events over the years and some great victories together in the team sprint. I'd like to congratulate him on a fantastic career and wish him the very best of luck on his next chapter."
Thank you for reading 5 articles this month* Join now for unlimited access
Enjoy your first month for just £1 / $1 / €1
*Read 5 free articles per month without a subscription
Join now for unlimited access
Try first month for just £1 / $1 / €1