Broadcaster Phil Liggett says death of close friend Paul Sherwen 'hard to believe'
The 'voice of the Tour de France' Sherwen died from heart failure, aged 62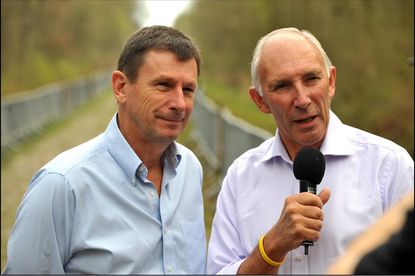 (Image credit: Watson)
Cycling broadcaster Phil Liggett says the death of his colleague and close friend Paul Sherwen is "hard to believe."
The long-time Tour de France commentating partnership has come to an end after Sherwen's death last weekend.
The 62-year-old died in his sleep from heart failure in Uganda, where he had lived for many years.
Liggett told the Wall Street Journal (opens in new tab): "It's hard to believe.
"When the day dawned, I'd lost my right hand man, my wing man, my team-mate.
"We were joined together.
"We had the same sense of humour, and we walked the world together for over 30 years."
>>> 'I'll remember Paul for many things – a pioneering professional cyclist, a great TV commentator, but most of all as a friend'
Sherwen became a household name in cycling circles as he commentated on 33 editions of the Tour along with close friend Liggett.
He rode professionally from 1978 to 1987, racing in seven Tours de France and winning two national titles.
After retirement he commentated on the Tour de France for Channel 4, before moving to NBC Sports in America and SBS in Australia.
His death prompted a huge outpouring of grief from the cycling world.
Colleagues, fans and riders all paid tribute to Sherwen, describing him as the "voice of the Tour de France."
Liggett added: "It's going to be tough, there's no way around it.
"At my age, 75, maybe I should go no, hand the whole lot over.
"That's going to cross my mind.
"But time's a great healer, we will see."
Liggett said that Sherwen had been back on the bike, even putting in regular rides on Zwift.
Sherwen is believed to have died from heart failure, according to his family following the post-mortem examination.
Thank you for reading 5 articles this month* Join now for unlimited access
Enjoy your first month for just £1 / $1 / €1
*Read 5 free articles per month without a subscription
Join now for unlimited access
Try first month for just £1 / $1 / €1