'I'll remember Paul for many things – a pioneering professional cyclist, a great TV commentator, but most of all as a friend'
Retired cycling photographer Graham Watson pays tribute to his friend of 40 years, former professional rider and broadcaster, Paul Sherwen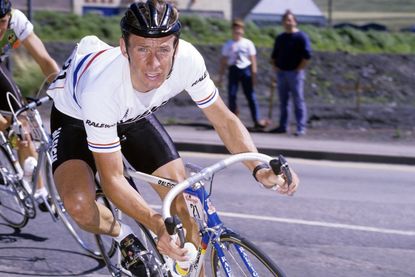 (Image credit: Watson)
I'll remember Paul for many things - as a pioneering professional cyclist, a great TV commentator, an hors-categorie PR officer and general laugh-a-minute entertainer. But most of all I'll remember him as a friend of almost 40 years.
When I first ventured to continental Europe with my cameras in the late-1970s, Paul was the one cyclist who took an interest in what I was doing. Without realising it at the time, both of us were running parallel adventures in the world of cycling, Paul as a determined young bike-rider, me as an ambitious yet dreamy photographer.
>>> Cycling broadcaster and former professional racer Paul Sherwen, dies aged 62
I noticed how Paul had set up his shop by living with the French, embedding himself in the very French world of cycling, and building deeper foundations than if he had just hung out with his fellow British colleagues. I too saw the importance of mixing in with the French photographers, so too the Belgians, Dutch, Spanish and even Italians, as I made my way into the business.
Paul was my go-to cyclist if I needed advice on an upcoming race, or simply someone to ask about the myriad of tactics out there. Or someone to crack a joke with just before the race began. I realised much later in life that we were in many ways kindred spirits back then, just that neither of us knew it.
Like all best mates, we had a few misunderstandings in the early days. I once committed a dire error in the 1981 Paris-Nice, when I photographed Paul after he'd punctured and then blown up in his effort to get back on a long climb called the Col de l'Espigoulier. I'd been desperate all week to get some 'strong' shots of Paul near the head of the GC battle, and ordered my moto-driver to pull right in front of Paul as his strengths and morale wavered. But instead of action, what I actually saw in the viewfinder was Paul giving me the rudest of rude hand signals - yes, I captured the full force of his anger that day. A handshake at the next day's stage start set our relationship back on course, but even to this day I can hear Paul's exaggerated mimicry of that moment: "Listen to an old pro's advice - never, ever, photograph a pro cyclist when he's just got into difficulties, it's not cool."
>>> Tributes from Phil Liggett, David Millar and more as cycling broadcaster Paul Sherwen dies at 62
By the time Paul retired in the mid-1980s and joined Phil Liggett as a rookie co-commentator at the Tour de France, my archive had been swelled with shots of Paul in all forms of races and situations. As a die-hard battler in a series of muddy Paris-Roubaix, afoot on the Koppenberg in the Tour of Flanders, racing the home-based British pros in rain-soaked circuits all over the UK - and, best of all, riding to his limits to stay in the 1985 Tour (he succeeded), I thought I'd seen just about every side of Paul's character. Not so...
One of my favourite memories of Paul's racing career was the 1982 Giro del Piemonte, a late-season event that a non-climber like Paul probably hated. I was trailing the remnants of the peloton in my beat-up Ford Escort, waiting for a short-cut to make the finish ahead of the race, when Paul suddenly jumped off his bike and stood in the middle of the road, blocking my way ahead. He must have spotted me and the UK-registered car at a previous passing shot I'd made. Paul's massive right hand went up like a British bobby's at a road-junction, ordering me to stop - there was no way around the man. Somehow we crammed his Motobecane bicycle into the Escort's boot, and I became Paul's chauffeur as far as the finish and his team's lakeside hotel. I never did get the finish shot that day.
Barely into his apprenticeship as a TV commentator, Paul took up a new role as PR officer for the new Motorola team, for whom I was contracted as their stills photographer. The quality time together began to build as Paul flourished in his new role, and in doing so afforded me with some enviable behind-the-scenes imagery of the teams' famous cyclists preparing for races all over the world. It was during this phase of our shared adventure that, I have to confess, Paul and I often slept together. In the same bed... But always, always, in the course of our working together. It was a touch disconcerting to fall asleep next to such a legendary man who I used to photograph in races, but if he didn't mind then neither did I.
Even back then, hotel rooms were hard to come by if a big team like Motorola was staying there, and rather than shove me down the road in a motel Paul found space in his bedroom, and often in his bed. After Lance Armstrong had won the '93 Worlds and Motorola had invited the world's media to visit Lance in his hometown of Austin, there I was in Paul's luxury Four Seasons hotel room, while 20 others were settled into roadside motels.
When Sean Yates won the yellow jersey in the 1994 Tour, Paul made sure I was the only photographer inside the team hotel, and inside Sean's room when the celebrations began. Paul's professionalism was much admired by the Motorola team and because of this my job was made that much easier because all the riders and staff afforded me with similar respect.
If there was ever any doubt that our friendship had surpassed that of mere colleagues, it came in 1996 when Motorola were staying at the iconic Villa Flori alongside Lake Como. Rooms were at a premium, so Paul smuggled me into his room after dinner with the team, where-upon he produced a bottle of champagne and two glasses. Paul's famous grin had spread even wider as he poured the first glasses, and I was probably one of the first people to be told he'd proposed marriage to his fiancée Katherine Love - and that she'd said yes. Drunk on happiness and champagne, we shared a bed for the last time that night, for I knew Paul's life was about to change!
For the last 20 years - in fact since Motorola pulled out of the sport - I enjoyed Paul's company at races all over the world. Whether he was a TV commentator, or multi-linguist translator, or just being 'Paul', he was one of the most gregarious characters one could ever meet.
He took me and a few others on a safari trip in Kenya's Masai Mara where ice-cold beers were served around the campfires each evening while lions roared their threats from within the bush. We were friends of course, but acting as pretend guests for some future business Paul and Katherine were planning. Like friends we ate and drank wholeheartedly, and, like paying guests, we refused to help Paul fix a Land Rover's flat tire in a tropical rainstorm one afternoon. Typically, he took it all in his stride.
That trip to Kenya allowed me to see and understand Paul's love affair with all things African. Yet as deeply as he embedded himself in a Ugandan way of life, so did Paul love travelling across the globe to commentate on his favourite races. He'd show up in Adelaide after a 20-hour journey and go straight to the microphone with just a shower and change of clothes - needless to say, his commentary was as clear as a bell, and always animated.
Paul was one of those rare and fortunate creatures who simply made friends wherever he went. He had time for everyone, for his colleagues, his many fans, his professional subjects on bicycles, and of course for his friends. Perhaps the most striking feature of Paul's sad death was the outpouring of grief and heart-felt tributes from those that knew him, or just knew of him. As I write, the news still hasn't sunk in properly, it just doesn't seem real - Paul was always there, no matter which race was going on, or in which country.
He will be so missed.
Thank you for reading 20 articles this month* Join now for unlimited access
Enjoy your first month for just £1 / $1 / €1
*Read 5 free articles per month without a subscription
Join now for unlimited access
Try first month for just £1 / $1 / €1