Tributes from Phil Liggett, David Millar and more as cycling broadcaster Paul Sherwen dies at 62
'I'm going to miss him. Thank you Paul for helping me so much'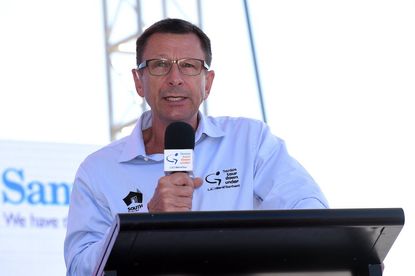 (Image credit: Watson)
The cycling world is in mourning after the death of broadcaster and retired professional Paul Sherwen.
Sherwen died in Kampala, Uganda at the age of 62 from heart failure.
Friends, colleagues and fans from around the cycling world have shared tributes to the "voice of the Tour de France."
Sherwen became a household name in cycling circles as he commentated on 33 editions of the Tour along with close friend Phil Liggett.
Liggett said that he had been informed by Sherwen's family that the cause of death was heart failure, according to a post-mortem examination.
>>> 'I'll remember Paul for many things – a pioneering professional cyclist, a great TV commentator, but most of all as a friend'
After news broke on Sunday night, Liggett said on Twitter: "I went to bed in Africa with a heavy heart last night feeling sadness like never before.
"My team-mate for 33 years was no longer with me.
"Your hundreds of messages showed how well Paul Sherwen was loved.
"Let's think of Katherine and his children with love just now."
He added: "I have scrolled through tweets non-stop for 45 minutes and then went back to the top and found 600 new ones.
"Paul would have been so proud to know how much you thought of him.
"Thank you all, riders, friends, fans, federation, media for your expressions of love."
Sherwen rode professionally from 1978 until 1987, racing seven Tours de France and winning two national titles.
After retirement he commentated on the Tour de France for Channel 4, before moving to NBC Sports in America and SBS in Australia.
Current Tour commentator and retired pro David Millar also paid tribute.
Millar shared how Sherwen helped him find his first team in 1995 and continued to advise him through his career and into retirement.
He said: "I won't bump into Paul at the Tour anymore – all the details of signing my first pro contract are gone forever.
"I'm going to miss him. Thank you Paul for helping me so much, and forcing me not to be sentimental about it by annoying me constantly like only you could."
Fellow commentator Ned Boulting said: "Shocked and saddened to hear that Paul is dead.
"A constant upbeat, chipper presence for as long as I was lucky enough to know him.
"A man of great heart. I don't know what more to say, except that he will be deeply missed."
Sherwen died in Kampala, Uganda where he lived for much of his life.
British Cycling said in a statement: "We were truly saddened by the news of the passing of Paul Sherwen. A former national champion and a great voice of our sport, our thoughts are with his family and friends at this time."
"Paul was synonymous with the Tour de France in the US and will be greatly missed by his legions of fans and the NBC Sports family, which was honoured to be part of Paul's 40th Tour last July," NBC Sports said in a statement.
A tribute was also posted on the Tour de France Twitter account: "All the Tour de France organisation is deeply saddened by the passing of Paul Sherwen.
"He has been a great rider and an iconic voice of Le Tour over many years.
"All our thoughts go to his family, friends and colleagues."
The UCI said: "[We are] deeply saddened of the passing of former pro and commentator Paul Sherwen.
"Our sincere condolences go out to his family, friends and colleagues."
Lance Armstrong said: "Completely shocked and saddened to hear of Paul Sherwen's passing.
"Met Paul in 1992 when he worked as our press officer for Team Motorola.
"He was always a class act and a great friend.
"My deepest condolences go out to his family.
"RIP Climber."
Thank you for reading 20 articles this month* Join now for unlimited access
Enjoy your first month for just £1 / $1 / €1
*Read 5 free articles per month without a subscription
Join now for unlimited access
Try first month for just £1 / $1 / €1