Chris Froome crash: 'If it can happen to a Tour de France winner, then no one is safe'
Paolo Tiralongo says it's a warning for all riders that they have to stay attentive on the open roads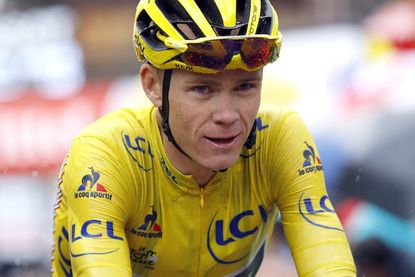 (Image credit: Watson)
Chris Froome's incident with a car sparks continued concern in the professional peloton about the dangers for cyclists on the open roads.
>>> Chris Froome back out training the day after being 'rammed' by driver
Froome posted on Twitter on Tuesday that a car ran over his bike on the side of the road while he was training near his home in Monaco. He said that he was "rammed on purpose by an impatient driver."
"If it happens to a Tour de France winner, then no one is safe," team Astana rider Paolo Tiralongo told Cycling Weekly.
"It's not [just] France, Italy, Canada or America, it's everywhere in the world. That's how it's going for us. There's danger everywhere and you need to be attentive.
"We have to be attentive and above all, those who are driving need to respect cyclists. Not just the pro racers, but cyclists in general. Just having respect for the laws of the road."
In recent weeks, a collision with a truck killed Tiralongo's Astana team-mate Michele Scarponi while he trained and a driver, reportedly drunk and drugged, collided with two amateur cyclists in Spain who both died.
Froome, a three-time Tour de France winner, escaped injuries. His bike's wheels were bent and top tube crushed.
"Pretty scary experience today. The French police have been brilliant. I have given them all the details. Just grateful I wasn't hurt," Froome wrote on Twitter.
"Thank you for all the messages of support. New bike flying in tonight. Back to training tomorrow."
The photograph of his smashed black Pinarello Dogma F10 bike on the pavement circulated the pro peloton in the Giro d'Italia like a virus. It instantly sparked memories of the recent problems.
Tiralongo knew Scarponi well after racing with his fellow Italian over the years. He was due to train with him on Mount Etna two days after the incident as they prepared for the Giro d'Italia.
"Yeah [when I saw the photograph], I thought about [Scarponi] and also about two days ago with the incident in Spain. It's always on my mind," continued the Sicilian.
"Those things I confront every day, unfortunately, our work is on the road. We train on the road and unfortunately, the people in the cars have so much more to think about than driving, from telephones and mixed thoughts."
Tiralongo, from Syracuse, crashed two days ago in the Giro, but tried to attack on stage four when the race covered home roads on Mount Etna.
He explained the attack was for his followers on the side of the road and for Scarponi.
Thank you for reading 20 articles this month* Join now for unlimited access
Enjoy your first month for just £1 / $1 / €1
*Read 5 free articles per month without a subscription
Join now for unlimited access
Try first month for just £1 / $1 / €1