Michele Scarponi, 1979-2017: a 'devastating and sad loss' to the cycling world
Michele Scarponi's team and fellow professional riders give their tributes to the Italian, who died on Saturday after colliding with a truck on a training ride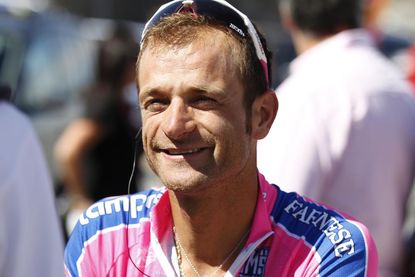 (Image credit: Yuzuru Sunada)
Italian Michele Scarponi leaves behind his family, team Astana and the sport of cycling, people who need his jokes and smile now more than ever.
The 37 year-old was due to lead team Astana in the Giro d'Italia over the next month, but died on Saturday during a morning training ride, around 8am, on home roads in Filottrano, central Italy.
"He'd lift us up in the bad times," Astana sports director Alexandr Shefer told Cycling Weekly.
"He always had a good mood, happy, light-hearted, he put everyone in good spirits. He was a true captain in the team. This is a huge blow."
Shefer, the director closest with Scarponi, searched to find words. He had just seen Scarponi yesterday in northern Italy where the Tour of the Alps (formerly the Giro del Trentino) ended.
"I don't know what to say. It's destiny. It happens in life. It shouldn't, but it does. I don't know what to say in this moment. It's hard."
>>> Astana rider Michele Scarponi dies after collision with truck on training ride
Scarponi won the 2011 Giro d'Italia after Alberto Contador was stripped of the title. Astana gave Scarponi the team's leadership for the race this May 5 to 28 when Grand Tour star Fabio Aru crashed and injured his knee in training.
He proved ready for the job. On Monday, he won the opening stage in the Tour of the Alps and finished fourth overall behind Sky's Geraint Thomas. With his brief time in first place, he earned two purple leader's jersey.
He rushed home last night in the car with his masseur Oscar Saturni and gave those jerseys to his twin boys, Giacomo and Tommaso. He proudly posted a photo of them with him on Twitter.
Scarponi leaves behind his twin boys and wife Anna, who lives in central Italy's Marche region. He rolled on those rolling and wine-producing hills, inland from Ancona, this morning. It was meant to be an easy recovery day after the Tour of the Alps.
"It's devastating and sad, and the fact that I was racing with him and battling for the win 24 hours ago," Geraint Thomas said before heading out for a training ride of his own.
"It's crazy and doesn't seem real. Then you see the photo that he Tweeted last night and the family left behind.
"He would've been going out for an easy recovery ride today and didn't go home. You can't image what his family would be going through now."
The family received calls immediately from those in the area who know Scarponi well from his cycling achievements. Anna raced to the nearby scene and kneeled down over her husband. He collided with a yellow tow truck at an intersection and died soon after.
Scarponi began his professional career in 2003 with Domina Vacanze. Though he had wins of his own – the Volta a Catalunya and the Tirreno-Adriatico stage races – he devoted his time to team leaders. He worked for Mario Cipollini, Alberto Contador, Vincenzo Nibali and Fabio Aru.
His jokes and laughs helped eased even the toughest situations in the teams and peloton. Most will remember him playing on training rides with the blue and yellow Macaw parrot called Frankje, which would fly alongside and rest on Scarponi's shoulder.
>>> Cycling world pays tribute to former Giro winner Michele Scarponi
"I'm destroyed. This seems like a bad joke," said Astana cyclist Paolo Tiralongo. When reached by telephone, he was still sat in his cycling clothes, unable to change after a training ride.
"Michele was always smiling and light-hearted. I'll remember him with that smile on his face. He was always ready for a joke or a laugh. He gave the team a light-heartedness. To anyone."
Tiralongo paused often to gather himself. He sighed, "Dura, dura" or "It's hard, hard."
He added, "I just can't imagine what it's like for his family, his babies were so attached to him. He was attached to them, always filming them and showing me videos. It's going to take me a good period to digest this."
Even with the laughs and jokes, Scarponi remained professional. After a day at home in Filottrano, he was planning to fly tomorrow to Sicily to train on Mount Etna. Tiralongo, from Sicily, planned to join him on Monday.
"I know that the police are investigating, I hope they give his body to the family as soon as possible," Tiralongo said. "For sure, I'm going there to Filottrano as soon as I know that [pause] that he's at home."
General Manager Giuseppe Martinelli already dealt with the drug problems and suicide of Italian champion Marco Pantani. He explained that Scarponi's death was "so serious" and "heavy" he could not think straight.
"I saw him off from the race and the last message from him, I had one last night at 8pm," Martinelli explained. "He was near home and wanted to make sure he had his time trial bike for Etna. We spoke about that.
"I think he was going on his bike early to return early and be with his family today because it was the only day he had at home. Tomorrow he was to leave for another training camp. He went early to return home early. I know him well enough to tell you that."
His love and dedication for his family transferred well to his occupation as a cyclist. He rode 20 Grand Tours, which included helping Vincenzo Nibali win the 2014 Tour de France.
Scarponi proudly spoke of Monday's win because it was his first in over three years. He respectfully refrained from speaking about leading Astana's Giro team because Aru suffered being unable to start the race, which beings with a rare visit to his home island of Sardinia.
"I spoke with him yesterday, he was near the car that I was in during the race," explained Davide Cassani, Italy's national director. "He was content and happy, and concentrated on the Giro with the goal of being captain after Aru had to pull out. He had that same enthusiasm of a neo-pro."
Cassani, who heard the news like most of the cycling world in the early hours Saturday, condemned the distractions motorists have today and the dangers cyclists face.
"We need to remember Michele for what he left, that smile that always accompanied him," Cassani said. "We need to be alert on the road, not only what we as cyclists do but what the motorists are doing. What else can you say? I'm just at a loss for words."
Thank you for reading 20 articles this month* Join now for unlimited access
Enjoy your first month for just £1 / $1 / €1
*Read 5 free articles per month without a subscription
Join now for unlimited access
Try first month for just £1 / $1 / €1