CANCELLARA READY FOR ACTION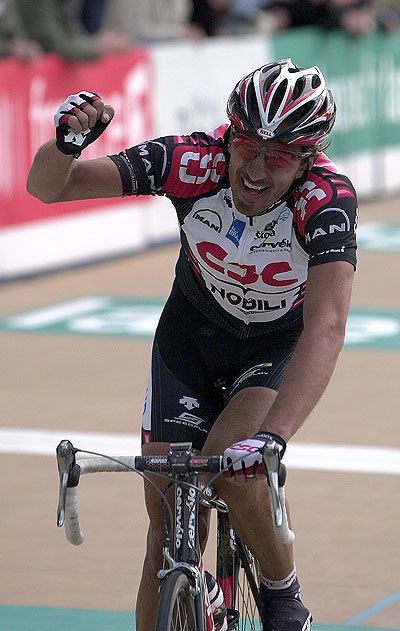 While most professional riders are enjoying their holidays on a sunny beach, Fabian Cancellara is busy serving his country as he gets ready for another season of cobbles and time trials. Like all Swiss nationals, he has to do three weeks' annual military service and has been deployed in the special sports unit.
?I could have avoided it by paying three percent of my salary but I worked it out and realised it wasn?t worth it,? he told Gazzetta dello Sport.
?I?ve been doing gym work, basketball, tennis and even skiing. We even rode a team time trial on military bikes the other day as part of 42 hours without sleep. It wasn?t easy but I?m used to it after doing the CSC boot camp.?
The 25 year-old from Berne had a successful year on the bike winning Paris-Roubaix and world time trial championships and was busy at home as he got married and became a father.
?First I won Paris-Roubaix, probably the best race in the world along with Milan-San Remo and the Tour of Flanders, then I got married to Stefanie, won the time trial world title and then our daughter Giuliana was born. It was the most emotional part of the whole year. I was present at the birth and got to cut to the umbilical cord. Afterwards I was more tired than when I won Paris-Roubaix.?
Cancellara will start training at the beginning of December in South Africa at CSC?s first camp.
?The team have planned three camps: the first between December 4-15 in South African for the boot camp and for basic training. There will be a second optional camp in Gran Canaria in early January and then the third in California in late January,? Cancellara explained.
?I?m going to be training hard early on because I want to do well at Milan-San Remo, the Tour of Flanders and of course Paris-Roubaix. I?d love it to rain next year at Roubaix, that way I can show everybody that I can also win in the rain and mud.?
Cancellara often shared a room with Ivan Basso in 2006 but feels sorry for his former team mate.
?I?m really sorry for Ivan. If he doesn?t win in 2007, people will think he was doping and has stopped. If he wins, people will think it?s because he's doping,? he said.
?Operacion Puerto created a huge mess but only damaged cycling and the riders. When the names of football players and other athletes were supposed to come out the whole thing fell down. Yet again the UCI showed they are impotent. The only way out of it is to do all the tests you can, even more than the rules ask for. That?s what we?re doing at CSC.?
Thank you for reading 20 articles this month* Join now for unlimited access
Enjoy your first month for just £1 / $1 / €1
*Read 5 free articles per month without a subscription
Join now for unlimited access
Try first month for just £1 / $1 / €1