CANDITV-PINARELLO WEATHER THE STORM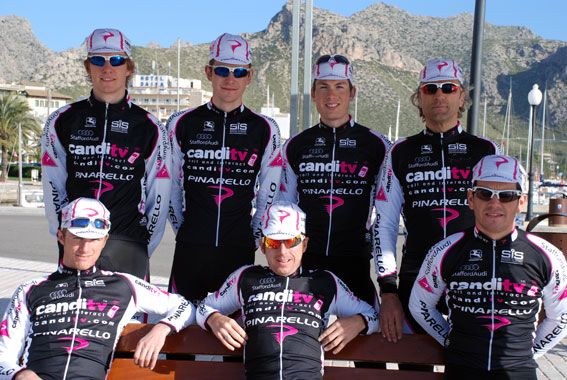 Downing?s coffee kicks in?
RELATED LINKS
Rapha-Condor looking for success, home and away
Landslide in Majorca blocks Soller-Pollenca road
The CandiTV-Pinarello squad completed its second training camp of the year in Majorca at the weekend.
The ten-day camp, based at Puerto Pollença in the north of the island, featured daily six-hour rides for the seven team members present.
The storms sweeping through south-west France and northern Spain at the weekend presented testing riding conditions, although team manager Phil Griffiths reported that veteran Malcolm Elliott remained unfazed by the gusting winds.
?He said ?That?s not a storm?, and took everyone out and ripped their legs off!? said Griffiths. The manager also reported Russell Downing to be in fine shape and putting his team-mates under pressure in training.
The squad should know the Spanish island inside out by spring. Another camp at Puerto Pollença in March will be followed by the Cinturon Ciclista Tour starting April 1, where Downing will be hoping to kick off his season in similar style to last year. The Yorkshireman will be a marked man after winning three stages of the 2008 race.
The team sported all new riding kit but new bikes have been temporarily delayed due to a fire at the Pinarello paint shop in Italy.
Downing, Williams and Elliott hit the road