Carrot sticks over butter and bread for dieting hill-climbers
A strict diet has to be enforced for hill-climb specialists, who have to manage losing or maintaining weight with no detriment to their power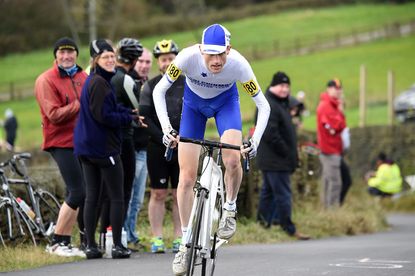 (Image credit: Andy Jones)
Cyclists are notoriously strict with what they can and can't eat, and for hill-climbers it can even mean missing a meal with their partner.
Autumn is the time of the year when club riders turn their attention to ascending gradients as fast as they can, and to achieve the quickest times they have to take particular care of their weight.
240 riders will tackle the Jackson Bridge course, near Holmfirth in Yorkshire, on Sunday in the RTTC National Hill-Climb Championships, with months of strict dieting leading up to the occasion.
For some, it has been an exercise in perseverance and discipline. "I can eat what I want throughout the rest of the season but in the past month I've been having soup for my lunch with no bread," National 10-mile champion Richard Bussell (RST Sport/Aero-Coach) said.
"It's hard as I can't go out for a meal with the missus at this time of year, but she's also a hill-climber so it's not too bad," defending champion Dan Evans (Cannondale UK-Team Elite) said.
The theory in being as light as possible, however, doesn't apply to 2008 champion Matt Clinton (Mike Vaughan Cycles), who weighs in at 67kg and says that when he has "tried to lose weight in the past I've gone a bit rubbish and I lost too much power. I actually put on half-a-kilo last year before the Nationals."
The power issue is one that Evans appears to have perfected. "I'm bigger than some of the other guys so the challenge for me is losing weight but still feeling myself and keeping my power high. If I lose power I'm in trouble.
"I lose about 3-4kg before the Nationals to get down to 65kg and that seems to be enough to maintain my power."
The 2013 champion Tejvan Pettinger (Sri Chinmoy) tops the scales at 61kg and, thus, cannot afford to lose weight. "Someone did some testing on me a few years ago and said that my body fat was as low as it could be; I haven't got much to lose."
How to bake your own recovery bars
Adam Kenway (SportGrub Kuota Cycling Team), third at last year's Nationals, finds maintaining his 69kg weight a difficult challenge. "In the summer it's easy because I'm training for 25 hours a week but in the hill-climb season I'm on the bike for seven to eight hours just doing short intervals so I have to adjust."
Such is the precise nature of the discipline, where the difference between winning and losing can come down to a tenth of a second, riders must refrain from snacking on sugary foods.
Evans added: "I cut down on the empty calories, removing sweets, chocolate and bread from my diet. It's hard having a sweet-tooth."
"I cut out biscuits and Jaffa Cakes and snack on carrots and fruits. It's a healthy option without adding the calories on," Clinton said.
Kenway omits even more: "I have no butter and reduce milk in my hot drinks. I don't have anything that I don't need."
Evans, however, put the sacrifice into perspective: "I train with (Cannondale 2016 professional) Ryan Mullen and he's super-strict all year round, at least for us it's only two months of knuckling down!"
Thank you for reading 20 articles this month* Join now for unlimited access
Enjoy your first month for just £1 / $1 / €1
*Read 5 free articles per month without a subscription
Join now for unlimited access
Try first month for just £1 / $1 / €1