CAVENDISH: FOUR REALISTIC CHANCES IN TOUR'S FIRST WEEK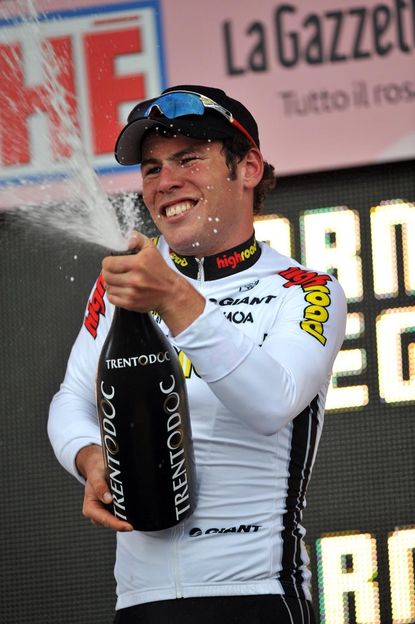 (Image credit: GRAHAM WATSON)
Mark Cavendish has identified four stages in the first week of the Tour de France where he feels he has a genuine chance of winning.
And he added that he would go into the race with the intention of making it all the way to Paris, but that he would pull out if he felt he was damaging his Olympic preparation.
News also broke this morning that Daniele Bennati (Liquigas) who won three Giro d'Italia stages to Cavendish's two earlier this year, will not start the Tour because of injury.
Although reasonably confident of his place, Cavendish learned this morning [Wednesday] that he was in Team Columbia?s final nine.
?I got the email from Rolf [Aldag, the Team Columbia directeur sportif],? said Cavendish.
?I think most of us knew who?d be going but it?s still good to hear it officially.
?This year I am really happy and excited about it, whereas last year I was pretty nervous.
?It would have been a massive disappointment not to be named in the team because I?ve prepared for it. I?m tapering down already.?
The 23-year-old sprinter has studied the Tour route and believes there are four days where he has a chance of winning.
?I can confidently say I can be competitive on stages two, three, five and eight. The big goal is to win one of those stages then take it a day at a time.?
Swipe to scroll horizontally
Stage two Sunday, July 6: Auray ? St Brieuc, 164.5km
Stage three Monday, July 7: Saint-Malo ? Nantes, 208km
Stage five Wednesday, July 9: Cholet ? Châteauroux, 232km
Stage eight Saturday, July 12: Figeac ? Toulouse, 172.km
HE MAY RIDE MORE THAN 10 DAYS
It will surprise many, but Cavendish said he not enter the race with a pre-determined plan to pull out.
With the Madison at the Olympic Games his next target after the Tour, the received wisdom had been that he would ride to the first rest day in the Pyrenees but no further.
?Going into it, I want to finish,? he said. ?If I?m tired, I?ll pull out. I?d consider it an under-achievement if I don?t do at least 10 days.
?As long as there is no negative affect on my Olympic preparation, I?ll keep going. The Madison is a 50k event at 60k an hour. The best preparation is 21 days of hard racing.
?Being at the Tour means I get structured eating, structured riding. I get a massage every day, I?m not sitting around. I train at full gas anyway, so why not race??
British Cycling coach Rod Ellingworth confirmed Cavendish go as far as possible. ?The goal is to win a stage, after that it?s about making the best possible preparation for the Olympics.
?If he gets 10 or 14 days in and he?s tired, he?ll pull out, but considering what great condition he was in when he finished the Giro, it may be that he goes on longer.
?The thing about Mark is he?s very good at waking up in the morning and knowing how good or bad he feels. He will always finish a day ? as long as he?s not injured. Even if he?s outside the time limit, he will finish it. If he has to stop, he will, but if he is feeling good, the best thing for Mark is to race on.
?The Tour finishes on July 27, the Madison isn?t until August 19. If he goes all the way, there?s plenty of time.?
CAV?S GOALS
Cavendish has identified the four stages that suit him best, but the opening stage from Brest to Plumelec is not one of them.
?I will sit up at the bottom of the climb,? he said. ?I?m not aiming for the yellow jersey or the white jersey, so I will save as much energy for the days I can do well.
?Having [Gerald] Ciolek in the team is a massive help. It means we share the load. Hopefully he can do well on the first stage. Of course if he wins it, it?ll mean a bit of a dilemma about who goes for stage two, but we?ll worry about that if it happens. If he?s going better than me, I?ll help him.?
Although he?s ruled out a crack at the yellow jersey, he wouldn?t mind a day in green. His shoe sponsor, Nike, has already prepared some green shoes just in case, but he?s not getting carried away. ?If you?re up there on a number of days you?re in with a shout, but as I said, the priority is to try to win a stage.?
Swipe to scroll horizontally
Two Three Days of De Panne stages
Scheldeprijs
Tour of Romandie prologue
Two Giro d'Italia stages
Ster Elektrotoer stage
Swipe to scroll horizontally
IN
Robbie McEwen (Silence-Lotto)
Oscar Freire (Rabobank)
Gerald Ciolek (Team Columbia)
Gert Steegmans (Quick Step)
Erik Zabel (Milram)
Thor Hushovd (Crédit Agricole)
Robert Hunter (Barloworld)
OUT
Tom Boonen (Quick Step) ? barred by organisers after testing positive for cocaine
Daniele Bennati (Liquigas) ? tendonitis
Alessandro Petacchi (no team) ? sacked by Milram
Swipe to scroll horizontally
It was a steep learning curve for Mark Cavendish during his nine days on the Tour last year. He didn't win a stage but he did learn the hard way what the Tour de France is all about.
Prologue A very creditable debut, taking 69th in London, 52 seconds down on winner Fabian Cancellara
Stage one Crashes into a spectator at the base of the Farthing Common climb, with 21 kilometres to go. Has a painful chase and finishes 2-45 down on winner Robbie McEwen
Stage two Held up in a crash two kilometres from the finish. Crosses the line in 166th place
Stage three Finishes ninth on the cobbles in Compiègne, on the day Cancellara won
Stage four Tenth in Joigny behind winner Thor Hushovd
Stage five Dropped on the hills and rides home in 181st (third from last) place, 18-32 behind winner Filippo Pozzato
Stage six Cavendish's front wheel touches Boonen's rear mech, breaking several spokes. Boonen wins the stage, Cavendish finishes 181st, 2-00 down
Stage seven The race reaches the Alps. Cavendish finishes in the grupetto ? the commonly-used Italian word for the last big group on the road, where the sprinters and the very tired bid for survival
Stage eight Abandons in the early stages of the Alpine stage to Tignes
RELATED LINK
Cavendish named in Team Columbia?s final nine for the Tour
Swipe to scroll horizontally
TOUR DE FRANCE 2008: GUIDE
Tour de France 2008 homepage>>
News and features>>
Route & stages>>
Teams and riders>>
About the Tour>>
Thank you for reading 10 articles this month* Join now for unlimited access
Enjoy your first month for just £1 / $1 / €1
*Read 5 free articles per month without a subscription
Join now for unlimited access
Try first month for just £1 / $1 / €1
Sports journalist Lionel Birnie has written professionally for Sunday Times, Procycling and of course Cycling Weekly. He is also an author, publisher, and co-founder of The Cycling Podcast. His first experience covering the Tour de France came in 1999, and he has presented The Cycling Podcast with Richard Moore and Daniel Friebe since 2013. He founded Peloton Publishing in 2010 and has ghostwritten and published the autobiography of Sean Kelly, as well as a number of other sports icons.