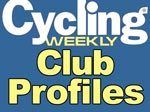 www.ccluton.com
No. of members Approximately 45
Catchment area South Bedfordshire
BC region Central
Cost of annual membership £15
Contact details via website
Club founded 1972
What?s the story behind the club?s name
It was formed by cyclists living and working in Luton.
How often does the club meet?
On Saturdays and Sundays, just about every weekend.
What events does the club take part in?
Road racing, mountain biking, track racing, time trials, national and international sportives.
Describe a typical club run, and where and when does the club meet
We meet at 9.30am at Streatley/A6, top of the Barton Cutting roundabout. We usually ride into the prevailing wind to a café for about 25 or 30 miles, have a cup of coffee and a chat and then ride home, taking in a different route where possible (and a pub if the weather is suitable).
What?s the story behind the club?s jersey design?
The club has a long tradition of riding and racing in blue. This latest summer version of the design incorporates that while giving maximum exposure to our main sponsors, Bandon and Eddingtons.
Famous riders who are in, or have been in, the club?
Simon Gaywood, Kevin Morgan, Martin Badell, Phil Galloway, Mark McKay, Julie O?Hagan, Theresa Jackson, Mike Jackson, Gavin Rumbles