Celebrity 'Dream Machines' raise cash for cycle workshops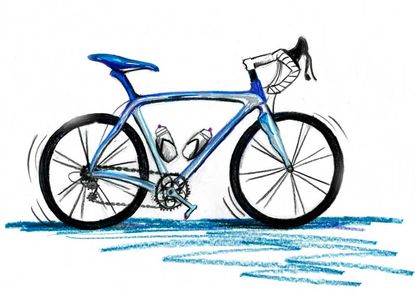 Get The Leadout Newsletter
The latest race content, interviews, features, reviews and expert buying guides, direct to your inbox!
Thank you for signing up to The Pick. You will receive a verification email shortly.
There was a problem. Please refresh the page and try again.
Olympic champion Victoria Pendleton and millionaire businessman Lord Alan Sugar of TV Apprentice fame are among celebrities aiding a quiet British cycling revolution; the rise and rise of community cycle workshops.
They've done this by designing their personal "Dream Bikes" and commissioning three community cycle workshops to create them: Oxford Cycle Workshop, Bikeworks of London and The Bike Station, Edinburgh.
It's all being done under the auspices of EDF Team Green National Bike Week, which kicks off with over 2,000 events nationwide on Saturday 19th - Sunday 27th June.
And these colourful and varied machines are to be auctioned on Thursday evening June 17th at The London Transport Museum in Covent Garden, with the proceeds shared out between the three workshops which built them.
The spread of community cycle workshops is further evidence of how cycling is taking hold in the UK.
For they are playing a unique role not only by boosting cycling in the communities they serve and by recycling bikes and promoting events, but by also providing apprenticeships for local youth and cycle training for all ages.
In this way, they have become recognised as a key part of the government's social enterprises initiative.
They have also become another vital arm of the cycling movement, alongside the popular charity rides, campaign groups, the national cycling organisations CTC and British Cycling - Sky, not to mention Local Authority and Government Regional Development Agencies.
The biggest difference each has made is in providing affordable bikes for those who either cannot afford a new bike, or are wary of lashing out big money only to find they don't like cycling. Invariably, they take to cycling like ducks to water.
Bikeworks in London was recently named best social enterprise initiative in the UK.




Victoria Pendleton, British Olympic and World Champion: "I would encourage everyone to get involved with Team Green Britain Bike Week. By choosing to cycle to the shops, school or for leisure, you'll find you get to your destination quicker, save money, get and reduce your carbon footprint all at the same time. If everyone were to swap one car journey a day for a bike trip, of the collective benefit - to our planet, our pockets and our health!"




Oxford Cycle Workshop
The challenge to build Pendleton's and Lord Sugar's "Dream Machines" fell to the Oxford Cycle Workshop. Workshop director Dan Harris tells how Oxford Cycle Workshop's Sean Buckley rose to the challenge and set about the project. Pendleton's is in various shades of vivid green, Sugar's blue and white with Chromium-plated forks.
"The bikes are really quite different," says Harris. Victoria's bike was very, very shiny. It called for a pro paint job and we pulled out all the stops. We found a wonderful guy in East Oxford here, who did that job for us."
"Apprentices stripped the bike down, prepared it for painting and when it came back they built it all up again. Quite straightforward."
He said Alan Sugar's bike was much more in keeping with the work they do at the workshop, creating bikes from a mix of recycled parts and new bits.
"Lord Sugar's bike was meant to be more basic, a little bit cheaper. The bike he is used to riding is a seven grand Pinarello. I think what we did for him reflected the fact that we are an organisation with apprentices, which is all very appropriate in terms of Alan Sugar's life.
"We joked that every time he was on the phone to us, he might say 'You're fired'!"
Harris explained that the big thing about Oxford cycle works is that as well as being a social enterprise; they are a co-operative as well.
"We train up bike mechanics through the apprentice scheme and they can become an employee and earn a share in the work-cooperative.
"Which is pretty good. They can go from being unemployed to having stake in the business they work for, so that's quite distinctive, in terms of business, let alone among bike shops."
Part of their learning includes teaching! That is to say, the youngsters get to support Oxford Cycle Works trainers on public workshops about cycling.
They promote many events, treasure hunts, bike polo, cycle speedway, and can claim to have recycled thousands of bikes, which might otherwise have ended up as landfill!


Lord Alan Sugar, Entrepreneur: "Being on a bike is a good time to chew over problems and sort your thoughts out. I find gyms boring and that cycling not only keeps me fit and gives me energy - I love every minute of it, too. I'd recommend going along to a Bike Week event so you can find out why cycling is a fantastic thing for anyone to be involved with."




Bikeworks, Hackney, London
Joe Hipkin, cycle training co-ordinator, told Cycling Weekly about Bikeworks, which was created three years ago by Jim Blakemoor, who came from a cycle industry background. Bikeworks has 10-12 core staff, plus 15 freelance instructors all under the management of Dave Miller. They make and sell recycled bikes from £60 to £150 plus. Bikeworks created the bikes designed by Fashion Designer Giles Deakon, Fashion Guru Wayne Hemingway and Amy Fleuriot, who founded the Cyclodelic women's cycling clothing brand.
"A social enterprise," according to Joe Hipkin "is in between a regular kind of business and a charity. We all have salaries but we don't award ourselves big bonuses. Our emphasis, our focus, is sending our profits back into the local area and community."
Bikeworks operate Tours Across London, one of the most popular being along the Olympic Green Tube which was originally part of the Joseph Bazalgette's Victorian sewage system to carry waste out of London to the treatment works. It is now a popular cycle and pedestrian walkway and the the first part of it runs from Wick Lane, very close to Bikeworks premises in Victoria Park, Hackney, towards Pudding Mill Lane station and Stratford.
Container building units house a café, classroom, viewing gallery, Bikeworks cycle hire and toilets.
Says Hipkin, "You can ride and see the main stadium, the aquatics centre, the velodrome, the Westfield Centre, the main entrance, you can see all the raw materials being sorted out. It provides a really good view of this huge building project.
"It's got a really great café, which has got a very good reputation. It's there for members of the public - everyone is allowed to there," says Hipkin. "So we do little tours from there, for the public and local schools."
Their recycled bikes are very popular and quickly snapped up."We have a whole unit full of second-hand donated bikes. And they have come to us by the police, from the public. We don't buy any. In the office/showroom there are usually about 40-50 bikes on display, ready to go, which have been worked on by the mechanics, made safe and then sold back to the local community.
"We do work for Tower Hamlets for instance, doing adult cycle training. We take them through the Bikeability course," Continues Hipkin.
"NHS doctors also refer their patients to us, people with high blood pressure, obesity. And we take them through the bikeability course, making a difference like that. So, yes, we are many-pronged in our approach."



Giles Deacon, Fashion Designer: "The best thing about cycling is exercise, seeing things I wouldn't see from a car and my carbon footprint - it helps me offset all the flying I have to do. My dream bike is based on the bike I own from 14bikeco - this one has my Autumn/Winter 2010 felt tip cloud sketch printed all over the frame. It's a "fixie" with straight handlebars."




The Bike Station, Edinburgh
Mark Sydenham is the manager at The Bike Station in Edinburgh, which employs 22 staff and a team of 10 contractual cycle trainers. Plus there are 52 volunteers. Bike Station prepared Orla Keily's and Dawn Porter's bikes.
Mark Sydenham ran Cycling Weekly through the varied services they offer. "We have 10 staff working on the bicycle recycling project, taking in old bikes - we had over 6,000 last year and 22,000 to date - and providing workshop facilities etc to the public.
"We have eight staff working on cycle promotion, working directly with over 12,000 employees in Edinburgh signed up to our "Better Way to Work" project.
"They provide travel advice, our Dr, Bike bicycle repair service, cycle training, loan and demonstration bikes and they run our large marketing and advertising campaign to promote cycling," says Sydenham.
Another staff member is the training co-coordinator, delivering The Bike Station's project of "Build Your Own Bike" courses aimed at disadvantaged young people. This teaches them bike maintenance, cycle training and mountain biking and it's funded by the National Lottery and the Scottish Government.
And for the public who can't reach them, the Bike Station sends Dr Bike to them, to service their bikes at work or home.


Dawn Porter, TV Presenter: "Getting on your bike is by far the smartest and most convenient way of getting about, and going to a Team Green Britain Bike Week event is the way to rediscover how easy it is. Cycling is good for the environment and so much cheaper than a gym membership! London has become a much smaller place since I started cycling and I'm a lot more punctual!"


Wayne Hemingway, Designer: "I was bought up to 'make do and mend', and I also like to be as sustainable as possible. Nothing need be thrown away, so having a second hand bike is very important to me. I still ride the secondhand bike I cycled into uni on, over 30 years ago, it's a trusty friend that has rarely let me down and is well into its 60's! My dream bike is Vintage like my original sit up and beg uni bike, doesn't have any fancy accessories, it's uncomplicated, easy to hop on and off, easy to service and less likely to get stolen."




Orla Kiely, Designer: "There is nothing better
than going for a ride on your bike, either after a hard day at work or
on a sunny day. I always feel really good after a bike ride. I love that
it's an environmentally-friendly way to travel too and am glad that
cycling is becoming so popular.




Amy Fleuriot, CYCLODELIC founder: "Our urban environments are often devoid of colour, this bright Harlequin design has been inspired by English summertime, lush green, vibrant pink and crisp whites shimmering in golden sunshine. Designed to make you want to light up the city streets even on gloomy days and be seen for the right reason. Strong, upright and nippy with 3 speed hub gears, a step through frame and luxury leather details, this is my ultimate city bicycle."
Thank you for reading 20 articles this month* Join now for unlimited access
Enjoy your first month for just £1 / $1 / €1
*Read 5 free articles per month without a subscription
Join now for unlimited access
Try first month for just £1 / $1 / €1
Get The Leadout Newsletter
The latest race content, interviews, features, reviews and expert buying guides, direct to your inbox!
Keith Bingham joined the Cycling Weekly team in the summer of 1971, and retired in 2011. During his time, he covered numerous Tours de France, Milk Races and everything in-between. He was well known for his long-running 'Bikewatch' column, and played a pivotal role in fighting for the future of once at-threat cycling venues such as Hog Hill and Herne Hill Velodrome.