Chris Froome's back problem under control
Sky physio Dan Guillemette explains that specific exercises help keep Chris Froome's back problems under control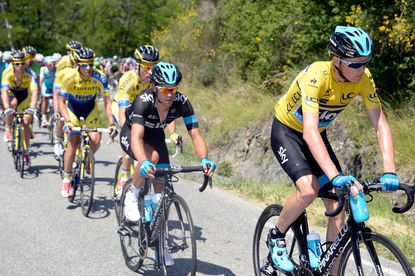 (Image credit: Watson)
Chris Froome's lingering back injury continues to be an issue for the Tour de France champion, but he is keeping it in check with specific exercises so that it does not pose a problem when he starts the Tour in July.
"If he wasn't focused and professional, then chances are, his problem could've come back again," team Sky's lead physiotherapist, Dan Guillemette told Cycling Weekly. "The issues resolved now, he hasn't had symptoms since before Tirreno-Adriatico."
Froome called off the Giro di Lombardia last autumn and Tirreno-Adriatico this spring due to his back and over the winter, had to go to a therapy centre in South Africa to help correct the problem coming from his left sacroiliac joint.
He dropped everyone and kept Alberto Contador (Tinkoff-Saxo) behind on Monday thanks to hours of training and attention to his back. Guillemette and the centre taught him exercises to keep the issue away.
"He has a maintenance programme. He focuses on areas that he needs to work on more. He has exercises that target muscles around that [left] side and the other side, to keep a balance.
"Could it prevent a Tour win? Yeah. It's like any elite athlete, if you don't rehabilitate yourself effectively... You have to get them to buy into muscle training ahead of time for those prevalent problem areas."
Following a disappointing World Championship road race and due to the back problem at the end of last season, Froome cancelled his plans to race Lombardia. After winning the Tour of Oman in February, the problem "flared up" and forced him to withdraw from the Tirreno-Adriatico stage race in March.
The exercises were not enough. Guillemette went to Monaco to visit Froome, analysed his bike position and made adjustments. He lowered his saddle by two to three millimetres and moved it forward slightly.
"He had an acute flare up, which is why I flew to Monaco. [Adjusting the bike position is] not the first thing to do, but you have to look at how they interact with the bike.
"We tweaked the saddle, initially by five millimetres, but he said that it just felt too low. We found a happy medium. We off-loaded the injured area."
Guillemette explained that this problems comes from overuse and physical demands, and flares up when put under pressure for the first time after a rest. Froome, he said, is "acutely aware" of the problem and managing it to be in shape for the Tour de France.
Based on their performance at the Criterium du Dauphine so far, Chris Froome and Alberto Contador will be the men
Sky's leader was filmed puffing on an asthma inhaler during stage two of the Criterium du Dauphine
Thank you for reading 20 articles this month* Join now for unlimited access
Enjoy your first month for just £1 / $1 / €1
*Read 5 free articles per month without a subscription
Join now for unlimited access
Try first month for just £1 / $1 / €1